As we mentioned in an early iteration of our 2018 Roster Tracker, the organisation formerly known as Regicide has disbanded and its place on the OPL Contract Database has remained blank for several weeks. Snowball Esports has learned that it will be replaced by a new organisation known as ORDER, led by Gerard Murphy, formerly with the AFL's Richmond Tigers. ORDER have entered into the OPL with a truly frightening roster:
Top: James "Tally" Shute
Jungle: Samuel "Spookz" Broadley
Mid: Simon "Swiffer" Papamarkos
ADCarry: Victor "FBI" Huang
Support: Jake "Rogue" Sharwood
The roster comprises a who's-who of the remaining OPL Free Agents. Make no mistake about it, this roster is stacked with top three players at every single position and becomes an instant threat to the Dire Wolves as title contenders. If ORDER can get it together on the rift, these five players have the ability to represent the best combination of players ever assembled in Oceania. Surrender at 20 recently placed the below logo into their 2018 Esports Logos and based on where it is in that post, it would seem that it is the logo they will debut with in Split 1 2018. The ORDER roster is an exciting time for the OPL, and the top-table clashes with the Chiefs and Dire Wolves should be exceptionally exciting.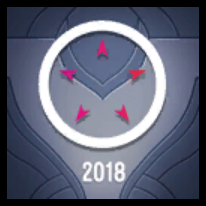 Pictured: Rumoured ORDER logo, per 11/December [email protected] post.