Japan have a lot on the line at this year's Rift Rivals.
Returning as defending champions, they bring the exact same teams from last year's competition to Sydney this year. Unsold Stuff Gaming, DetonatioN FocusMe and Pentagram all qualified from the LJL, with all 3 teams bringing massive amounts of domestic and international pedigree to the table.
The League of Legends Japan League (LJL) is Japan's Premier LoL competition. 6 teams play against each other in a double round robin to determine the best team in the land of the rising sun. While there have been some wacky compositions – as we've seen from League globally recently – USG and Pentagram like to stick to the traditional stuff, often running marksmen to play through their team's strong point in bot lane. DetonatioN FocusMe have been a lot more experimental in their team comps however, running Ryze, Morde and Vlad bot instead of traditional AD Carries. With Rift Rivals being played on the 8.13 patch with the reworked Aatrox enabled, something not seen anywhere else yet this year, we might see some more adaptation from the defending champions.
Unsold Stuff Gaming
This name should be at least a little bit familiar to Oceania fans. Legacy brought Mimic over from USG to play in 2018, while Mammoth's mid laner REMIND played for USG at Rift Rivals 2017. Unsold Stuff Gaming has been around since 2015, having qualified for the LJL through the Challenger Tournament. While the team has no LJL titles to their name, they were part of the 2017 Rift Rivals squad, and have secured 3 LJL 3rd places over their history.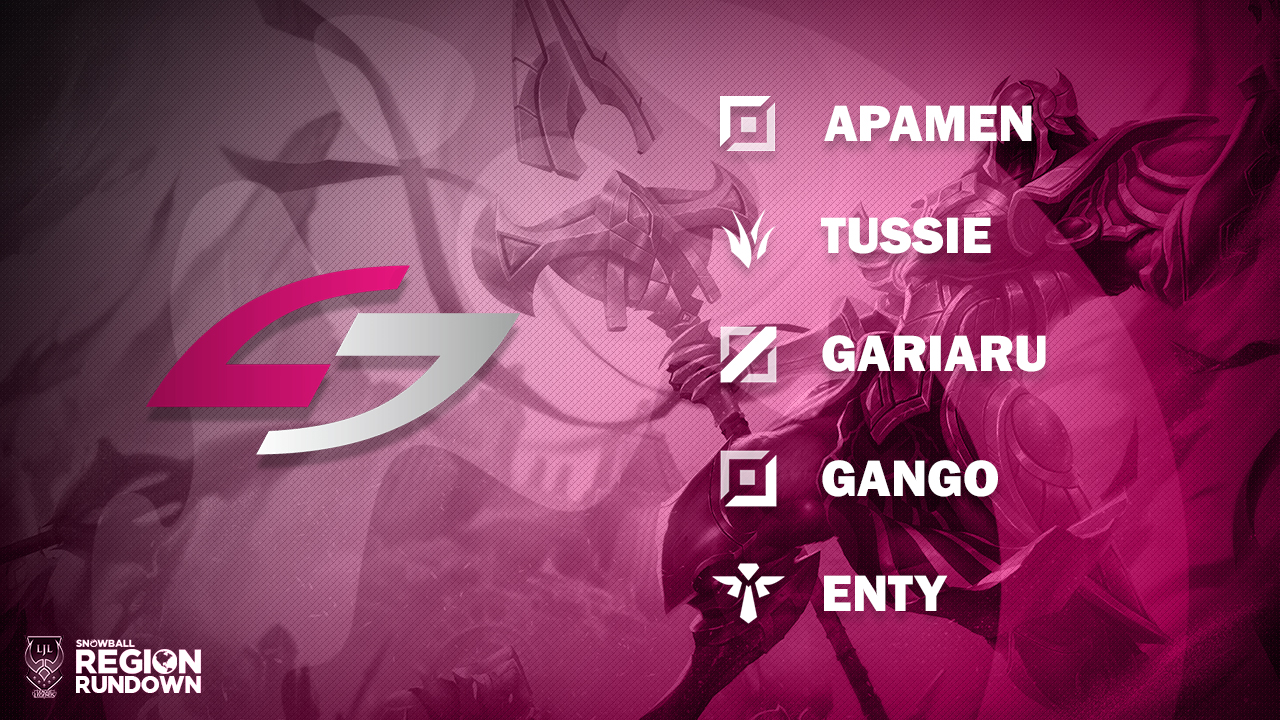 USG have a bit of international experience on their lineup. Bot laner Gango played for China's Vici Gaming and Unlimited Potential in the past, being a part of their LSPL and LPL campaigns from 2015 to 2017. Gango is also arguably the best ADC in the region, performing outstandingly in Spring Split. apaMEN and Enty were both selected for Japan's Asian Games team, and while the team didn't qualify for the major tournament (after all, they had China and Korea in their group), having the experience representing your country internationally is big.
Jungler Tussle was a part of the Rampage squad who represented Japan in 2017 at MSI and Worlds. He also has 4 LJL titles under his belt from his time on Rampage. Mid laner Gariaru rounds out the USG lineup, who is a quiet performer on the team just starting to find his stride in the LJL after replacing veteran REMIND late last year.
USG finished the LJL Spring Split with a 6-4 record, falling to Rampage in playoffs. They have started their Summer Split campaign 1-1, but have yet to play against either DetonatioN FocusMe or Pentagram in the tournament. The rival matchup between Mimic and his old team will be one to watch on Tuesday, when USG take on Legacy in what is sure to be a grudge match. Although USG might not pack as much fire power as the other two representatives, you cannot discount them. After all, they are the defending champions of Rift Rivals.
DetonatioN FocusMe
DetonatioN FocusMe is a long standing name in Japanese Esports. The organisation has been around since 2013, before the LJL existed. When the LJL was incepted in 2014, they quickly rose to the most dominant force in Japanese League, having won 5 LJL Grand Finals, and 7 LJL Minor Premierships.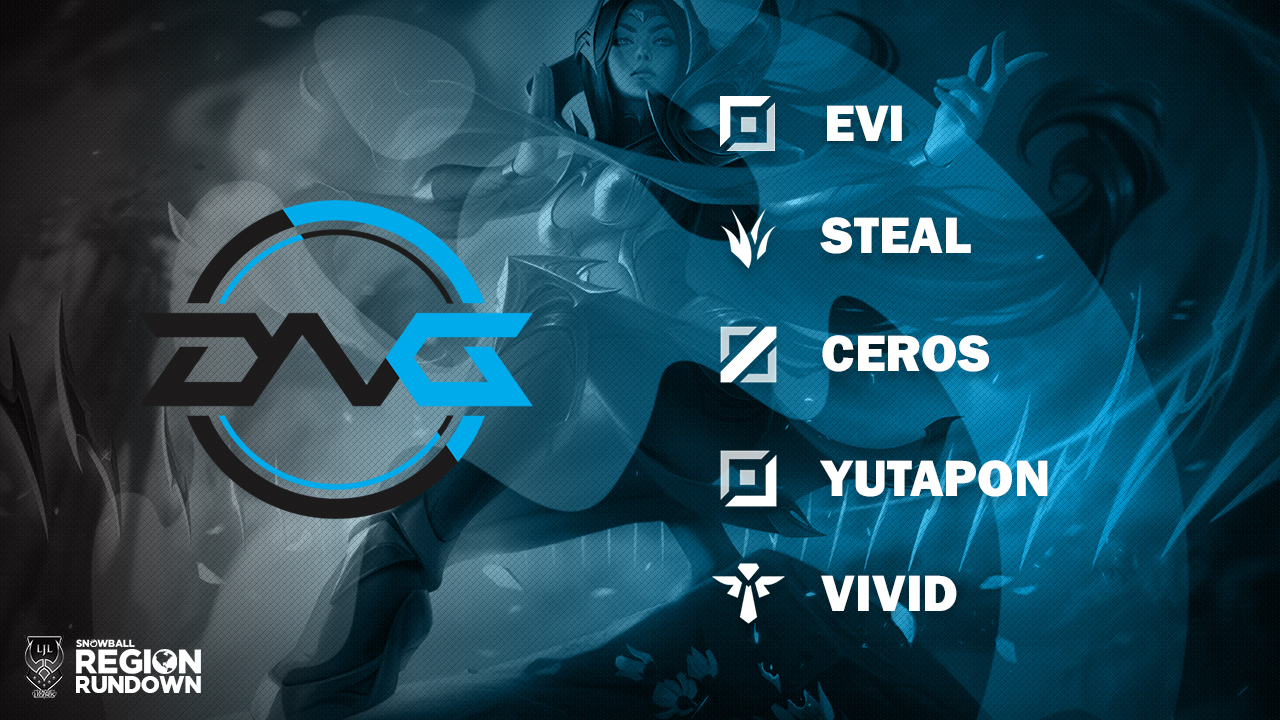 DFM boasts arguably the most experienced roster at this year's Rift Rivals. Mid laner Ceros and Bot laner Yutapon have been a part of the organisation since 2013, with the latter having played Top and Bot for the team at various times. Steal has previous LCK experience, jungling for KT Rolster in the 2016 Kespa Cup and Pathos during their Champions Korea campaign.
Top laner Evi was part of Japan's Asian Games team for this year, as well as Rampage's (now Pentagram) successful LJL campaigns last year which saw the team qualify for Worlds. Support viviD played in Champions Korea back in 2015, as well as having international experience with DFM at the 2016 IWCI.
They've been on the same dominating form in 2018 heading into Rift Rivals. During Spring Split this year, they went 10-0 in their series, only dropping 3 games along the way. While they got swept in Pentagram in the playoffs and missed out on a MSI spot, they have bounced back. Currently, they are undefeated in the current Summer Split, beating Pentagram and Crest Gaming in swift 2-0's. With all this talent and form, SEA and OCE must be very wary of the Japanese super stars, who aren't even the LJL's first seed.
Pentagram
That title of LJL's first seed goes to Pentagram. Fans might know Pentagram from the Mid Season Invitational, or by their previous name Rampage. Their last international performance was against Dire Wolves, where they took down the Oceania Champions in decisive fashion in their final game. The organisation has been around since 2013 under various names, taking out 3 LJL Grand Finals and 2 Minor Premierships.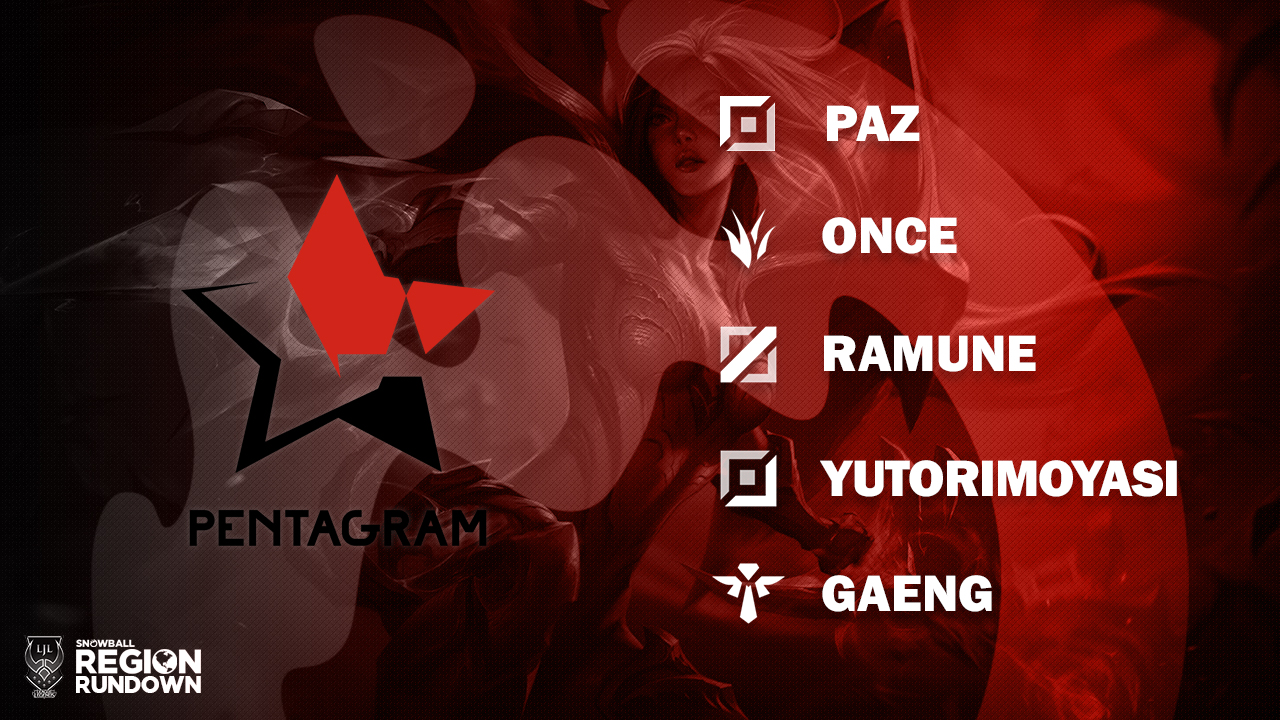 YutoriMoyashi is the team's most respected player, having played a part in Japan's Asian Games campaign as their Bot laner. Paz, the team's top laner, has played 3 different roles in competitive League over his 3 year career, and has titles under his belt as a jungler and top laner. Ramune is also a playoffs genius, having won every final he's been a part of (3 LJL finals and 2017 Rift Rivals).
Support player Gaeng is relatively new to the scene, having an LSPL campaign under his belt from 2016, before returning to competitive League for Spring Split this year for Pentagram. Jungler Once also has international experience, playing for BPZ in their Champions Korea campaign in 2017, falling just short of qualifying. He also played for Hong Kong Attitude in the LMS last year, substituting in for 2 games.
Back home in the LJL, their 2018 season got off to a rough start. They were forced to surrender 5 games in the Spring Split due to the organisation withholding ex-players Dara and Tussle's residency cards. However, they bounced back, coming 2nd with a 6-4 record and sweeping DFM in the finals to qualify for MSI. DFM have beaten them so far in the Summer Split, with the team sitting 4th with a 1-1 record so far. However, with their current roster coming off the back of 3 international tournaments in a row, their experience will be crucial in Japan's title defending hopes.
---
The Pacific Rift Rivals Tournament between South East Asia's GPL, Japan's LJL and Oceania's OPL starts today! You can catch the action over on Twitch.