Players sitting at the pointy end of the solo queue ladder could do far worse than to follow the lead of Legacy's jungler and now Rift Rivals champion, Jordan "Only" Middleton. Only took time from his busy preparation schedule while at Rift Rivals to speak with me about his time on Legacy, and the journey he's taken to get to where he is now.
---
It's the first split of 2017. Only has been thrust into what could be modestly described as a complicated situation, playing for Tainted Minds in the aftermath of the departure of their North American contingent. The Praedyth-Only-Wzrd-Squidgy quartet had, while rotating through a cast of supports dropped three games on the bounce, hardly surprising in the circumstances. They may have been behind they eight-ball forming team synergy and adapting to the level of competition in the OPL on the fly, but Only explained that they had every support of the organisation going through this process:
"When the NA players left, they brought up the OCS team immediately. And I guess they felt they had a need to make up for all the bad that had been done. So, they were maybe even too nice to me as a brand-new player cos they wanted to, y'know, make sure the players were happy from here on. So, they were extremely nice to me. It was actually just a perfect first experience into the OPL."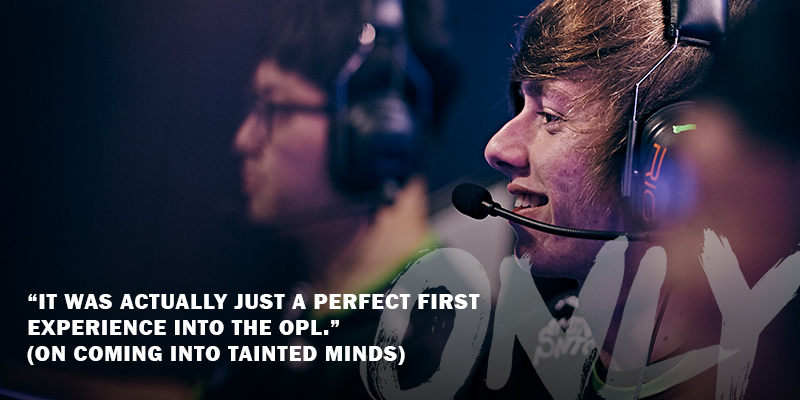 In week 9 they went head-to-head with Exile 5 who were also winless and not without problems of their own. Only and Exile 5's jungler Guts would go blow-for-blow, trading the first two games with dominant performances in their own roles. This is the kind of display that Only put out to show off his more mechanical prowess to the OPL audience who hadn't yet seen this style. As he grew into the pro jungler of today, we've seen a more mature and patient style evolve to complement this raw mechanical ability. Only credits the journey he's had to take to get to the top as an important contributor to this development, saying "I think time is experience…it really has helped me become more patient because I know what it took me to get to where I am now."
One of the things that any pro player learns with this kind of experience is how to be a good teammate. Having fun with your team, even in the smallest of ways, or where things aren't going so well can make all the difference when critical matches roll around. While on Tainted Minds, Only played with Joshua "Wzrd" Russell, someone I had experience with and knew to be a great teammate. Somewhat indulgently, I asked Only for a good Wzrd story and found out that neither player was shy to a bit of good-natured banter. Laughing, Only recalled:
"Okay firstly Wzrd is one of the nicest players I've ever played with, for sure. On stage before OPL we were playing a mid-lane 1v1 and there was a bit of banter. …I won't lie he was trash talking me that I couldn't play mid… and I'm like "I'm pretty sure I can beat you" …we were just going back and forth. It was Viktor vs Orianna and he tried to do the thing on Orianna where you ult and then you flash on top of the enemy so you get the really quick combo. He completely whiffed it and was screaming 'NO I missed it!' And I just killed him for free, it was the funniest thing."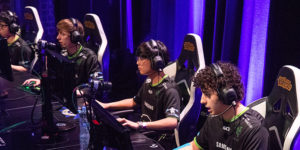 His time with the Tainted Minds organisation ended with an unfortunate 0-10 season and a 1-14 overall record with the team. You would not blame a player for being worried that being part of a losing team would damage his future chances of landing with an org (pour one out for Impaired) regardless of how the player had performed individually. This wasn't the case for Only, however as he had "multiple teams" asking him "what are your plans for next season?" Teams had done their due diligence and realised that this was a player worth considering for the future. The team that secured his services for the beginning of 2018 was perennial OPL Placegetters in Avant Gaming.
Experiences like the fun pregame moment with Wzrd would go to serve Only well with Avant. He said that his time on Avant was "like family, to be honest. I was really, really close to all of the players. Even before I had joined the team". Only went from strength to strength on Avant as he really blossomed within that environment. Unfortunately, the team fell just short of their goals, falling 3-2 to Legacy in the first round of the gauntlet – a mark that Avant had reached and fallen at the last two times. Only commented that despite there being only three carry-over members from the prior Avant rosters (bottom lane players Blinky, Jayke and coach Charlie Wraith) that the loss still hurt bitterly. "When you in yourself don't succeed and you see the people that you love and care about don't succeed, it sucks. Like, it really does suck." Despite that low feeling, he credits the family-like environment within Avant as being important to how they managed to rebound and prepare for the next go-around with the team. At the same time, it's probably the best team to lose with because we picked each other up. They picked me up and I did the same for them. It was a really hard loss in the moment. But it didn't take long for us to pick ourselves back up together and decide "Boys, it's okay…next time."
"It feels like I have two junglers watching over my shoulder at the same time, which is incredible."
Only, on having Carbon and Soulstrikes on staff for Legacy
But next time would never materialize for that set of five players and their coach. Avant would make the call to make a substitution at their bottom lane position. And then Only would heed the call of the trees, as Legacy came knocking. Despite toppling Only and his Avant squad in that gauntlet match, they were impressed enough to bring him into the fold to replace Sybol from their squad. It would be a drastic change from the friendship-based Avant squad, or from his early experiences with Tainted Minds, an organisation who has their background in FPS games. Only remarked on how much he had found himself growing in this new system backed by the support of the Adelaide Football Club, commenting "It's very structured, very serious…I find myself learning a lot more and it's really easy to focus on the game. All the other small things about living in the house, living with teammates is already done for you, it's already there and it's very structured."
Only's Mum has a message for Korea and the OPL
The AFC backing of Legacy is not the only support Only gets in his new scene though, as head coach Luchio "Soulstrikes" Park and former long-time captain of Legacy Tim "Carbon" Wendel are both accomplished OPL junglers before they moved on to their current roles, giving a wealth of high-quality advice to Only. "It feels like I have two junglers watching over my shoulder at the same time, which is incredible." He went on to say "It's actually huge. Luchio and Carbon have more to say to me than anyone on the team, which as the newest player on the roster is fun. It's a huge help."
With the help of Carbon and Soulstrikes, the backing of the Legacy machine, and the experience that Only has gotten in his 8-year playing history (2 years striving to be competitive), we may have seen his transformation as a player. From the raw talent that tried to win matches solely with mechanics like that match against Exile 5 what feels like so long ago into the controlling, well-rounded player we saw on the Rift Rivals stage. But this is Only the beginning, and if he's grown this much in a little over twelve months, his future remains incredibly bright.
---
Follow Only's journey in the OPL when Legacy faces off against Avant Gaming tomorrow night, Saturday 14th of July at 8pm on Twitch.
Follow Only on Twitter:  @JordayMD