BioPanther keeps Dire Wolves' undefeated streak alive with game-turning quadra-kill in 2-0 sweep over Chiefs
The Chiefs Esports Club may have secured Oceania its first international silverware last weekend, but back in the domestic OPL the league-leading Dire Wolves reminded them which organisation is top dog.
The defending champions recorded a 2-0 victory over their long-standing rivals, with a massive milestone now in their sights – the Wolves have been undefeated in the league for 355 days.
It was BioPanther that stepped up in the club's first 40:52 minute victory, scoring a quadra-kill on Dr Mundo, turning a zero-for-three team fight on its head.
After securing the game's first drake (cloud), Chiefs moved to pressure the second tier mid lane turret, and a flank from Triple on Vladimir kicked off the match's critical fight.
Triple and Shernfire (Nocturne) were both removed from the map in seconds, with Cupcake (Rakan) following moments later, and a last-second Stopwatch activation was all that spared k1ng (Swain).
Then BioPanther entered the scene – cutting through four of the already-weak Chiefs in the tail-end of the fight, and leaving just Raes on Karthus still alive on the map.
BioPanther cleans up for a quadra-kill
It was all the Dire Wolves' top laner needed to take control of the game, marching from his 4/1/0 scoreline post-fight to a dominant 8/1/3 final stat-line.
The second match – running 33:08 – was less of a bloodbath, with the Dire Wolves capitalising on their one-game lead to close out the series and collect all three points from the Chiefs.
Shernfire was the stand-out player in the second match, with a 1/1/11 KDA haul, and 100% kill participation, keeping the Wolves on track in their undefeated run.
It was a must-win for the undefeated squad, coach Curtis 'Sharp' Morgan explained, after team felt they had "disappointed" themselves and their fans with the grand final defeat at Rift Rivals.
"I gave the guys a speech after the loss [against Southeast Asia's Mineski] and I told them to capture the energy to motivate us as we head towards OPL finals," Sharp explained.
"We came into the match disappointed with ourselves after Chiefs and Legacy were the key in the finals, so we want to show that we were still the best. The team knew this match was going to be the biggest of the split so far, and we executed well."
The defeat highlights Dire Wolves' continuing success in the OPL – while the squad is just two weeks out from a full year undefeated in the domestic league, Sharp believes their "despair" after a number of international losses fuels them more than the undefeated record.
"Although we've been unbeaten, the international losses [at the World Championship, MSI and Rift Rivals] have meant we still don't feel like we're unbeatable," he said.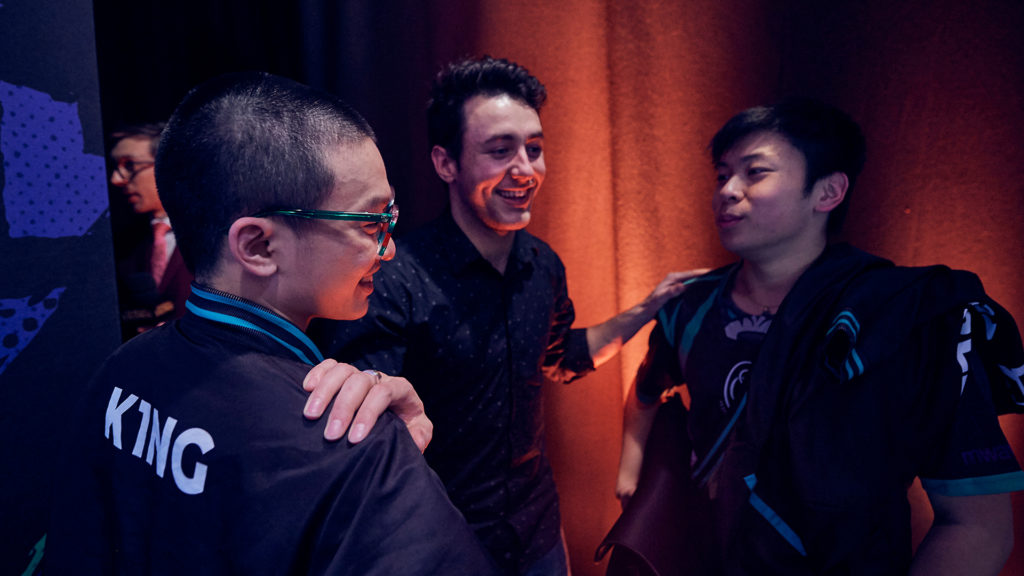 "We want to show our fans that we're still number one, and we hope we can do that by putting in our best showings all the way to the grand final."
Sharp praised BioPanther's performance in the 2-0 victory, but said both he and BioPanther had discussed "avoiding complacency" as the star top laner continues to rise.
"It's been really great to see Bio bring a lot of spirit and character into the team, not a lot of new players get to come into success so early, so keeping him grounded and humble is important now," the Dire Wolves' coach said.
"He's a bit of an anomaly in that he stays subdued in matches, and keeps really focused. We work together a lot to keep that, and I can see him going even further as he improves."
Also on Friday evening, ORDER moved into third place with a 2-0 victory over the Bombers. Although Tally was denied the full team sweep by Sleeping on Dr Mundo, Order's top laner shone with a quadra-kill on Vladimir, cementing his eventual 7/1/9 performance. He also recorded a 7/4/3 game on Darius in the match's second outing.
The Bombers' Looch also netted himself a triple-kill in Game 2 to supplement his impressive 8/2/1 KDA on Zoe.
On Saturday evening, MAMMOTH bounced back from three straight defeats with a 2-0 against Tectonic, after a lengthy Game Pause saw both squads re-draft their team compositions in the opening game.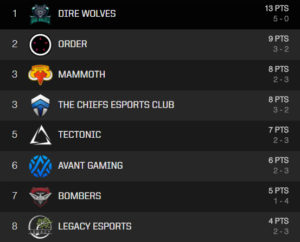 Finally, Avant delivered the upset of the round as they knocked off Legacy 2-0 to send the league stalwarts into last place five rounds into Split 2. Frae shone in the mid lane as Ryze (4/0/4) and Lucian (8/1/8), the latter of which was partnered with DarkSide's 8/3/10 performance on Caitlyn in the team's double-AD Carry composition.
STANDINGS: Dire Wolves (13), ORDER (9), MAMMOTH, Chiefs (8), Tectonic (7), Avant Gaming (6), Bombers (5), Legacy Esports (4).
Photos courtesy of OPL/Riot Games.