The Chiefs bounce back from mixed weeks with 2-0 victory over ORDER, move clear into second.
Two weeks of 0-2 defeats did little to slow the Chiefs Esports Club, as they bounced back with a clean sweep of ORDER to return to second place in the Oceanic Pro League.
Despite the Chiefs claiming all points on offer with a 2-0 victory, it took the early-game focused squad adapting to Doruk Hacioglu's scaling comp in the first game – an objective that they very nearly failed to complete.
After putting together Mundo-Sejuani-Zoe-Varus-Alistair in the pre-game draft, Hacioglu explained the team would have to "wait for the late game" and "keep the early game deficit to around 3k gold".
Despite the late-game comp, Babip pushed an aggressive play near the mid lane, and ex-Chiefs combo Swiffer (Orianna) and Spookz (Trundle) capitalised.
Swiffer's Command:Shockwave caught both Babip (Sejuani) and Destiny (Alistar), pulling them back to be quickly dispatched for first blood and a second kill.
Watch: The Chiefs get off to a rocky start in game one, giving over first blood and a kill to ORDER
From there, ORDER were able to push the envelope on their early game composition, stretching their kill lead to 6-1, collecting four turrets to nil and piling up a 6.2k gold lead that could easily have snowballed to a victory in the first game.
Luckily for the Chiefs, double the gold lead Hacioglu had predicted was still a surmountable advantage, as the composition clicked into high gear 32 minutes into the contest.
From there, a team-fight over Baron Nashor gave them the perfect entry back into the game – although none of ORDER or Chiefs' members died in the ensuing 5-on-5 contest, the red-side team chunked key members from their opponent's down, and left Tally on Aatrox without World Ender and just above activating his Guardian Angel passive.
It resulted in the first Baron secure of the match, and as ORDER looked to contest ry0ma hit his full Zoe combo on Spookz, deleting the Trundle from Summoners Rift, before killing Rogue (Tahm Kench) moments later despite the The River King's Thick Skin.
It was the deciding moment of the match, with Chiefs pulling the gold lead back to just 1.3k at 37 minutes, and 13 minutes after the initial fight in top side's river. Chiefs were destroying the Blue Side nexus off the back of a 4.9k advantage.
It was a "relief", Haciolgu explained, especially after he was worried the team had "fallen too far behind after their early two-on-two".
Game 2 was cleaner from the Chiefs. Their draft composition better suited their play-style and, coupled with ry0ma playing his favourite champion Syndra, they were able to climb to a 15-9 (76.1k to 62.0k) victory in just 39:42.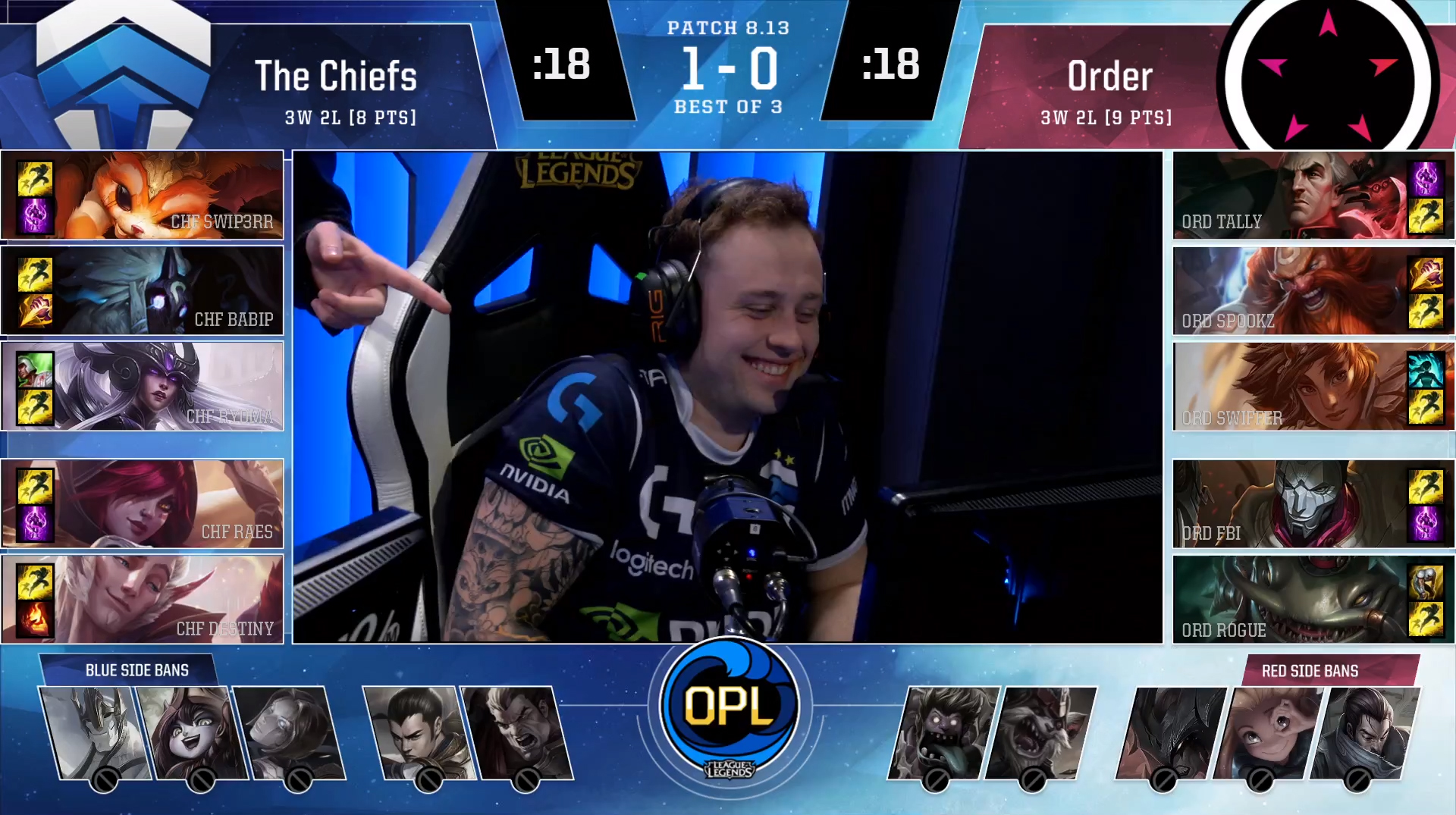 Despite the eventual 2-0 scoreline, and the strong Game 2 finish, Haciolgu described the Chiefs' first win in the OPL in three weeks as simply "satisfactory".
"It's really good to get the win, and I'm really happy that we could get our momentum back as we prepare for the gauntlet, but there were a lot of fundamental errors in our play," he said.
"I was nervous when we dropped below that 3k gold lead in the early game [in the opening clash] and if we didn't have those two Earth Drakes I might have been even more worried. Once we hit our scaling threshold and ORDER hadn't finished the game, we were able to pull out the win."
While the victory over ORDER is their first in three weeks, Chiefs' coach said he believes the main reason they had lost two in a row was "[his] drafts against Tectonic".
"I was not happy at all with the drafts two weeks ago, and I think that contributed a lot to the guys then losing on stage," Haciolgu said. "The whole squad likes a lot of early game strength, and they look for a lot of personal agency on the champions that we pick in draft, so they were more comfortable in game 2 [this week]."
It's been a key focus of the team as they look to prepare for the gauntlet, and especially a showdown against the currently-undefeated Dire Wolves.
"I think that we are the second best team right now, so it's likely going to be us and the Dire Wolves that face off at the end of the gauntlet," Chiefs coach said. "I think we're already starting to click on things that I've been implementing, so when we get to the final we're going to be so much stronger."
---
In the other Saturday evening match, Dire Wolves continued their lossless run to the play-offs, but this time a hiccup came in game 2 of the match-up.
The Bombers, who had fallen in just over 30 minutes in the opening bout, struck back in the second, climbing to a 25-8 margin in their 35:52 win. Looch shone on Orianna, picking up a five-kill streak and finishing with a 8/3/11 final score-line.
The upset wasn't to be however, as Dire Wolves responded with a 22-6 (66.2k to 50.5k) victory to secure the win, 2-1. Shernfire's 9/2/8 performance on Kindred was a highlight of the 31:01 game, with a combined 11/1/13 score-line from k1ng (Vladimir) and Cupcake (Pyke) backing up the jungler's strong run.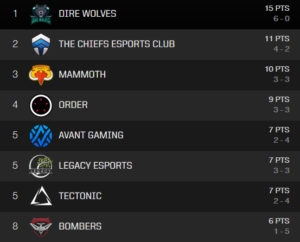 In the Friday evening matches, Legacy recorded a 2-0 win over Tectonic as Raid shone on Xayah in game 2 – 10/0/8 – while MAMMOTH recorded a reverse 2-1 victory against Avant Gaming.
It was two back-to-back Gangplank games from Chippys that sealed the deal for MAMMOTH, with the top laner dominating with a 9/0/8 score-line in the second round before chalking up a 9/3/9 finish in the third.
Despite that, he was out-shone by Remind (Orianna) in the third game, as MAMMOTH's mid laner bagged 13 kills, 10 assists, avoided death and finished nearly 5,000 gold stronger than Avant's Frae on Irelia.
STANDINGS: Dire Wolves (15), Chiefs (11), MAMMOTH (10), ORDER (9), Avant, Legacy, Tectonic (7), Bombers (6).
Photos courtesy of OPL/Riot Games.