Oceania is set to have its first export player debut in the North American League Championship Series, with Lawrence "Lost" Hui all but confirmed to start as AD Carry for Echo Fox against FlyQuest and Cloud9 this weekend, according to sources close to the organisation.
The major chance for Lost comes after Echo Fox released Kim "Fenix" Jae-hun, and reportedly released Johnny "Altec" Ru and support Adrian "Adrian" Ma before the roster lock on Tuesday evening (US time).
New Zealand's premier AD Carry first made his name playing in two consecutive OPL play-off gauntlets with Legacy Esports, the first of which saw them fall just short against regional powerhouses the Dire Wolves.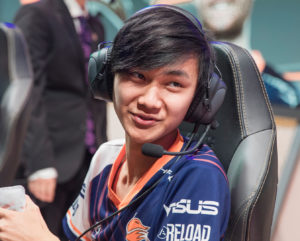 His contract with Echo Fox currently extends until November 2020, one of only three players at the North American team with a deal of that length.
Lost will also be joined by another new face in the bot lane for Echo Fox, after the organisation announced the signing of former Cloud9 support Andy "Smoothie" Ta just hours before the league's formal roster lock.
It's a major step-up for the 19-year-old, but one that Echo Fox ex-head coach Nick "Inero" Smith – who's own future is now up in the air after stepping down as the team's helmsman just two weeks ago – was "extremely confident" would eventuate.
"I was hinting at [the move] earlier in the season, and I think it's something I believe [Lost] is definitely capable of," Inero explained.
"I'm extremely excited for him. When setting up the Echo Fox boot camps, I was heavily interested in bringing over OCE talent because I have a lot of faith in wildcard region talent.
"There's people sitting around in these regions that are being overlooked by the major teams due to the import restrictions, and I'm glad Lawrence gets a chance to show that."
Inero believes Lost will bring the safety and stability to the bot lane that the tied-first org may have been searching for, especially considering jungler Joshua "Dardoch" Hartnett's preference and ability to focus on getting Worlds finalist Heo "Huni" Seung-hoon ahead in the top lane.
"Lawrence is an extremely stable bot laner," Inero said. "His adaptability is something that'll be extremely important for fitting in with Echo Fox. He understands how his job changes from game to game and can adapt to the needs of his team super easily."
Although the org's former head coach would likely not be on the plane to Korea with them if the NA organisation qualified for the League of Legends World Championship, he thinks the team now has a "clear chance" at making the cut.
"I have a large amount of faith in the players and the coaches. This is something that's completely possible for them and I hope to see it happen. The only things standing in their way are the rookie stage jitters."
"I believe that if everything goes well, Echo Fox has a clear chance at winning the NA LCS and going to worlds,"
Nick "Inero" Smith, Former Head Coach
These sweeping changes made to Echo Fox's starting line-up were not the first time the org has made swaps between their LCS squad and the Academy team this split however.
In June, Wang "Feng" Xiao-Feng stepped into a starting role in place of Adrian,  while Tanner "Damonte" Damonte stepped into the mid lane role over now-released import player Fenix.
Echo Fox are chasing a return to the LCS play-offs, after finishing third overall in North America's spring split. The club collected 50 championship points in Spring, putting them in a good position to make a run for Worlds in South Korea later this year.
---
Once the move is officially confirmed, Lost's LCS debut will be against first-placed FlyQuest.  Catch it on Sunday, July 29 at 11am AEST on Twitch.
Photos courtesy of Riot Games/NA LCS