After a demoralising 0-3 start to the season, which included three 3-2 losses, SereNity have hit their stride heading into playoffs, locking in their spot in 4th after taking down PIXL 3-1.
On the first map of the match, Oasis, Nox was a complete nuisance to the PIXL backline. His Tracer play on City Center locked PIXL out of the point until SereNity had built up 99%, and during the retake his distraction by the side of the point allowed the rest of his team to clean up PIXL. On Gardens, he was picking Prowlore, Dewboy and Virginya out of the sky on Widow, while Exotic and Guzto hung low and destroyed anyone who stepped foot on the point.
The addition of Exotic has taken SereNity to another level in these last 2 weeks. Undefeated with him in the roster, SereNity's manager Noxious says "he's been a great addition, putting his excellent mechanics on the table." This current roster of SereNity might have been able to turn those first 3 losses into wins, but according to Noxious "adding him wasn't an option at the beginning, and integrating a new player takes time."
PIXL looked dominant on Eichenwalde, a map SereNity have failed to win on in their last 2 attempts against Kanga and Avant. Oily's Roadhog looked on point during PIXL's attack, but the rest of SereNity's defense was crumbling like the castle walls around them. PIXL led us into Phase 3 for only the 3rd time (in 12 games of Eichenwalde). SereNity composed themselves, with Oily landing a clutch Earth Shatter before the end of the map, stopping PIXL 1.09m short.
In their Top 5-featured play, Exotic and Oil pull off a great ultimate combo on PIXL.
Exirst shone on the first point for PIXL, plucking Exotic's Pharah out of mid air multiple times and stopping Oily's Winston dives. They stalled out SereNity for an extra 90 seconds on the first point, and SereNity were behind the 8 ball for the rest of the map. On the second point, Exotic picked off 4 PIXL players with his Dragon Blade just as overtime was going to tick over, saving SereNity's attack.
However, it wasn't enough, with Badd winning the Graviton Surge charging battle and staving off SereNity's desperate push, bringing the series back level. Noxious stated the team had been analysing their play on Eichenwalde after losing the map 3 times this season. He is confident though that "we should at least not repeat the same mistakes, but beyond that we'll have to wait for playoffs."
SereNity came out swinging on Temple of Anubis, arguably their best map. Nox's Sombra started the backcap on the first point, forcing PIXL off the high ground and allowing the rest of SereNity to wipe through. The ensuing snowball fight saw PIXL dig their heels into the ground. After trading one for one most of the fight and having the spawn advantage, PIXL managed to regain control with only 1 tick lost. Great target selection and focus fire from SereNity put PIXL into disarray though, and they finished the point off with 4:03 to spare.
"You never know what the game will be like until it happens, and with a new patch and two weeks of practice, this is our best chance at an upset."
Noxious, SereNity's Manager
PIXL's attack was halted on the first point by Guzto and Oily's Orisa-Roadhog combo, finding crucial picks to stop the dives before they even started. While PIXL managed to cap out the first point, Exotic's Doomfist and McCree shone on the second point, rendering Dewboy and Exirst useless fight after fight and without any damage to back up the front line, PIXL fell short.
Temple of Anubis has been SereNity's map of choice this season, having won all 4 encounters. "Anubis is a great map for us stylistically," said Noxious, "but also because we've put the hard effort into being as good as possible on it.
"Unfortunately we don't have unlimited time to do the same for every map, but we're certainly trying to improve across all maps."
SereNity chose to attack first on Rialto, and it paid dividends. This time with Forbles on the Orisa, Oily landed a number of tight hooks to swing the fight in SereNity's favour. While PIXL were able to stall the attack into overtime with a number of Zarya-Hanzo Dragonball combos, SereNity still completed the map.
PIXL's were stalled out on the first point after Nox and Oily found crucial picks. PIXL were able to capture the first point thanks to Dewboy finding 4 kills in overtime, but they were quickly stopped in their tracks on the 2nd phase. SereNity took out Rialto, and took the series 3-1.
Noxious said that qualifying for playoffs "is a big success for everyone. It's a really nice benchmark to look at and show our improvement, and act as a springboard for next season no matter how we do in playoffs."
On the point of playoffs, they are up against the immortal Sydney Drop Bears. "It'll be tough," Noxious concedes, "but that's the goal we're focusing all of our practice into at the moment."

In the other Group B matches, Masterminds secured themselves 3rd seed after sweeping Avant 4-0, while Dark Sided won the top of the table clash against Kanga 4-0.
Avant needed to beat Masterminds at least 3-1 to qualify, and their chances were dashed within 2 maps after being smashed on Oasis and Eichenwalde. Masterminds finished off the series without dropping a map, although a slightly shaky Route 66 game might pose some doubts heading into their playoffs match with an in-form ORDER.
Kanga and Dark Sided gave us a fight for the ages, and while every map was extremely close, Dark Sided had the edge on Kanga every single time. An impressive final fight on Temple of Anubis without any ult charge after Yuki's disconnect showed how gutsy Dark Sided were in the series, and they head into playoffs with a favourable matchup against Tainted Minds.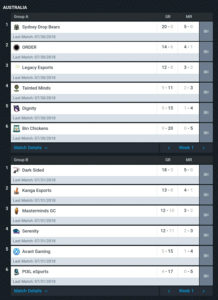 Group A had the potential to be very exciting, with another top of the table clash on the cards and another game crucial to determine final seedings. However, Legacy had to forfeit their series against Sydney Drop Bears, allowing the super team to secure the first perfect season in Contenders history. This match was crucial to determine the rest of the seedings, but the forfeit locked everything in place, and the rest of the matches became formalities.
ORDER vs Dignity was only a 3 map series, with Dignity having to forfeit Oasis due to technical difficulties. The game was relatively one sided, with ORDER executing clean team play while also winning the individual duels against their Dignity counterparts.
Bin Chickens looked like possibly taking a map off Tainted Minds, hoping to avoid the same 0-20 season TM had last season. However, Tainted Minds composed themselves after a shaky Oasis, and took down Bin Chickens in convincing fashion 4-0. With their first playoffs match against Dark Sided, they'll need all the confidence they can get to cause an upset.
---
Overwatch Contenders Australia will return in 2 weeks time on Monday August 13 at 12pm AEST with playoffs. The winners of Sydney Drop Bears vs Serenity and Kanga Esports vs Legacy Esports will cement a place at the live finals at Melbourne Esports Open, while the losers will find themselves waiting until next season for another shot at glory. Catch the action over on Twitch.