Former Echo Fox coach Nick "Inero" Smith is returning to the Oceanic Pro League, though this time his involvement comes from across the Pacific.
Inero has been confirmed as a 'behind-the-scenes' consultant for ORDER as the organisation prepares for the upcoming 2018 Split 2 Gauntlet, with Smith's involvement likely to include input on scrims, planning strategies and an added voice in team discussions.
"I was approached by the organisation after I announced I had stepped away from Echo Fox mid-split, and I realised it was a good chance to get back to work with the OPL," he explained.
"I'm looking forward to being involved all over again, it was something that was very quick to put together. A lot of what I work around will be about how the team is approaching practice, and bringing insight before and after their matches."
Inero is also looking at his time as part of the ORDER army as a chance to "help right a few wrongs" with systems and backroom plans that are employed in the OPL.
"There's a lot of things that need to be improved on the back end of things in the Oceanic competition, and that holds true here in North America as well," he said.
"I've been pretty outspoken about that and now I have a chance to do something about it."
"I want to help the Oceanic region in any way I can because I have a lot of time and passion for everyone there. I've got a bit of time now because of stepping away from Echo Fox so I can use that spare time to help ORDER at the end of the season."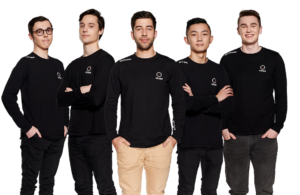 ORDER general manager Jake "Spawn" Tiberi believes Inero's involvement in the management of the organisation's League of Legends will allow coach Aaron "ChuChuZ" Bland to be "laser-focused" when it comes to leading the finals-bound squad.
"It's great having an experienced consultant helping a very young coaching group," Spawn said. "Nick has allowed Aaron to be laser-focused on his role whilst also being a great mentor for the playing group."
Spawn isn't the only member of the Melbourne-based esports club that welcomed Inero's knowledge and experience, with team captain Simon "Swiffer" Papamarkos stating he's looking forward to the added "strategic complexity" the former Echo Fox coach will bring.
"[Inero] has a unique perspective on the game, and we hope to show some additional dimensions in the coming weeks," Swiffer said.
Inero has also joined NA LCS organisation Golden Guardians in a similar capacity. The Guardians are currently sit in eight place with just four matches left to play, after an 0-2 weekend dropped them to a 5 win, 9 loss record for the split.
"It's going to be a little bit more hands on than the ORDER role because I'll be based here [in America]," he said. "That team (Golden Guardians) is also a bit more in jeopardy of missing playoffs in their own league, but it's a very similar role to what I'll be conducting with the Oceanic team."
---
ORDER's next challenge in the OPL comes in the form of Tectonic, who are currently struggling at the bottom of the Split 2 standings with a 2-8 record.
From there, the club will play Dire Wolves in the final match of the regular season, before eyes turn to finals from August 24. Find the schedule and more information at oce.lolesports.com.