ORDER believed they'd prepared well for anything Avant Gaming could throw at them in their Week 8 draft, but an "outstanding" draft forced Aaron 'ChuChuZ' Bland to push himself to the limits as he guided the third placed team to a win in three.
ChuChuZ – who made the switch to ORDER's head coach after a storied playing career with Legacy Esports, and the notorious Tainted Minds – said he "had to adapt on the fly" after some interesting picks from Avant's coach Charles 'Pinch' Wraith.
Although the ORDER draft came out triumphant in the opening game, as the squad claimed a 10-6 (54.9k to 48.6k) win in 29:09, it was the second pre-game that gave Avant Gaming the advantage.
An out of the box LeBlanc pick for Frae, at least in the eyes of those preparing on ORDER's side, gave Avant the platform to claim the second game in less than 30 minutes, with Frae himself beating Swiffer (Orianna) 12.6k to 9.5k.
Watch: Frae and Praelus put the surprise LeBlanc pick to work, picking up first blood on Swiffer in game 2 of the series

The third and deciding match went more to plan for ChuChuZ and the squad however, as they claimed Taliyah again for Spookz and put FBI on Varus.
Bland pointed to the team's jungler and bot laner as the guiding members in the final match, with Spookz dictating play across the map to end 9/2/6 while FBI, alongside Rogue on Tahm Kench, scored first blood, first turret and ended with an 8/1/8 stat line alongside a 5.2k gold lead over DarkSide.
"Spookz and FBI both had great games, and it was a really interesting match from the drafting perspective, at least for me, because it challenged me," ORDER's head coach said. "Avant picked Varus and Pyke early in game one and that pulled away from some of the situations we had prepared for."
"It meant that I had to do a bit of complex thinking for it all, and that was a really interesting time."
He also was glad he had the chance to flex his drafting 'muscles' against Avant as the gauntlet approaches, and believes the practice will help with the best of five series the finals offer up.
"Heading into the gauntlet, you have to have a lot of versatility and dynamic choices, a single game you can cheese but when you face up to five matches you have to be talented to pick up odd choices in the draft," ChuChuZ explained.
"It was quite good that Avant pushed us in the draft because it's something that we have to be prepared for. It's my opinion that a lot of OPL teams draft really poorly, and AV in the first two games tested my skills in Pick & Ban, especially in regards to the gauntlet."
The 2-1 victory, and results elsewhere, put ORDER in the driving seat for third place in the Oceanic Pro League standings, a position ChuChuz says the squad are "happy with for the gauntlet".
"We learnt a lot when we placed third seed in Split 1, so we learned a lot about how to approach the gauntlet with that experience," Bland said. "We are confident we can beat every team in the league on our day, and we're in a good patch at the moment."
"The team has a great understanding of how to play the game, how to win the matches, and with two weeks left we can see how our practice reflects and if we're coming into form the Dire Wolves series [in the final week] will be a good finish to see if we can run the entire gauntlet."
---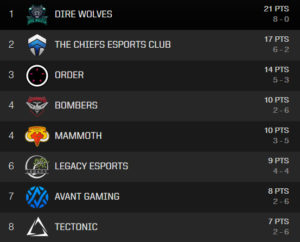 Elsewhere in Round 8, Dire Wolves claimed a 2-0 victory over Tectonic to stay four points clear at the top, with k1ng showing up in Game 2 of the series to claim an 8/0/4 stat line and a triple kill to close out the league leader's sweep.
Also on Friday evening, Legacy Esports leapfrogged Avant Gaming into sixth place with a tight victory in a three-game series against Bombers, thanks in part to a strong showing from mid laner Claire as he scored a 4/0/1 finish on Viktor in the opening game before running away with the match on Zoe (7/2/6) in the decider.
Finally, Chiefs remained hot on the Dire Wolves' heels with a 2-0 sweep over MAMMOTH that included a composition in Game 2 that put Raes on Orianna.
Despite the interesting pick in the bot lane, combined with Destiny's Tahm Kench, it was ry0ma's Yasuo in the mid lane – 9/0/3 in 25 minutes – that decided the game and left MAMMOTH's Remind (Zoe) with a disappointing 0/7/2 stat line.
STANDINGS: Dire Wolves (21), Chiefs (17), ORDER (14), Bombers, MAMMOTH (10), Legacy (9), Avant (8), Tectonic (7)
Photos courtesy of OPL/Riot Games.