The Bombers have secured their place in the Split 2 gauntlet with a 2-1 win over MAMMOTH, a "relief" for the squad after falling short in their first campaign earlier in the year.
A strong opening game will be the building blocks for the organisation's finals hopes, after Tiger on Jhin (5/0/2) and Seb on Kindred (3/0/3) guided the squad to a near-perfect game.
A single kill – claimed by Chippys on Gangplank – and two downed turrets were all that kept MAMMOTH from a zero sum in the match, and the Bombers stormed to a 12-1, 68.8k to 58.6k lead in 37:03 minutes.
MAMMOTH claimed revenge in the second game, as Chippys scored a triple kill and an 8/1/4 stat line to collect a point for his team and send the ninth round match to a decider.
A bloodier third game was to follow, but another 10k gold lead for the Bombers secured their win on the standings, and a crucial two point collection to earn their right to the gauntlet a week early.
Watch: The Bombers win a fight at baron to end the series and qualify for the OPL Gauntlet

Alan "Tiger" Roger, who scored another key performance on Jhin in the third game with 5/0/8 and a 4.1k individual gold lead, said after the squad's disappointment in Split 1 of the year, it felt "amazing" to secure a finals position.
"We had a really clean first and third game so that was great, and there's a great deal of relief that we're into the gauntlet now," Tiger said.
"I'm from Europe so of course I want to go back there eventually, but in the OPL I feel like I can win it all, so I want to show that. Now we have that chance. I want to win it all."
"After everything, it's amazing to get to the finals with this team, there's a lot of things to come in the gauntlet but despite how it ends up we're all just looking forward to showing what we can do."
The French import AD Carry is looking forward to heading into best of five match-ups in the next fortnight, and believes it will be a "mental war" for the teams.
"I've never played as a professional player before this year so I haven't had a really good chance to play in a series like that," he explained. "It's definitely going to be a mental battle but it's a team game and we can prepare well."
"Maybe we'll see some interesting picks, I'd like to play some mages but I know that I've been practicing a small champion pool so we'll see."
Alan "Tiger" Roger
Bombers coach Scott "Windowsmonkey" Farmer agreed with Tigers' sentiment on achieving gauntlet qualification – the team was "very happy" to ward away past mistakes with new styles.
"Falling short in the first half of the year caused us to change how we were playing the game," he said. "We put significantly more emphasis on developing team structures that allowed us to work together to achieve victory, rather than attempting to rely so heavily on individual performances."
The Bombers back-room commander also praised jungler Seb, who he believes may be the player who has shone brightest in terms of development in the entire league.
"He's been the most improved player on the team, if not the whole league this year," Windowsmonkey said. "The past few series have really been showing off this improvement."
Finally, Farmer agreed with Tigers' analysis of the team's preparation for the best of five series on the horizon, and believes the team is "suited" to the long grinds.
"We usually take a bit of time to warm up on stage, but the results of the split show once we are warmed up our team is able to compete with anyone," he said.
"It's tough to say anything about a deep run in the gauntlet – we'll be starting from a tough position. We will play towards our strengths and play our own team's games. Hopefully this allows us to achieve success."
---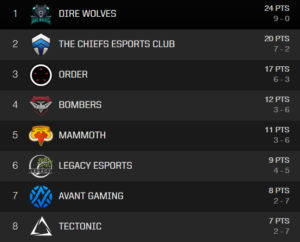 Also in the second last round of the OPL, ORDER confirmed their place in the gauntlet with a 2-0 performance against Tectonic. Despite the defeat, UDYSOF shone in his second game in the league, recording a 6/0/0 score on Trundle.
Earlier in the week, Dire Wolves continued their undefeated march to the top with a 2-0 win over Avant Gaming, while the Chiefs claimed victory in the grudge match against Legacy with a clean sweep.
STANDINGS: Dire Wolves (24), Chiefs (20), ORDER (17), Bombers (12), MAMMOTH (11), Legacy (9), Avant (8), Tectonic (7).
Photos courtesy of OPL/Riot Games.