Despite a mixed campaign in the Oceanic Pro League Split 2, Legacy have secured a playoff position with their 5-5 record, and a clean two game sweep over MAMMOTH.
It was a "surreal" feeling to have made the elimination rounds after nine weeks of ups and downs, the team's jungler Jordan "Only" Middleton said, but revealed the whole squad was simply feeling "relieved" to still be playing this coming weekend.
"We came into the split feeling like we wanted to earn ourselves a strong placing in the gauntlet, but as the weeks went on we realised we might just be fighting for a spot in the gauntlet, let alone a good standing,"
Only – who joined the league stalwarts mid-year after Lachlan "Sybol" Civil departed for Tectonic – shone on Gragas in the massive clash that, although it was just two games, went for a combined 107 minutes of time on Summoners Rift.
Watch: Only drops a massive Explosive Cask on Remind's Irelia to save the fight.

Alongside Only's back-to-back outings on the Rabble Rouser, the entire Legacy roster stood tall in the bloody contest, as Game 1 finished with 26 kills apiece between the two teams, including eight for both Claire (Ryze) and Raid (Xayah).
It was a "great feeling" to earn a spot in the gauntlet, Only said, and praised his team for their impact in the two long-winded clashes across the Rift.
"After our performance this split the last few weeks we were all a bit stressed out and worrying that we wouldn't be there come post-season," he said.
"We were really happy that it came down to us, we weren't reliant on how other teams were going to go, and it was completely up to us."
Jordan "Only" Middleton
"I'm really proud that we could get the job done, and that we won, and it was a bit surreal that we'd made it. I have to say it felt really rewarding to get that 2-0 result and realise that after everything that had happened we had made it."
With eyes across Oceania now turning to the gauntlet weekend, Only and Legacy have specifically focused in on their first opponent – the Bombers.
"I'm definitely looking forward to being in the gauntlet, for me personally making the slots was a massive relief because I always want to play in the playoffs," Only said.
"History shows we have 'one-up' on Bombers, and if we can play our game we should be able to take them out. From there we'll just take it one team at a time, and see how it goes.
"We're looking to play more relaxed, I think a part of the problem was that people were getting a bit more jumpy on stage, and feeling a bit pressured. We'll be looking to play our own style now, we showed that we can remain calm while playing from behind."
---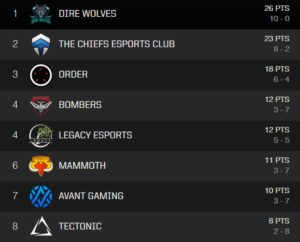 Dire Wolves also tasted defeat in the final round of the regular split, although just for one game as they fought back to a 2-1 victory over ORDER on Saturday evening.
ORDER claimed first blood after a 50 minute slug fest swung back and forward between the two gauntlet squads, a critical Baron Nashor secure from Spookz on Taliyah gave them the platform to close out the game.
Dire Wolves refused to drop their perfect match recorded however, as they claimed the next two games – including one off the back of a 12/0/2 performance from breakout top laner BioPanther on Dr. Mundo – to retain their 10-0 finish.
Also in the final week, Chiefs swept Bombers aside in a 2-0 victory, while Avant Gaming took down last placed Tectonic in a 2-1 thriller.
Despite the three-game clash falling to Avant, both teams will still contest the promotion tournament in the near future to fight for their survival in the OPL.
FINAL TABLE: Dire Wolves (26), Chiefs (23), ORDER (18), Legacy, Bombers (12), MAMMOTH (11), Avant (10), Tectonic (8).
Photos courtesy of OPL/Riot Games.