Tainted Minds entered into the eXTREMESLAND AUNZ Qualifier final on form after toppling hotly-favoured ORDER 2-1 in the Semi Finals.
Despite some individual heroics from ofnu and INS, they were unfortunately felled by The Chiefs 2-0 and their coach Fergus "Ferg" Stephenson was gracious enough to have a chat with me after the match.
I'm being joined by the coach of Tainted Minds, Ferg, who just got knocked out in the Grand Finals of the eXTREMESLAND Qualifier. So Ferg, we'll start yesterday where you guys took a pretty massive victory over ORDER 2-1.
Ferg: Look, I mean we were pretty stoked to get the win. With ORDER it's a rivalry these days. We never know what sort of result is going to come out. They adapt quite well to our game style and yesterday we found a lot of weaknesses per se that we were able to exploit over and over and that allowed us to get the clinch of the series.
It was a really commanding – obviously outside of Cache – we were pretty comfortable on both Dust 2 and Nuke. We managed to get to 15 before they hit double digits on both maps. That's just how it goes when we play ORDER – there'll be series that we play where they batter us and there'll be series where we batter them. It just seems to be the trend. So we just came out the better outfit yesterday.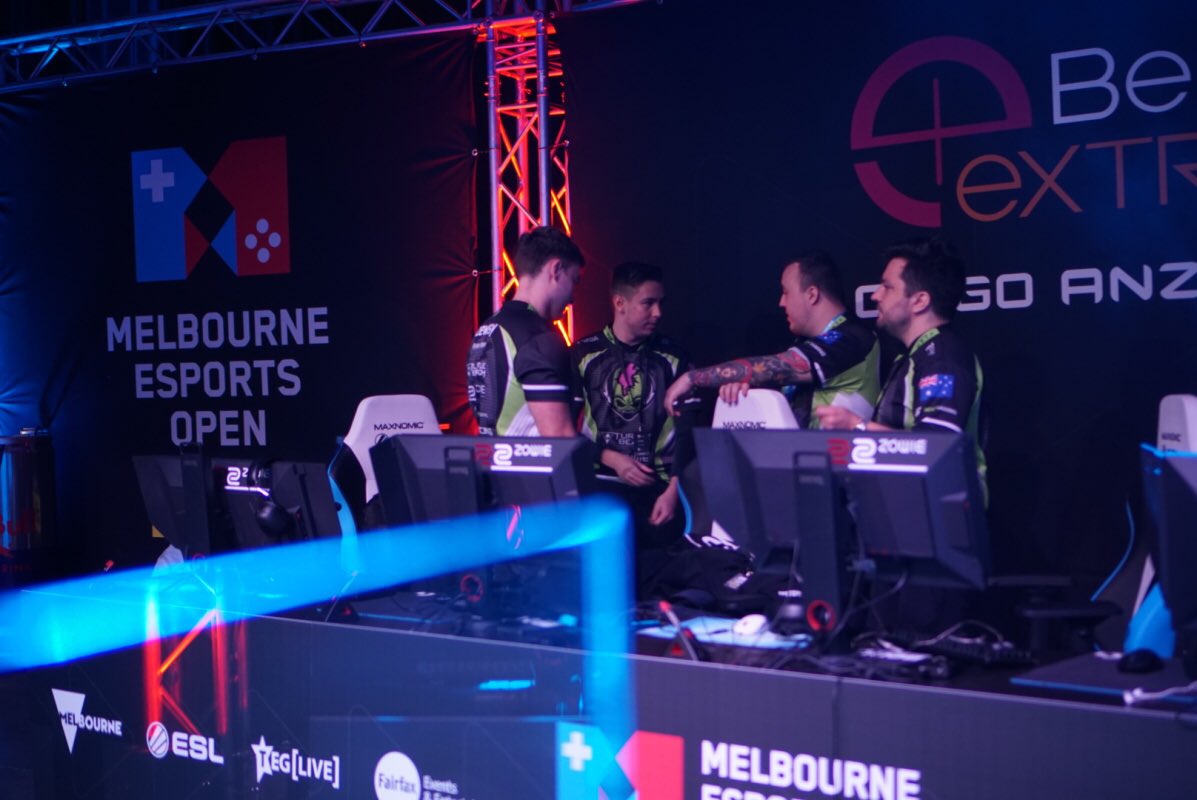 Heading on to today with the Grand Final. What were you expecting from The Chiefs?
Ferg: Oh, we were expecting a random game style…well not so much "random", I mean more a semi-structured "free" style of play. Really sort of aggressive and not letting us adapt – that's Mike's (apoc) call style, so he really kept us tangled in that respect. We couldn't counter them based on the last round – we really had to take into account how much ground they were covering in certain areas.
They just exploited us and we couldn't contain them. Especially on Inferno. On Mirage it was the same struggle, especially the CT half. We just couldn't see areas that we could bolster the numbers, because as soon as we bolstered the numbers they'd just jump on the other side of the map. They had a really good read on us and our setups so it was very difficult on our CT sides.
I think on Mirage as well we ended up losing the CT half 9-6 or something so it was a pretty tough task. They played it really well with a stand-in and they should be commended for that side of things. I think IyeN really stood up, it's not like he went ballistic and took over the game, but he played his role which made it really tough for us.
Let's talk about pistol rounds. On the pistol rounds it did seem like The Chiefs had the advantage. With a stand-in they were going very aggressive and it worked very well for them against you guys?
Ferg: I told the boys after the third pistol round…fourth, sorry. It was the T pistol side of Mirage. We just need to lock in a pistol – we haven't won one yet. They played their anti-ecos really well, I think there was one force-buy we won on Inferno. Other than that, they closed out their anti-ecos really well and that's obviously one of the hardest tasks in CS:GO, to convert your anti-ecos.
Honestly, hats off to them. They played outstanding, and as you mentioned the pistol side of things is an important of the game, it's not 100% necessary, if you can split 50-50 on a series you can usually come out on top if you're a really strong team but if you're losing 100% of your pistols in a series you're making it one of the toughest tasks for yourselves.
Unfortunately we couldn't convert any pistols and if it was the case that we could have gotten one on Mirage, maybe it would have been different. We could have finished the game in regulation time and not gone to overtime.
And just on that round 28, that Molotov, how did you feel after that?
Ferg: (chuckling) There was a lot of head-shaking going on behind the screen. It's unfortunate – it's just one of those things that the game hasn't fixed. I think it happens in Banana (on Inferno) as well if you Molotov the halfwall at the bottom of banana it will burn someone on the top.
It happened to BURNRUOK at Van (on Mirage) as well. He saw the molly land at the bottom of Van and he moved a little out to the right at the top of Van and he cops the molly for two ticks and that's the end of him.
Thanks for talking to us here at Snowball.
Ferg: Thanks very much.
---
While this loss will sting for Tainted Minds, they will need to get back on the horse pretty quickly as they have Animal Squad next on the docket on the 5th of September. We spoke to Ferg very shortly after the finals, and to have such specific recollection with barely any time to gather his thoughts was super impressive.
TM fans can be confident that the brain behind The Brains will have his team back in fighting shape quickly with his attention to detail. Follow Ferg and Tainted Minds on Twitter.