The Dire Wolves are just days away from the beginning of their 2018 World Championship campaign in South Korea, but for the Oceanic representatives their path to a potential group-stage berth began from the moment they claimed victory at Rod Laver Arena.
After securing the 2018 Split 2 Oceanic Pro League title at the Melbourne Esports Open, the defending champions turned their attention to the scene of their next major battleground, Riot's newly constructed LoL PARK in Seoul, and preparations began with a month long boot-camp in Korea's capital.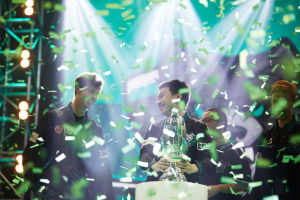 While recent controversies – mainly the two-game ban that star jungler Shern "Shernfire" Tai was whacked with after repeated toxic behaviour in high-elo Korean solo queue – have certainly rocked the boat and sent Dire Wolves' preparations into a new phase, head coach Curtis "Sharp" Morgan believes the team are more than ready for the challenges ahead.
"Preparation has been going great, we've been running through scrim blocks and the players have been grinding a lot of solo queue to make sure they have a strong read on the meta at the moment," Sharp said.
"For our team, confidence has been key – League of Legends is a competitive game that is based around the feelings of winning, getting kills and dominating lanes. When you have that confidence heading onto the Rift you are more likely to replicate those positive movements.
"While the whole Shernfire situation leaves us at maybe 75 per cent of what we were before, just because of the mental toll that it can take and also bedding in Toby [substitute jungler Toby "UDYSOF Horne], we feel like we can take a game off anyone on our day right now."
Morgan, who has coached the Dire Wolves through all four of their OPL titles and was involved in both Mid-Season Invitational campaigns as well as the Worlds run in 2017 that saw a second day of results sink play-off hopes for the Dire Wolves, believes the team is the most ready they've ever been for an international event.
"Yeah, there's a lot of things happening heading into our first day, but we're really playing quite close to the peak of our powers right now," he said.
"We want to show the world what we've been preparing for the entire year, our entire campaign comes down to these few days and beyond, and we're looking forward to getting onto the Rift and proving our worth."
.@udysof just landed safely in Korea?? Ready to get to work for #Worlds2018 ? pic.twitter.com/ErEStR5LCQ

— LG Dire Wolves (@DireWolves) September 27, 2018
The Dire Wolves have been scrimming the likes of Gambit Esports, DetonatioN FM and Kaos Latin Gamers, and have also bagged a handful of scrim blocks against LCK and academy teams who have been keeping sharp in the off-season, with positive results.
According to Sharp, the team has used the scrim-blocks and solo queue training to get a strong read on the Worlds meta (to be played on patch 8.19), and for the most part have now confirmed what they want to bring into the Worlds Play-In Group stage against Edward Gaming and Infinity Esports.
"We're feeling good," he said. "Obviously missing Shern is a major part of everything over the next few days, but we have a saying in the Wolfpack: 'Plans are useless, but planning is essential'.
"We've done our planning, and we're prepared, so now we'll just see how it all pans out on the day. Both Toby and Shern bring different elements to our game-styles and our on-the-Rift plans, so we're going to implement them differently across the two days."
Finally, Sharp addressed the toxicity ban that Shernfire received over the past few days, understanding many Oceanic fans would have been "disappointed" to hear the news from Riot's administration.
"I'm sorry that this happened, especially so close to worlds," he said. "I feel like I could have had an influence on what happened, so I'm sorry that it's happened at all."
"While fans may have mixed feelings about barracking for the Dire Wolves at Worlds now, remember that the players are all here with the weight of the world on their shoulders, and they can all use all the positivity that they can get.
"It's so important and special for them, and for us, to be representing our home region, so we hope you can get behind all of us despite everything that's happened and cheer us on through the streaming services and online. We're looking forward to it all."
---
The Dire Wolves kick off their Worlds campaign against Infinity Esports at 8pm AEST on Tuesday evening. They will then face Edward Gaming at 10pm the same night.
All matches will be streamed live on Twitch and YouTube, find the schedule and all the details at lolesports.com.
Follow Sharp and the Dire Wolves on Twitter.