In what should forge some intense rivalries, independent Overwatch organisation SereNity have rebranded to become the Melbourne Mavericks for Contenders Australia Season 3.
The roster of "outcasts," as affectionately described by team owner Macyn "Macyn" White, shone at the end of Season 2 to secure a playoffs spot. They handed the Sydney Drop Bears their first map loss of the season in their quarterfinals match – and now could be up against them head to head in Season 3 in a Melbourne vs Sydney rivalry.
"I've been on the SereNity hype train since the start of Season 2," said the ex-Masterminds Blue player. "I got some coaching sessions in with the boys before I went off travelling and by the time I came back it was crazy how much they'd improved.
"None of them were really involved with the social side of things and being those outsiders – you could see it in how ineffective their scrim time and practice was."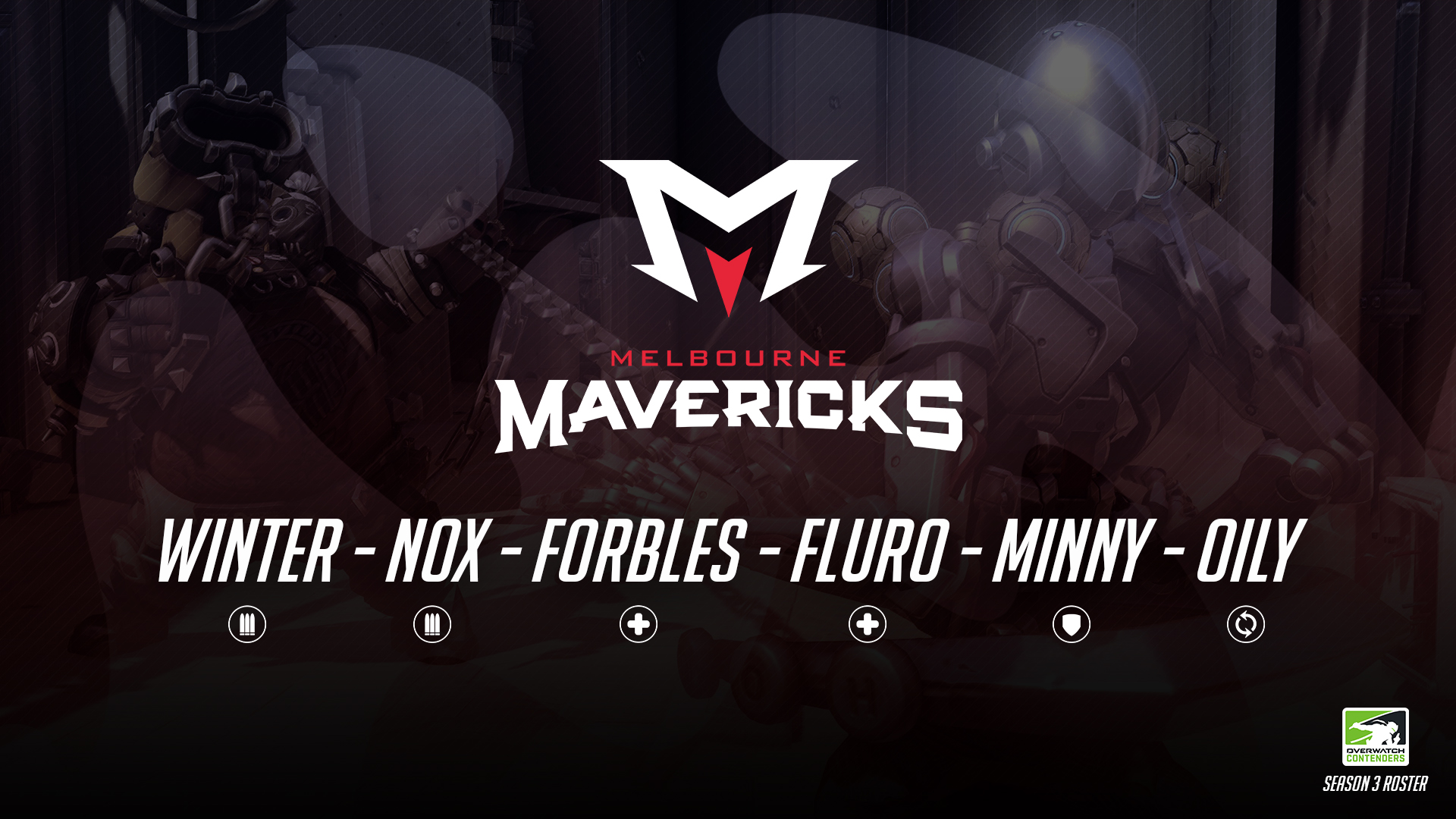 The roster in Season 2 changed a bit midway through the season, with the team picking up Exotic. The 16-year-old DPS prodigy shone from the first moment he played, and in Season 3 is off to a new team. However, they've acquired the services of Winter from the old Avant line-up and with a new structure in place, the team is looking to rise to the top.
Team captain Myles "Forbles" Glacken says the change is a perfect fit. "The Mavericks are a brand new org which is probably the perfect fit for a team that is rather new to the scene. The graphics OwenMroe has put together for the team are outstanding, and I hope we can do it justice.
"We had a bit of bad luck coming up against the Drop Bears last season for our playoffs match, but we're confident we can make it to the finals no matter who we come up against."
With Melbourne in their name, Macyn is looking to bring more non-endemics into the scene. "While the org currently is heavily player focused at the moment, we are reaching out to potential sponsors and I hope to bring more mainstream sponsors to Contenders."
And for that rivalry, Macyn said the Mavericks are definitely looking to start it. "You know I've gotta go for the city rivals [with the Sydney Drop Bears]!"
It's now up to them as to whether they accept the challenge.
---
You can catch the Mavericks in action during Contenders Season 3, starting in mid-November.

Follow Macyn, Forbles and the Melbourne Mavericks on Twitter.