Having come into Overwatch midway through 2017, Athletico returns 12 months after their departure to claim Masterminds' spot in Contenders Australia Season 3.
The organisation had a brief stint in Overwatch, acquiring the very successful Monopoly Club, arguably the best org in Australia at its peak in early 2017. The roster's life as Athletico CAMO was short-lived, with a win at the ESL Championship Season 1 and a 4th place finish in the CyberGamer OCE Circuit before disbanding after Open Division Season 2 2017.
Athletico Owner Richard "Mangy" Lee says the re-entry was a matter of if, not when.
"Athletico has always kept an interest in the Overwatch scene and was trying to find the appropriate time to re-enter.
"We had multiple conversations over the past few months to secure the right team and a Contenders spot. After MEO, watching the finals, we decided to finally pull the trigger."
While Athletico have had some troubles with community perception in the past, Mangy reassures everyone that the org is looking to make it the best possible experience for all players.
"We have a completely new management team [from 2017] and I think recently we have done a really good job having our players in the best environment we can offer while being honest and upfront about everything.
"I'm certain the community will have a better view of Athletico coming out of Season 1," he said.
While the core of that roster moved onto Blank Blue and then ORDER, only Gob returns from the Monopoly Club roster all those seasons ago. Recruiting some of Australia's best veterans, Athletico looks to be a throwback to tournaments gone past – but don't get complacent, they are still looking to make some noise in Season 3.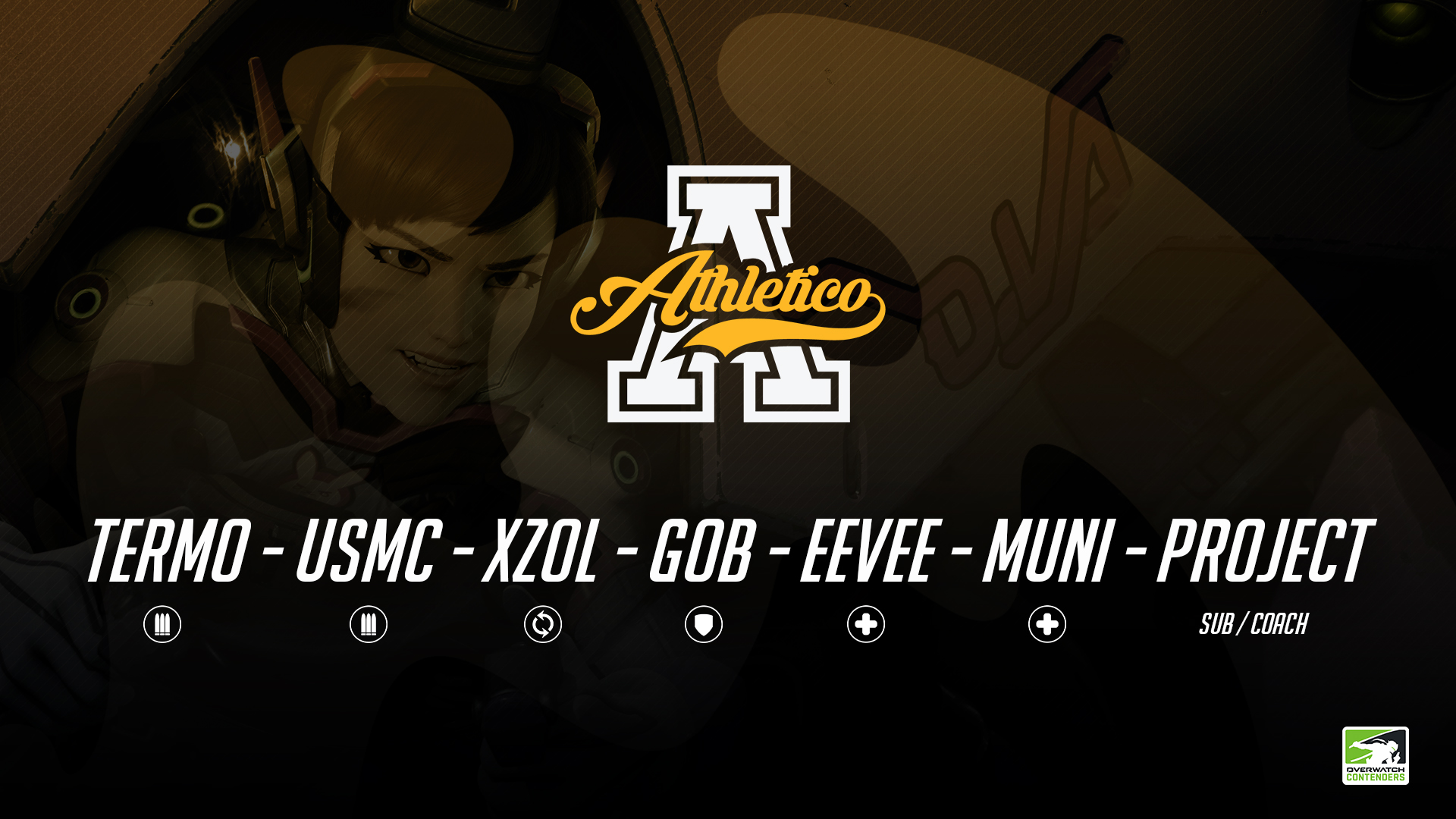 Captained by Marcus "xZoL" Jacob, previously known as Kiki, Athletico's roster has picked up some of the best talent left behind by this season's roster shuffle. Termo comes from Dark Sided after a brief 'retirement', bringing along old coach Project to the team.
USMC hails from the old Masterminds roster, while Muni and Eevee go back to Love Shack in 2016, with Muni playing for Tempo Storm AUS and Blank Blue while Eevee also played for Lesser Skilled Players alongside names like Hus and Cinderella.
After playing one week for Legacy in Season 2 before taking a break, xZoL says he's feeling better than ever heading into Season 3.
"I just felt it was necessary to take a small break to avoid completely burning out from Overwatch.
"I feel ready and motivated to progress as a player which I haven't felt in some time."
Marcus "xZoL" Jacob
While he is playing down their chances for a top 4 LAN finish, nothing is off the cards yet.
"We haven't really had the practice to solidify team roles and build the synergy required to perform as a top 4 team, but I think in time as we progress through the season we can build the foundation and progress our way through to becoming that top 4 team we are all aiming for."
If there's one thing Athletico have in spades, it's experience. All of these players have been on top level teams since the start of 2017 and when it comes down to the wire they'll have the upper hand.
"I think we will have an edge over some of the lesser experienced teams in terms of mechanics and strategies just from the amount of hours a lot of the players on our team have put into the game.
"I look forward to seeing which teams perform and which of the new names prove themselves. As for myself, I look forward to just getting better and improving together with my team, hoping to get that top 4 spot I'm confident we can achieve."
---
Contenders Australia returns for Season 3 on Monday November 19 on the Overwatch Contenders Twitch channel.
Whipply, Racquet and Ducky will be hosting Snowball's Overtime Season 3 Preview show on Thursday November 15.