The top dogs of Australian Overwatch, these teams will not want others to relish in their former glory. These teams are looking to build their legacies, their dynasties, and are pulling out all the stops to sit at the helm of Contenders Australia.
Last season's LAN had an unknown, a tale of triumph and despair, and the formation of one of Overwatch's most dominant dynasties. Kanga Esports seemingly came from nowhere to take a seat at LAN, while ORDER fell painfully short of a grand finals spot once again.
Dark Sided had their most successful period in Overwatch yet but have left the scene, allowing a new challenger to take their place. Then at the helm is the seemingly-unstoppable Sydney Drop Bears, who have recruited serious firepower heading into Season 3.
Will these teams make it to LAN again this season? They'll all be aiming for it, but in the meanwhile, here's a rundown of all four LAN finalists from Season 2 and their hopes for Season 3.
Kanga Esports

Kanga Esports went from barely making playoffs to LAN contenders in one season. Led by Maid, one of the region's most respected coaches, and American talent ChroNoDotA, they climbed to the top.
With only one player remaining from the team which made Season 2 LAN, Kanga has rebuilt a roster utilising a great selection of talent – as well as giving a certain someone a team.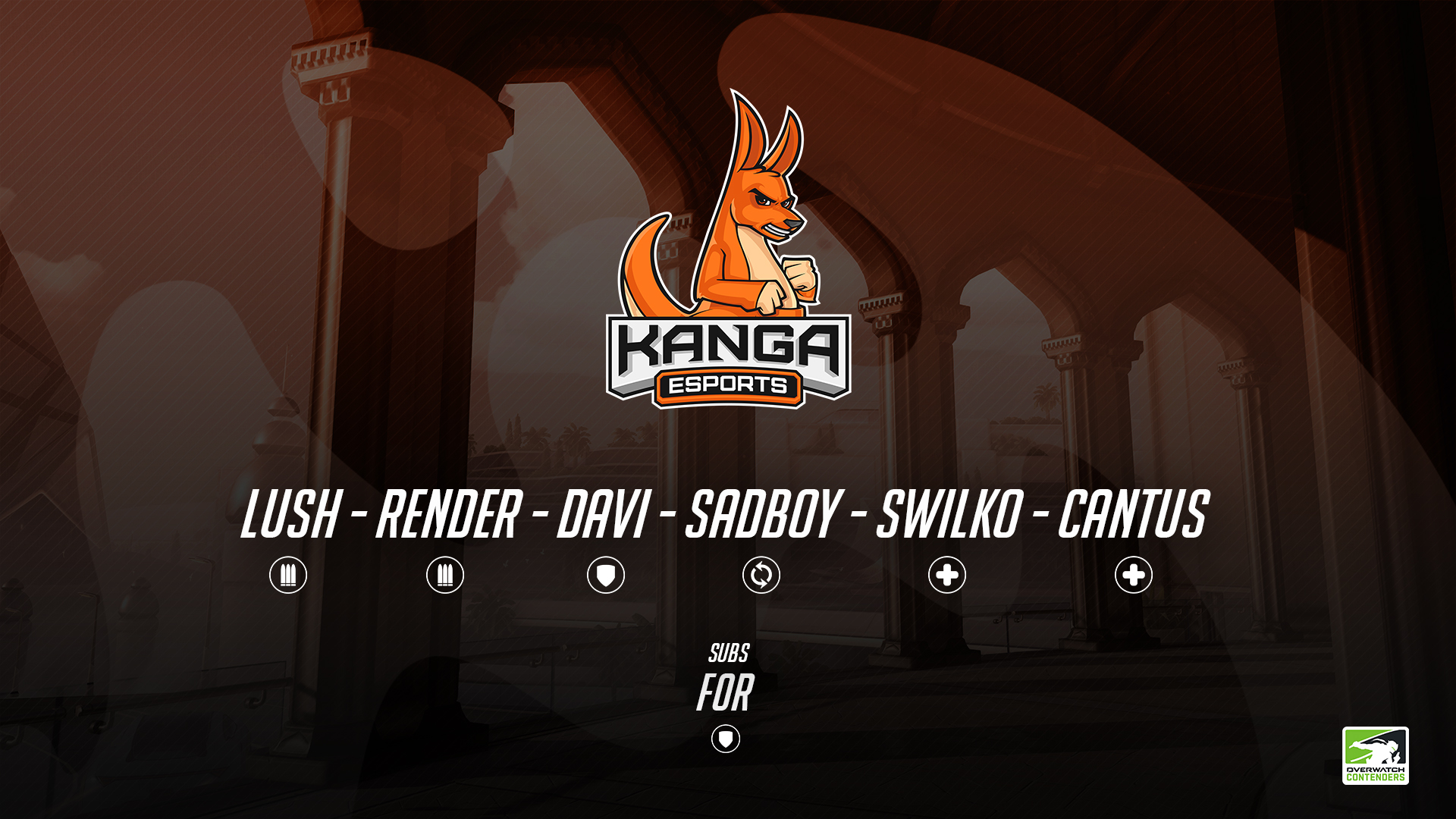 With Davi flexing into his third role in three seasons, the ever flexible stalwart of Kanga took plenty of notes from his time playing at the Melbourne Esports Open.
"MEO really made all the time put into Overwatch worth it. The most worthwhile experience was just learning to stay calm in match environments since nothing is as nervewracking as being on stage."
"The team is improving fast, mostly due to our incredible coach TCC."
Davi, Main Tank
As for the role swap, it's something that's been a long time coming.
"I always played main tank during 2016 and early 2017 – I prefer it and have more experience on it. It's also easily the most difficult role in the game which I take as a challenge and I'm excited to try and conquer it."
Davi is backed up by the veteran support line of Swilko (Masterminds) and CantuS (Dark Sided) as Kanga looks to march forth into Season 3. LUSH, who played for Blank most recently in Trials, and Render (Dignity) round out Kanga's DPS, while Sadboy returns after a season's break.
"I think the team is more open to improvements with a better attitude, so in a way, there's more potential and just a matter of how much time we put in," said Davi.
Will they make LAN once again? It's up in the air for now, but don't discount Kanga, because they'll come out swinging.
ORDER

Perennial semi-finalists, ORDER have been without a grand final appearance since their days as Athletico CAMO where they won Season 1 of the ESL ANZ Championship.
In Season 3, they look to put a stop to that. However, casualties have been claimed – the region's much beloved "children" have split, with only one remaining on the side which has stayed together for so long.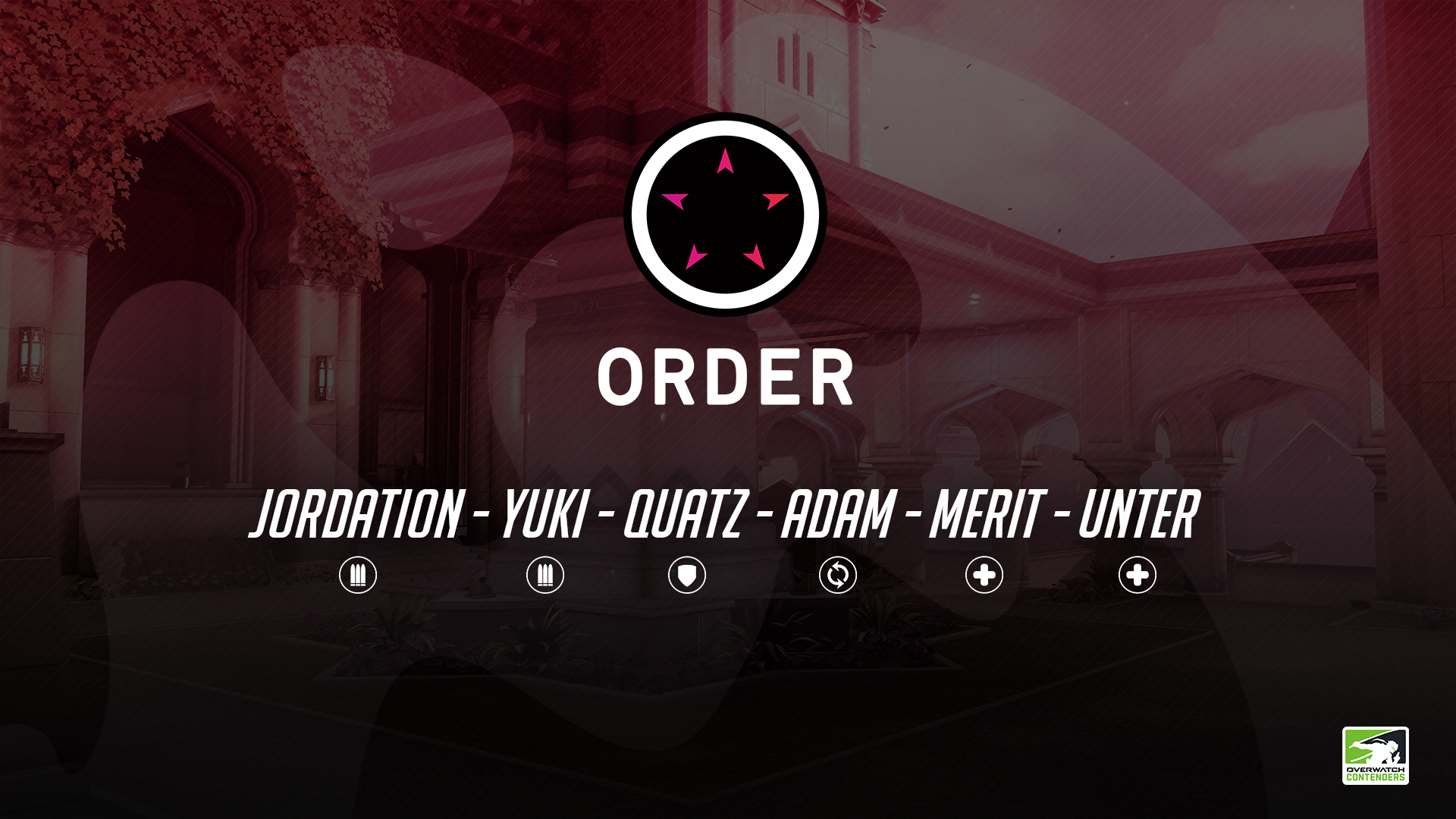 Adam and Unter remain from the Season 2 team who fell one Grav short of making the grand finals last season. They are joined by World Cup member Yuki, ex-Drop Bears Jordation and Quatz and Kanga's Zenyatta fragger Merit in a team made to show that the third time is the charm.
"With the level of competition increasing, we're incredibly hungry to prove ourselves as a championship team."
Adam, Off-Tank/Flex
"Playing with this new roster has been great fun – after such a long time with the old core it's also been a bit refreshing." said Adam.
Adam and Quatz also makes for one of the youngest tank lines in Overwatch around the world. The 16 and 15-year olds respectively have already proved so much in their careers, having been at the top for several months. Once foes, the good friends have bonded together once again to make the journey to the top.
"Quatz and I have been good friends for a long time and I'm happy to be able to play with him. As a duo, we're in sync with our dives and generally read the game the same way so it's been awesome."
With one of the strongest rosters in the region, hopefully, this season is the season that ORDER finally makes that elusive grand final.
HEIST Gaming Club

With the disbanding of one of Australia's consistent top 3 teams in Dark Sided, it has opened up the opportunity for a big shakeup at the top. Their replacement, HEIST, looks to take off right where Dark Sided left off.
Taking the best pickings of the lesser-known top-tier talent, HEIST has built a roster that has a chance of being true LAN contenders.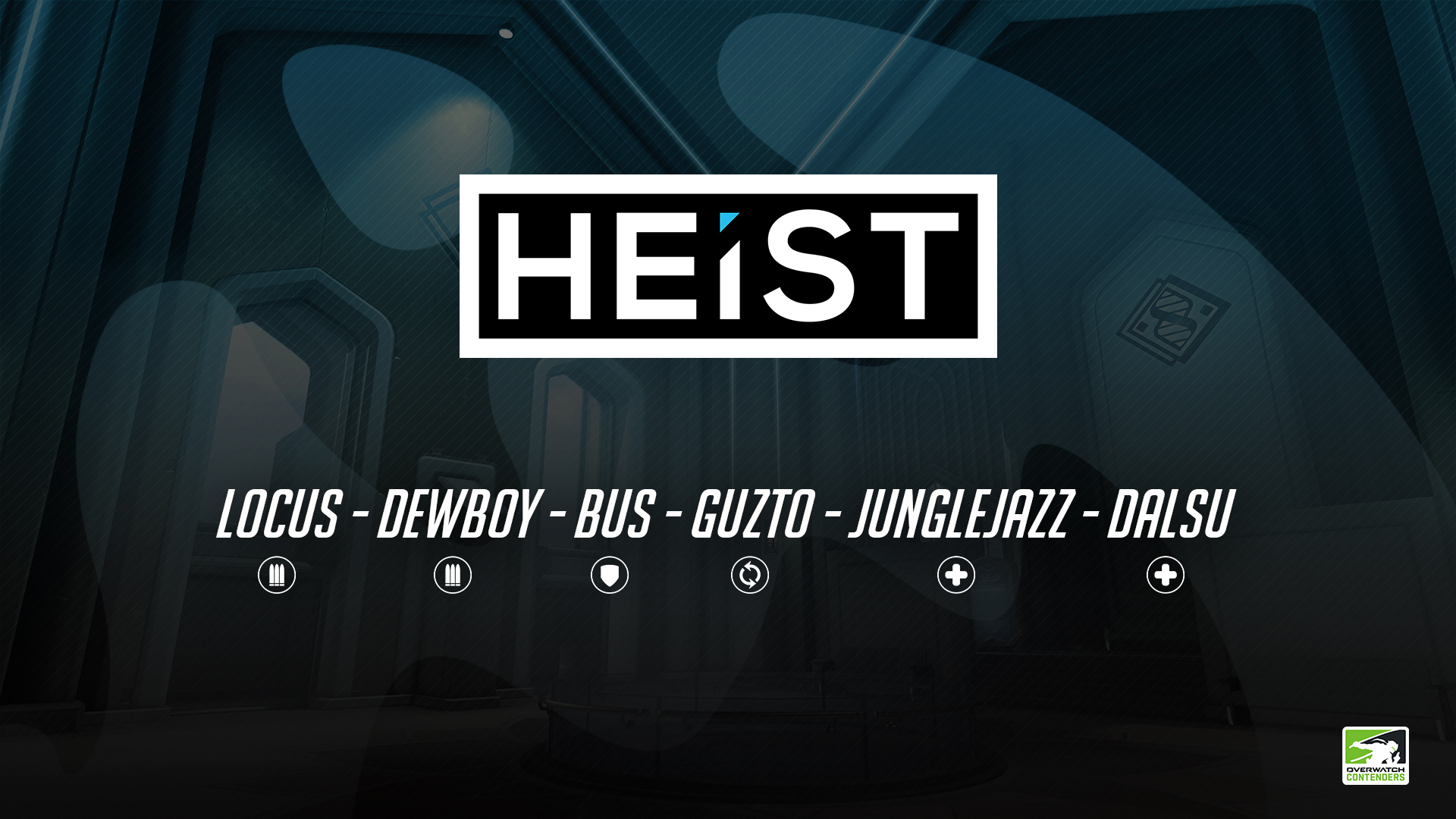 JungleJazz and Locus were a part of the Kanga team which made MEO in Season 2, while Guzto was a part of the unassuming SereNity roster. With Bus from Bin Chickens, Dalsu from Avant and Dewboy from Freshman Class, the teams they come from might not be big names but the players that make up HEIST are not to be slept on.
"I think we have synergized well during the offseason," said Dalsu. "We have a good team environment and everyone is working really hard to improve. Nevertheless, we will have a lot to learn since this is our first season as an official roster."
"I'm confident in our ability to learn from mistakes and every game we will get better."
Dalsu, Support
Known to be one of Australia's most proficient Ana's, Dalsu comes in with a lot of hype surrounding him, but he's downplaying it.
"I'm not sure how much I'll be playing Ana since Zen seems to be really valuable. When I do get to play Ana though I'm sure I can make some carry level plays with her kit."
Arguably the most crucial piece of HEIST's roster though is coach Choco. Having been at the helm of PIXL's resurgence late last season, he is highly regarded within Australia and has taken his talents overseas recently with First Generation in NA Contenders.
"Choco is by far the best coach I have ever had. He's been incredibly helpful and consistently puts in hours on hours to make sure we get the support that we need. I've never seen a coach in this region work so hard to improve a team and help them grow."
Will they slide right back into the space Dark Sided left? Dalsu's confident that as time goes on, they'll hit that peak.
"Officials put a lot more pressure and stress on the players [compared to scrims], but I'm confident in our ability to learn from mistakes and every game we will get better."
Sydney Drop Bears

The overlords of Australian Overwatch, Sydney Drop Bears have won two on the trot and had the first 20-0 season in Contenders history.
Like most others, a drastic shakeup in the offseason has provided the champions with a new horizon to look onto for Season 3. This isn't any ordinary shakeup though. The once seemingly unstoppable roster has hit a new high and is looking to tear through everyone in their path.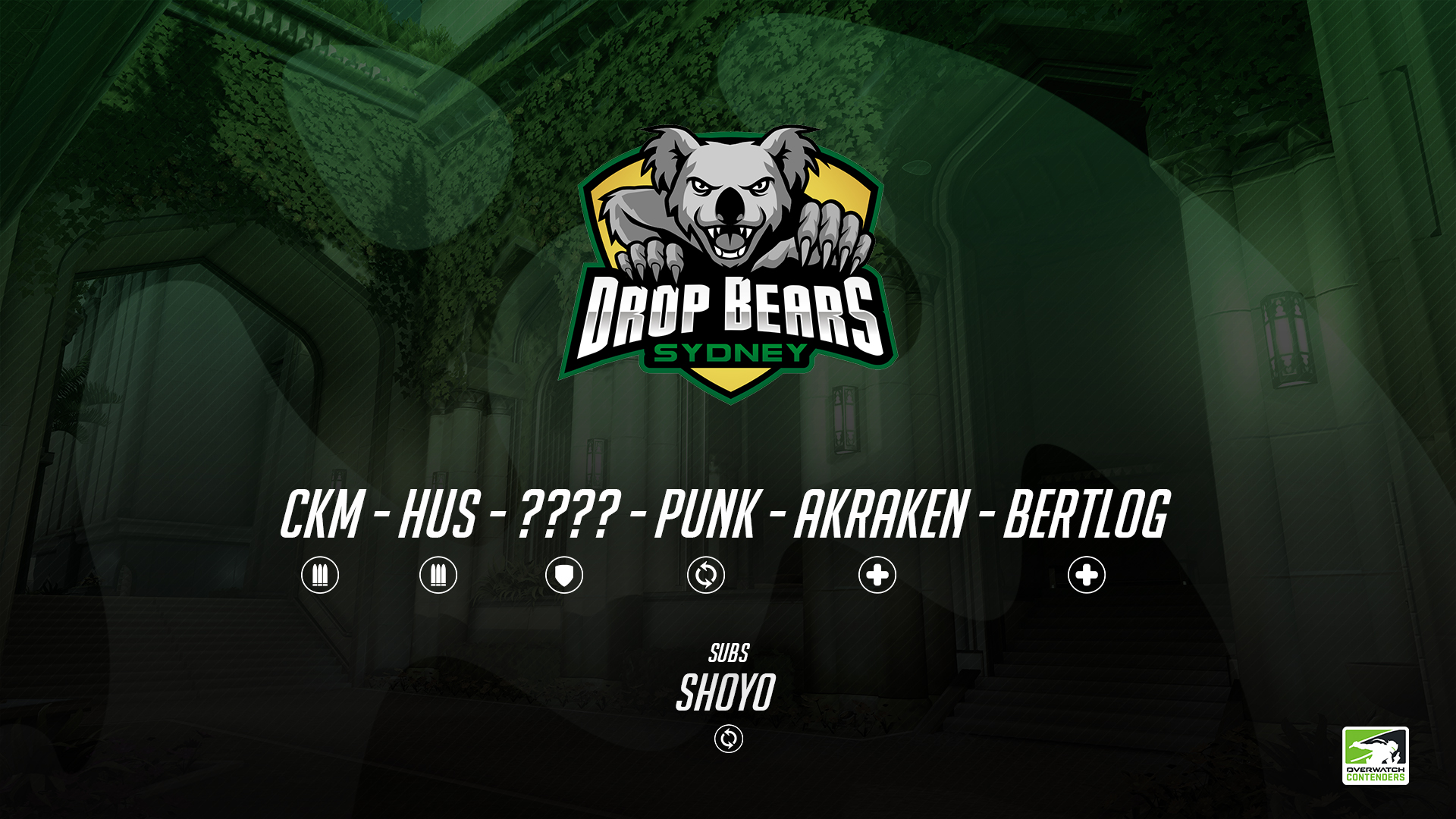 Initially picking up five of the seven players on Australia's World Cup roster, they recently lost Trill to NA Contenders team Envy with a replacement on the way. However, Hus and Ckm from Blank and Punk from Dark Sided are considered far and wide the best players in their respective roles.
"The World Cup was an incredible experience for all players involved and transformed us into players who are not only significantly better than we were before but now we know how to structure practice to maximise improvement thanks to Gunba."
Akraken, Support
With Bertlog, Shoyo and Akraken returning from the first iteration of the team which won the first two seasons of Contenders, the bears are looking scarier than ever.
"The meta isn't hugely different from BlizzCon which gives us an advantage over other teams who maybe haven't been practicing as hard or at the same level as Team Australia did over the last few months."
With Trill going into Academy and almost hitting the OWL stage alongside fellow Australian World Cup teammate Custa, Sydney Drop Bears are looking for a replacement, but for now, they are happy for the smasher of good ults.
"Trill is one of the best main tanks not in OWL," Akraken said. "We are all extremely happy for him and it's clear he deserves the opportunity after hard grinding since the game released."
However, looking back to Australia, Akraken is confident Australia's best team will reign once more.
"We believe we are currently the most experience and the most dedicated team in the competition and as a result, we should be favoured to win the trophy outright this season."
---
Contenders Australia is on-going right now, with the Week 1 Group A matches being played out over on the Overwatch Contenders Twitch channel!
You can follow Kanga, ORDER, HEIST and Sydney Drop Bears on Twitter.