A match almost 12 months in the making. Australia's Pacific dynasty, Blank Esports, versus Australia's local dynasty, Sydney Drop Bears. The fireworks were lit, with Australian Overwatch fans treated to a display of brilliance from both sides in our Match of the Week.
Blank's roster was gutted by the off-season changes, with Kura and Tongue the only returning members from the squad of six that made the Contenders Pacific grand final in Season 1.
Up against ex-teammates Hus and Ckm on Sydney Drop Bears, it was sure to be a great match featuring some of Australia's best players. Ckm, however, didn't feel the pressure.
"As much as a savage rivalry was an interesting narrative, we didn't feel any extra pressure on the match. It was kind of weird playing against Tongue and Kura but apart from that we just treated the match like any other."
Any other match for Sydney Drop Bears in the last two seasons has been coloured with mechanical prowess and overall dominance. With ChroNoDotA – Kanga Esports' main tank from Season 2 – debuting for the Drop Bears this week, they drew first blood on Ilios.
"Chrono's been really great to work with," said Ckm. "Obviously our synergy with him isn't going to be the same as it was with Trill at an early stage like this, things are developing really well.
"It's been Chrono's job to call resources and rotations while on Rein GOATS, but it changes," Ckm said when asked about the team's shotcalling. "As for dive, teamplay calls will generally come from whoever possesses the win condition."
He seemed to slot right in, executing perfect Winston dives to allow Hus' Widowmaker to reign on Well, as well as punishing Knellery's signature aggression on Lighthouse to take a swift 2-0.
Blank started their fightback on Numbani however. Starting off on attack, it took a while to get the cart moving, but once they did it almost never stopped as it tore through the streets phase.
With Roro (Genji) and Tails (Sombra) using their ults every other fight, Blank never seemed at a disadvantage until the final bend into the point, where the Drop Bears were able to stall out Blank at 65.41m.
"Numbani was a bit sketchy," Ckm admitted. "Blank played really well on the map and deserve a lot of credit."
While Sydney Drop Bears got out to a fast start on Numbani, they were stalled out near the end of the streets phase thanks to a perfectly placed Nozz Self Destruct netting 3 kills and a demech.
This, however, was not enough to stop the "Sydney Snowball", with the Drop Bears able to catch up to Blank's 65-and-a-bit meters with four seconds to spare. While it wasn't smooth sailing off the back of a few mistimed shatter combos, it was enough to eke out a 2-0 advantage heading into half time.
Nozz throws a perfect Self Destruct to pick up three, and he makes sure the viewers knew about it.
Things were looking good for Blank after the half too, with Kura landing a great sleep onto ChroNoDotA's Winston right off the back on their first point defence on Hanamura.
However, it wasn't to lead to a team fight win, as the rest of the Drop Bears rolled over Blank and straight onto the second point with 4:34 to spare on the clock.
A crucial Defense Matrix on Roro's Blizzard by Punk at the end of their attack set the momentum firmly in their favour for their defence, as they managed to full hold Blank off the back of great individual efforts by Ckm's Hanzo and the rest of the team.
One of Ckm's signature picks of seasons gone by, the Hanzo has fallen by the wayside in recent months with the meta change, but that alongside his Pharah might be seeing a bit more of an appearance as teams find new strategies to beat GOATs. However "[we] will have to wait and see" if this becomes a regular strategy for the Drop Bears.
With the victory now secured for the undisputed current Kings of Australian Overwatch, they set out on another starting attack on Route 66. Ckm's Pharah was uncontested in the skies against Blank's GOATS comp, using pinpoint precision to land direct rockets, whittling down the tanky lineup in the open air sections of the map.
When the map became closed off inside the third phase, it was time for Knellery's Rein to shine. He managed to land several crucial shatters and generally outplay ChroNoDotA as Blank managed to stall out Sydney Drop Bears before the end of the map.
Anything Blank could do, though, the Drop Bears could do better. With Akraken right up against the doors of Blank's spawn stalling out on Zenyatta and ChroNoDotA knowing the exact limits of Winston to stall the cart, Blank wasn't even able to clear Big Earl's on their attack, as they fell without a win.
With the season now looking set for the Drop Bears after two quick 4-0's, Ckm is looking forward to the rest of the team arriving in Sydney for practice…and maybe getting some distance from Hus.
"Hus is a pain to live with! He's messy and always so distracting! I'm counting the days for the other fellas to arrive so I don't have to spend any more alone time with this troglodyte."

In the other Group A matchups this week, Mindfreak were able to find their first map win of Contenders against Athletico on Ilios, but were unable to convert it into a series win, falling 3-1.
Goobs, CoolWhhip and Christoph have been playing extremely well for the roster, and with still time left to develop, it'll be interesting to see how they shape up coming near the end of the season.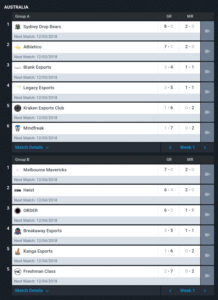 Legacy also defied most people's predictions on Overtime this week, taking out Kraken 3-1 in a closely fought affair. Mini again proved that she is one of the best D.Va players in Australia, with many crucial Defense Matrix's and Self Destruct's to secure objectives for Legacy as they claimed their first victory of the season.
In Group B however, we saw one of the biggest upsets in Australian Overwatch history, with HEIST stealing the win 3-2 against ORDER. Taking the first two maps, HEIST led heading into halftime before ORDER struck back on Hanamura and Route 66.
On Nepal, it came down to the final map of Shrine, where JungleJazz came up big with massive Sound Barriers to negate most of ORDER's engage as HEIST took a monumental victory set to shake up the rest of the group.
The Melbourne Mavericks continued their solid form, trouncing Freshman Class 4-0 in a sub-45 minute victory. Freshman Class were unable to replicate their form from last week, with Nox's Widow on Ilios Ruins a standout performance for the team looking to finally make their mark on LAN in Season 3.
Breakaway also got a win against Kanga with a refreshed roster including F0R and Ackyyy. While it looked like the series was going Kanga's way after a quick 2-0 on Ilios, the new look Breakaway brought it back on Numbani.
With a solid snowball second attack and a sturdy defence on Horizon Lunar Colony, Breakaway were able to finish off last season's LAN finalists 3-1 on Dorado with an unconventional Winston-Orisa defence as they look to make playoffs two seasons in a row.
---
Contenders Australia continues at 11am AEDT on Monday with Sydney Drop Bears taking on veterans Athletico first-off on Twitch.

You can follow Ckm and Sydney Drop Bears on Twitter.