In this week's Contenders match of the week, HEIST took another team in Melbourne Mavericks to five games in a back-and-forth thriller all the way down to Nepal.
Taking the crown of the five-map kings from the Mavericks themselves this season, the result was slightly different from weeks previous, as they fell to their first loss in Contenders Season 3.
Things started off blisteringly fast for HEIST though, taking two swift 100-0's on Lijiang Tower to secure the first map right out of the blocks. HEIST took early control on Gardens and the Mavericks were never able to reclaim it as they looked shaky with their ultimate usage.
Moving onto Control Centre, HEIST continued their great play around the choke points, constantly pressuring the Mavericks before they could even touch the point – and when they did, Bus usually had a shatter to answer. Just as fast as the match started, we were moving on to map two.
"We knew that HEIST's control was one of their strongest [map types]," said Mavericks DPS Winter.
"They are an extremely tough team that definitely showed how much they have improved this series."
Winter, DPS for Melbourne Mavericks
The Mavericks picked Hollywood for their hybrid map, and it paid off massively. They were able to roll through HEIST thanks to great target focus around Forbles' Discords on Zen and Nox using his Graviton Surge to stop a late HEIST contest, securing a 2:55 timebank.
Then on the attack, HEIST were barely able to pass through the arch to reach the point, constantly stopped by Winter's Shield Bashes, Graviton Surges or Minny's Earth Shatters.
"As much as I want to say I played amazingly, it was the team as a whole that showed up. Without them, Brig would be nothing," said Winter.
HEIST eventually captured the point and started going through the second phase of Hollywood, but after being stalled at the gates of the third point, they were unable to keep the momentum going as overtime ticked down and the series was levelled.
Mavericks continued their hot form after the break on Hanamura, where they burst out on Moira GOATS into HEIST's Doomfist-Sombra defence, capping out the first point in just over a minute. The snowball onto the second point didn't happen right away, but after a couple of dry pushes to gather up ult charge they managed to cap the point with 3:39 to spare.
In similar fashion, HEIST walked right onto the first point after securing a pick on an overextended Nox and shepherding the rest of Mavericks back to spawn to have a handy timebank to capture the second point.
However, even with the ultimate advantage, HEIST struggled to capture the point in regular time, only catching a break when they picked off Minny, allowing a Guzto Self Destruct to clean up the back line and cap the point out with just under a minute to spare.
Clip: Guzto's massive Self Destruct on Nepal: Shrine wasn't enough for the team to eke out their third victory this season, but it almost made for a great comeback after levelling the series.
It was the same story on their second attempt on Hanamura, where they were able to capture the first point with ease but were unable to grab a strangehold of the snowball. Although HEIST almost had a three-minute timebank disadvantage, they took the fight right to Mavericks when it was their time to defend again.
Great diligence from HEIST meant they were always ahead of the curve on ultimate charge, and with Bus landing some crucial shatters they whittled down Mavericks timebank to a measly few seconds heading into the second point.
It wasn't enough to stop the Mavericks from surging in on the back of some great Baby D.Va play from Oily and a clutch shatter from Minny to secure the one tick they needed to take HEIST to match point on Route 66.
HEIST proved to be more than ready for the task at hand though, stalling out the Mavericks in their spawn for more than two minutes on Route 66. This meant that the Mavericks were always on the backfoot for the rest of the attack and were eventually overwhelmed underneath Big Earl's only 66.18m into their push.
Their attack on Route 66 was even more impressive, and after a slight stall out made it to Big Earl's with ease. This meant for three weeks in a row, fans were treated to a five-map delight as the ever-tighter Group B battles it out for playoffs spots.
"We were hoping for a 3-1 victory, but we had confidence in our ability to close the series out on Nepal," said Winter.
"Nepal is one of our stronger scrim maps and due to HEIST having played Nepal twice, we were more prepared going into the final map."
Winter, DPS for Melbourne Mavericks
Starting off on Village, the Mavericks wrestled control of the point off HEIST and never let go after turning around a crucial fight halfway through the map to cap the point out 100-66.
Heading over to Shrine, HEIST were able to claw their way back to one-a-piece after a 95-99 overtime ticked back in HEIST's favour off the back of another massive Guzto Self Destruct.
Going once again to three points, Sanctum was a relatively one-sided affair for the Mavericks, who looked rock solid after capturing the point. While Guzto kept chucking in Self Destructs, netting kills here and there, HEIST was never able to grab a foothold as the Mavericks closed out the series.
"It was a major relief," said Winter. "Bouncing back from a harsh Route 66 and going into HEIST's favourite game mode was certainly worrying, but we knew what we had to do to beat them.
"JeL has stepped up tremendously and really put in the hours to make sure we are at our best [after Noxious' departure]," added Winter.
The longtime coach of the Mavericks was picked up by Sydney Drop Bears last week to replace Face, now a part of NRG Esports in North America, putting the pressure on up-and-coming coach JeL. Winter is confident though in their ability, noting they are "in safe hands" under his guidance, and that anything now is possible.
"First place is now the goal – the only thing stopping us is, of course, ORDER. They are arguably the strongest team in Group B. We are confident going into the game though and are putting in a lot of hours to make sure we get this first place."

In the other Group B matches, the Mavericks' rivals at the top, ORDER, swept Kanga 4-0 in a series that was a bit closer than expected. Losing Gardens on Lijiang Tower right off the bat wasn't good for the favourites, but they worked their way back in and eventually dominated Kanga, who now find themselves winless after three games.
Breakaway and Freshman Class also treated us to another five-map series as Breakaway took the honours for two weeks running. The contest was constantly back and forth, but Breakaway's control maps looked leaps and bounds ahead of Freshman Class who fell to their second Nepal defeat this season.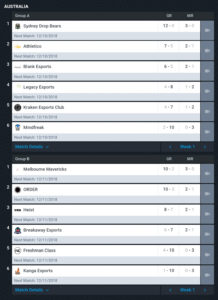 Group A saw veterans Athletico fall to Sydney Drop Bears in a relatively convincing 4-0. While Hanamura was closer than the Drop Bears would have liked – not even capping the first point on their attack – they were able to stabilise and clean up Athletico, who were using their sub Micro this week in Termo's absence.
Blank managed to climb over the top of Legacy 3-1, but that wasn't without Legacy showing their skill on Horizon Lunar Colony – a map they are asserting dominance on against even the best teams in the group. Roro's Pharah was deadly against Legacy, who at points looked hapless against it, with the New Zealander becoming a shining standout for the storied org.
Mindfreak weren't able to find their first victory of the season against Kraken, losing 3-1 in a close battle. Mindfreak were able to find a victory to start off the game on Lijiang Tower, but AGO on D.Va put the rest of Kraken on his back as he led them to victory with brilliant Self Destructs throughout the series.
---
Overwatch Contenders Australia returns Monday at 12pm AEDT on the Overwatch Contenders Twitch, with top dogs Sydney Drop Bears facing off against the rising Legacy Esports
You can follow the Mavericks and Winter on Twitter.