With the perfect 20-0 season in their sights, Legacy Esports made sure the super team Sydney Drop Bears didn't get complacent in this week's match of the week.
Sydney Drop Bears were without starting off-tank Punk, bringing back old off-tank Shoyo for the matchup against Legacy. The now-assistant coach of the team previously subbed in for main tank Trill before ChroNoDotA's signing in Week 1.
"I wasn't sure if I would enjoy coaching when I first started," said Shoyo, "but after a few days of spectating scrims it became easier to 'see' the game. It then became much more rewarding to give feedback and see the team adapt to you.
"When I was a player I focused more on my own individual mistakes and often failed to see the big picture, I've learnt that around 50% of fights are won or lost before they even begin just because one team or the other failed to identify what they should be doing before they even initiate the fight."
While not the most difficult game for the two-time champions, Legacy have proven themselves to be no pushovers this season, with the team developing into playoffs contenders in the latter half of the season.
The methodical Drop Bears, however, are a completely different team than any other they've faced this season. They made their presence known right off the bat on Sanctuary after Hus charged his deadeye within the first fight and using it to wipe Legacy off the map in the second as they cleaned up 100-53.
"Noxious has had a huge role in the development of the team, especially transitioning into the Zenyatta GOATS meta where the Mavericks (then SereNity) were the first Australian team to play it."
Shoyo, Assistant Coach and Sub for Sydney Drop Bears
Swapping over to Widowmaker for Downtown, Hus then rained hell onto Legacy, who were struggling to get a foothold on the game. While they were able to capture a few ticks on the point, they were unable to keep it as they fell 2-0 on Busan.
The Drop Bears were quick to swap onto counter GOATS compositions to shut down Legacy, but Shoyo stated that "[while] we believe counter GOATS is superior on some points, GOATS is the comp we are most comfortable with."
Moving onto Hollywood, Legacy brought the fight only a David could in the tightly contested map. Quickly taking out the first point of the map, they pushed through the streets phase off the back of a perfectly placed Mini Self Destruct cleaning up Drop Bears.
Slightly stalled out in the third phase, they still finished with a time bank of 1:02 – becoming the only team to complete a map against the Drop Bears this season.
"It was a surprise to have such a close Hollywood," Shoyo said. "Legacy really tested us throughout the series and which has since led to us changing some of our set comps."
The momentum didn't stop there. Legacy held the Drop Bears for three minutes at the first point, thanks to SleepEasy's Riptires and Addy's Tactical Visors. The more traditional high ground defense of old held strong against GOATS, but as soon as they swapped onto GOATS v GOATS, the Drop Bears started turning the tides.
While they had a nearly perfect push on streets and third phase, with the cart barely stopping, the Drop Bears found themselves down on time bank for the first time this season too.
However, it wasn't enough for Legacy. Drop Bears were able to get a tick on their one minute attack and destroyed Legacy on defense, who looked in shambles after getting staggered hard, as they fell once again.
On the tree's strongest map, Horizon Lunar Colony, many fans would have been hopeful for a win after such a close Hollywood. The Drop Bears snuffed out any hope of that though.
Clip: Hus certainly had his eye in on Busan, cleaning up Legacy with a dirty Deadeye after charging it within the first fight.
In their first official game on the map this season, ChroNoDotA charged a blisteringly fast Primal Rage to lead Drop Bears to a comfortable 5:06 time bank. Legacy pulled out the Nanoblade special for their attack, but the stalwart defense of the titans of Australia held strong as they were shut out.
With the series locked in for the Drop Bears heading onto Route 66, Legacy had nothing to lose and took the fight to Drop Bears like they did on Hollywood. Managing to get three fights on the first phase – one at the train, one at Big Earl's and one just out the front of the gates – they stalled Drop Bears into overtime and almost forced a full hold.
Ckm's Pharah was able to get the cart moving though with a clutch 4k Barrage, and once it was in motion it did not stop. Legacy were able to get it through the first phase in regular time, but a stall just past the gates halted the attack.
Addy's Zarya cleared the cart, and while Legacy were able to push into the third phase, they weren't able to complete the map as the Drop Bears secured their fourth 4-0 for the season.
They don't plan on stopping there either. "It should be another 4-0 against Kraken," said Shoyo," but we will take it as seriously as any of our other matches. We are aiming to win Contenders and we fell like we have what it takes."
Looking forward to playoffs and finals, Ashe will be enabled as the games will be played on Patch 1.30.
"We have spent a small amount of time playing her in scrims and we can't say with any certainty if she will be played against GOATS, though she is very strong and in any other meta would definitely see play.
"We were practicing a bit on the Japan server, since they don't have OPR and the live patch was 1.30, but since the live client has updated it's been a bit harder to practice on the playoffs patch as we have to route to Korea with higher ping," Shoyo said.

In the other Group A games for the week, it was a case of 4-0 Overwatch as Athletico made light work of Kraken while Blank were taken to a close Horizon Lunar Colony against Mindfreak but preveiled victorious.
The Kraken lineup has gone through a few changes as of late, with Chogall and SoHo being the newest additions to the starting roster. While they both put in decent performances – the latter pulling out a clutch Self Destruct on Route 66 to stall out Athletico – they were overrun by the experience Athletico.
Mindfreak have been close to firing this season but never hit their peak as they were dominated by Blank for most of their match. While Horizon Lunar Colony came down to double overtime, a bit of over-aggression from Lazki's Reinhardt left the Mindfreak backline vulnerable to the deadly Roro/Tails duo, with Blank stabilising for the win.
Group B saw HEIST drop a map to Kanga, but avoid the five-map game in their series, while Breakaway stole a map from title hopefuls Mavericks and ORDER swiftly decimated the shaky Freshman Class.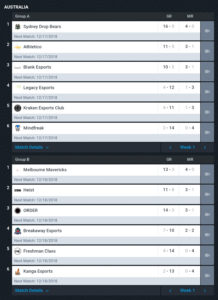 The synergy in the HEIST household is something to behold, with every piece working in perfect unison to set up some great plays. Numbani was a perfect example of this – with JungleJazz's clutch beats helping keep the team up and pounce back against Kanga in ferocious fashion in their 3-1 victory.
Breakaway are showing their late resurgence in the competition with their new lineup, and while BabyPoro was back in for Ackyyy this week, the team looked no weaker against the Mavericks as they took Busan in an upset. While they weren't able to secure another map to force a win or tie-breaker, it's only looking up for the roster which has struggled to find success in Contenders.
Freshman Class, on the other hand, is on a slow demise to the bottom of the table. After a hopeful first match against HEIST, they have been plagued by roster changes and poor performances, and ORDER capitalised on the weakened squad in a pummeling at the end of the week.
---
The final week of Contenders Australia kicks off with Sydney Drop Bears taking on Kraken Esports Club at 12pm AEDT Monday, with crucial matches later in the day to determine the final playoffs positions. You can watch the games live on the Overwatch Contenders Twitch.
You can follow Shoyo and the Drop Bears on Twitter.