The LG Dire Wolves are to the Oceanic Pro League, what the 90s Manchester United squad was to the English Premier League.
Let me explain.
Having achieved two undefeated splits in the 2018 Oceanic Pro League, the LG Dire Wolves currently sit on a 22-0 record – 27-0 domestically if you want to be nitpicky (manager 'Rippii' did). They dominated the splits with a star-studded line-up that oozed of experience (and a dash of 'BioPanther'). However, following split 2, it was announced that the LG Dire Wolves had parted ways with all but one of their existing team members, and replaced them with four rookies. Criticism came thick and fast. Suddenly, OPL tippers had the LG Dire Wolves anywhere from 6th-8th on their OPL power rankings.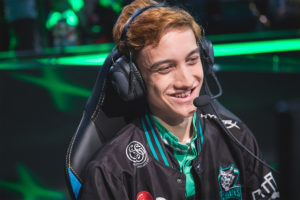 In the mid 1990's, Manchester United made a similar change to their roster. After dominating the English Premier League with an experienced line-up, they dropped several big names in favour of picking up rookies. This was a decision met with incredulity and mirth. The thoughts of many were summed up by former Liverpool united centre-back Alan Hansen when he famously said "You can't win anything with kids".
Like United before it, the LG Dire Wolves do not subscribe to this theory. They are quietly confident. "We have the potential to do better and go further than the previous Dire Wolves ever could," top laner Brandon 'BioPanther' Alexander says. "My experience with the old Dire Wolves was that it was a good bunch of players, but it was not a team. I feel we can build a strong team with this new roster of players. Even if we have a rough start, we will pull through."
"Of course there is pressure to fill the shoes of the players who were here before us," clarifies bot laner Andrew 'Anderu' Baihn. "They are very accomplished players and we now have to step up to become those accomplished players."
Jungler Toby 'Udysof' Horne feels that this is a realistic prospect. "Think about it like this. BioPanther, Anderu and I are all nineteen years old. We are replacing players who are twenty to twenty three years old. In two years, when I am the same age as [previous Dire Wolves jungler] Shernfire was this year, I will easily be as good as him… or better." Though he is quick to clarify that this doesn't mean there won't be success on the cards for the Dire Wolves in the short term. "Short term wins, and long term bigger wins."
Their confidence seems to be driven by a number of factors. All three of the players point to the work and training model that the LG Dire Wolves have employed. Unlike many of the other teams in the OPL, the Dire Wolves do not follow the gaming house model. The players train at the custom-built Esports High Performance Centre at the Sydney Cricket Ground, and live at a separate location.
"At my previous team, Tectonic, we were all in the same space no matter what we were doing. We were always together," explains Anderu. "At the Dire Wolves, it is different. We have our gaming life, but everything else is separate. While we are here at the Esports High Performance Centre, it is all about practice and focus. And here, we have a lot more space and room to do different things."
Owner of the LG Dire Wolves, Dave Harris, notes that the organisation has found success with a number of different players- the common denominator being the Esports High Performance Centre and the training and support network around the players.
Great to see all @opl rosters announced&power ranking debates starting.Won't jump in myself (although for those backing new "super teams", it's been 502 days since @DireWolves lost a domestic match&they've won 4 consecutive titles using 11 dif players) https://t.co/VmCRBy5VPA

— Dave Harris (@daveharrisAUS) December 12, 2018
BioPanther, Udysof and Anderu also believe their pre-existing relationships will give them an advantage over the other teams, many of whom have come together completely afresh. "BioPanther and I played together on our first ever team," says Udysof. "We also spent a lot of time together in Korea when we were there for Worlds. We built some good synergy. I also played alongside Anderu on Tectonic."
In combination, they've also played alongside or against many of the opponents they will face in the OPL. They are all particularly interested in playing against MAMMOTH – a team that is comprised of numerous ex- Dire Wolves and a Dire Cub. Though, the current Dire Wolves are not particularly concerned about the encounter.
"When Biopanther and I were at the 2018 World Championships Play-ins, we played against many big names," explains Udysof. "We defeated some of them in scrims and some of them on stage. After you defeat Stomaged in scrims, you feel like you can take on or at least go even with anyone in OCE."
And yet, their confidence is tempered by humbleness. "We appreciate our fans and the fact that they still support our team, even with the roster changes. This is a new team and a new split. Thank you so much to everyone who has supported us."
With a roster of rookies, and the charismatic Curtis Morgan pulling the strings like the great Sir Alex Ferguson, the comparisons to the 1995 Manchester United team cannot be understated. It will be on Morgan, coach Charlie Wraith, and the youth brigade of the Dire Wolves to show whether or not you can win with kids in the OPL.
---
For the record, the rookies that Manchester United signed in 1995 were David Beckham, Paul Scholes, Nicky Butt and the Neville brothers. The team went on to win the English Premier League that year.
Follow the Dire Wolves on Twitter.