Change is in the air when it comes to the Oceanic Pro League – Riot Games Oceania has confirmed the Australian & New Zealand competition will be moving to a triple round robin, best of one system for the 2019 season.
After 6 splits and three years of playing in best of three formats, the league is making the switch to the single-game format, a change that international tournaments like the League of Legends Championship Series in North America and the League of Legends European Championship have already undergone in recent years.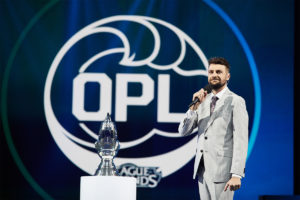 According to Riot Games' head of Oceanic esports, Chris "Belquin" Schubert, the excitement factor, as well as a certain level of stability for viewers when it comes to game-start times, were all taken into account when implementing the "massively exciting" switch ahead of the first split of the year.
"It was a combination of a few things that led us down this path," Schubert explained. "The previous structure had an uneven amount of games between each team, because of the Group A and Group B system."
"These groups were drawn based on last season's results, so there was a world where you could potentially get one group with all the potential top four candidates, and vice versa, because of player movements in the off-season. It made a structure that wasn't exactly fair, which heading into a triple round robin system helps to fix.
Schubert also explained that the red and blue side allotment in the triple round robin system was going to be "completely random", and admitted they went with the three-game clashes instead of a potential two – that would see the organisations have blue and red side once each – so that the season's length wasn't limited.
"It definitely could still be a little fairer, with a double round robin seeing teams face each other once on blue side and then again on red side, but with how the calendar is set out this was the best way to make the change," he said.
Schubert also revealed that the object of the swap from Riot Games Oceania was to prioritise "fun" as well as provide "more dynamic gameplay" for OPL viewers, all while making sure loyal fans were getting the best 'bang for their buck' when tuning in.
"Best of threes were very good for determining who the absolute best team was in the fixture, because if the 'worst' team took a first game, the better team would normally be able to win the next two back," Schubert said. "That was a small problem though because it led to long and draining series for viewers, leaving them watching at least three games or even more depending on when they tuned into the stream."
"As we've seen in North America and Europe, the changes bring a lot more fun and make the contests a lot more dynamic gameplay for the viewers. Riot has seen globally that [single-game fixtures] is a better format overall for viewers, it means you can catch your favourite team at a regular time and not have to put away a big slice of time.
"This change will allow viewers to plan their time more easily, if viewers want to watch their favourite team and then jump into a ranked game with the people they're watching with then they have a better idea of what time that is going to happen, and how long it's all going to take."
The way the OPL will play out across the ten weeks of the regular season isn't the only thing changing ahead of the new campaign however, with Riot Oceania's Twitch and YouTube channels both having a naming overhaul.
Due to the ever-growing scene outside of the OPL, something Schubert said was "absolutely amazing to see", Riot Games wanted to make sure the streaming channels they were using was able to host competitions outside of just the top level domestic league, with the upcoming name changes – all but confirmed to be Riot Games Oceania – set to encompass all Australian and New Zealand League of Legends systems.
"Because esports is expanding every year, the 'OPL' name didn't make much sense anymore, especially with the high school leagues coming up as well as other competitions," he said.
Clip: The Dire Wolves pick up their 4th consecutive OPL Championship title.
Schubert also confirmed Riot Games were bringing a popular feature from international leagues to their Twitter streaming service – player perspective streams.
It's been confirmed the player-focused streams will have a lane-based theme each game-day, as well as a side selected, with a focus on "education" as well as giving fans a platform to tune in to just their favourite player if they want.
"It's just a little something extra that we wanted to make sure we had heading into the new season," Schubert said. "It's obviously going to be a bit of a niche product compared to the main stream, but it gives people a chance to learn more from the viewing or just support their favourite players."
"We're going to pick a single role each evening, and one side, and then have those four players streamed across the entire gameday. You'll be able to see all the player's clicks, moves and their entire focus throughout the game."
Overall, it's exciting times for the OPL, especially with news veteran casters Rusty and PiraTechnics have returned for 2019, and Schubert admitted all of Riot Games were just "looking forward to a hugely exciting upcoming split".
"It's so cool to see the talent roster coming together for the casters, and to see the clubs and teams come so far to where we are today," he said. "The changes as professional organisations have been so dramatic and even more recently so positive. Seeing what all the teams can do now that they've had that time off, it's so cool."
"Even just seeing Juves and EGym take their talent to the new team Gravitas is really interesting, and overall it's going to be such a fun season with the whole group of people that are backing the league, from the players to the backroom staff to the fans and everyone that is involved. It's all really exciting."
---
The OPL returns on Friday, January 18 from 4pm, when Legacy Esports takes on Gravitas, the new faces in the league. Tune in to all the action on Twitch, YouTube or on the OPL's Twitter across the coming season.