Are you smarter than Spawn? Brainier than Bryce? A better pundit than PiraTechnics?!
We're excited to announce the launch of our "Scuffed OPL Tips" competition!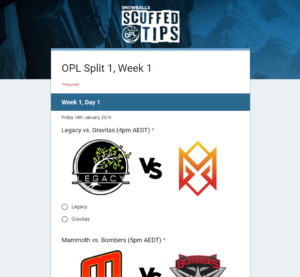 Featuring prize support from Riot, the competition is your chance to show that you are the ultimate OPL mind! The competition will be open to players from Oceania only.
The competition will run for all 10 weeks of the OPL regular split, get your week 1 tips in now before games start tomorrow night!
Check out the FAQ at snwb.co/OPLTips for more details and to enter!
Folllow Snowball Esports and the OPL on Twitter.