You never forget your first LAN experience. It can be overwhelming – proceedings dominated by a crush of people, with the atmosphere of the games augmented by the hype of the crowd. It's what makes esports special – the lasting memories are almost seductive.
My first LAN experience was the Oceanic Pro League Finals in Brisbane for Split 2 of 2016. It was my first 'public' appearance under the LoLTies persona, and though I was primarily there for the Sin Gaming relegation bootcamp the week afterwards (pour one out for GUF Lan Centre), the finals themselves were a ton of fun.
My lasting memory of that week in Brisbane though (at least that's fit for print) is of Legacy's then-AD Carry, Calvin "k1ng" Truong. Despite Legacy getting put through the wringer by some smart jungle priority from The Chiefs, k1ng put his team on his back and carried them as hard as he could. It may have been hard to pick out any positives from getting swept in a final, but those three games of Lucian left an imprint on me that I'll not soon forget.
I had a chance during 2018 to speak with k1ng about his career, the people he's played with and the lessons he's learned along the way.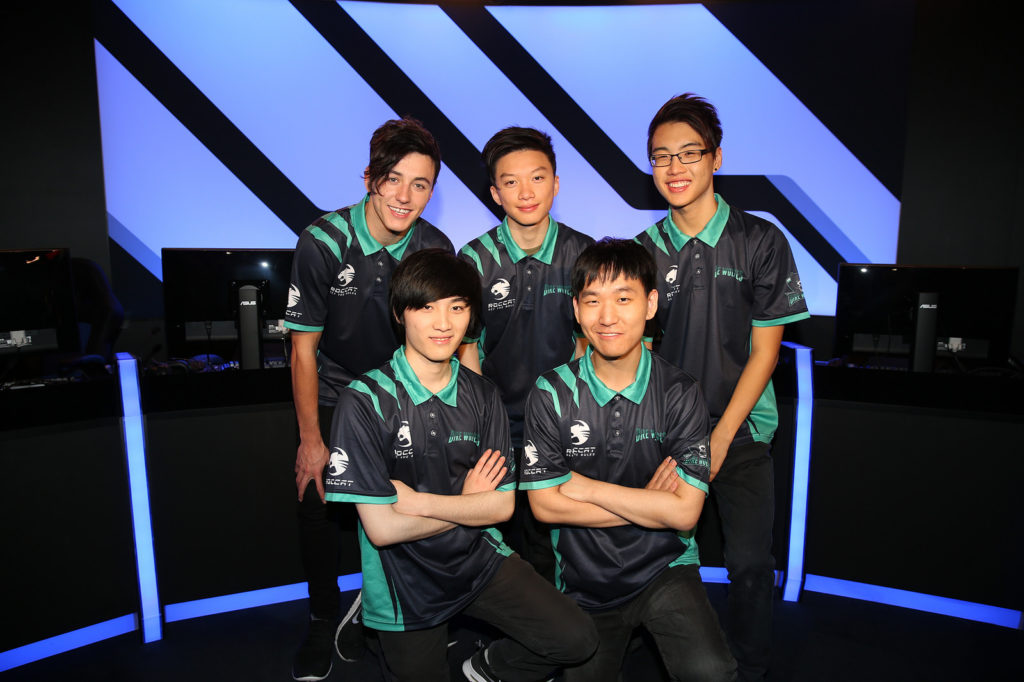 In an act of foreshadowing, K1ng was initially recruited to the Dire Wolves by Curtis Morgan. Truong said he was initially "affiliated with Dire Wolves" while he waited to come of age when he first entered the league. He was able to debut during the first week of the OPL's inaugural season in 2015, where in serendipitous fashion the split started two days after his 17th birthday.
The Wolves were spectacularly successful in 2015's regular seasons, finishing with a combined 20-8 record. They traded semi-final wins with Legacy, taking the first meeting 3-1 before dropping the grand final in a sweep to The Chiefs, and then allowing Legacy their revenge by way of their own 3-1 win later in the year.
It was this loss to Legacy, as well as a blossoming friendship with Curtis "Regret9" Schembri, that would entice k1ng from the Dire Wolves to Legacy, a move that he described as "if you can't beat 'em, join 'em".
The Legacy roster would move into the famous ASUS ROG Legacy Gaming House and was part of a fun event the community were invited to take part in. When it came time for the season though, the fun and games were left at the house as the team tore through the OPL, dropping only the regular season series to the Chiefs en route to a 9-1 record. Legacy would comfortably handle the Dire Wolves and k1ng's replacement Quin "Raes" Korebrits 3-1 in the semi-finals to book yet another playoff ticket against The Chiefs in the final.
However, in unfortunate circumstances, k1ng wouldn't join the trees in that final. Some misdirected comments towards the new DW AD Carry would see him watching from the sidelines, minding a competitive ruling as Harry "Cardrid" Archer – on loan from Sin Gaming – took Legacy to within one heartbreaking game of toppling The Chiefs in the split one grand final.
K1ng commented that the ruling made him ""really realize the impact of your decisions, and being accountable for them. This made me a lot more conscious of how I thought and what I said. It made me think before every decision 'Would I be ok if everyone saw this? Would I be able to take full responsibility for my actions?' "
We then came back to my iconic memory of k1ng, that inhuman effort against a marauding Chiefs dogpiling him with solo lane and global gold leads. K1ng described his Lucian as "not his signature pick during season eight due to its volatility" but that over time it has just become one of many signature champions. In the end though, The Chiefs, especially Raes on his overbearing Caitlyn, were too strong in too many other areas for k1ng and the rest of Legacy to take down. And come preseason heading into Season 7, k1ng decided that his best shot at a title led him down a familiar path. It was time to come home again, as he re-joined the Wolfpack.
The roster featured Chippys, Shernfire (once the jungle situation had played itself out with Sybol), Phantiks and Destiny. Some called that the best iteration the Wolves ever had on paper, though in practice k1ng was confident that each succeeding roster was better than the previous.
MECHANICS MAX!!! ? @k1ngYB pic.twitter.com/zAwAuPYrNv

— LG Dire Wolves (@DireWolves) October 4, 2018
This version of the Wolves finally delivered k1ng his first Oceanic championship, followed quickly by the next three over two years with the Dire Wolves. Despite what many have deemed to be international disappointment, there's no room to doubt their domestic dominance over two years, including their famous year-plus undefeated in domestic series play.
The Wolves have been blessed with fantastic players over the 2017 and 2018 seasons, and of course the peerless coaching and performance focus of Curtis Morgan. More recently the Dire Wolves have had Dave Harris and Guinevere Capital come in to be the corporate face of the Dire Wolves' success.
K1ng remarked on how impressive the Esports High Performance Centre based in the SCG was, as it was a pioneering development in Oceania – a dedicated training facility that has recently been adapted, in their own ways, by Avant Gaming and Legacy. This facility allowed Dire Wolves players an environment in which they could show they were the best team the region has yet seen.
I asked k1ng to go through some of the supports he had played with and give me a quick sentence on what it was like playing with them.
His first two games with Legacy were with substitute Straawbella, due to the tail end of Regret9's competitive ruling. K1ng said "I actually thought she was really good, people always downplayed her ability but since day 1 I thought she was a great player."
Regret9 was a teammate k1ng remembers as a "really funny guy. Our relationship didn't work out but I learnt quite a lot from it and I'm grateful."
Cuden is "one of the people I'm most comfortable with, a friend for life."
K1ng "really admires" Destiny because of "his perseverance to stay a positive guy through everything thrown at him."
K1ng got to play with Cupcake during the end of Cupcake's playing career and had high praise for him, saying "he's the person I respect most in League of Legends. I always say things to people like 'he taught me so much' and 'I learned a lot from him', but when I think about it, it was so casual in how he influenced me.
"His approach to things, how he carried himself and what he did to become the best, he didn't push those things onto me, I just saw what he did and I wanted to emulate it. It broke me out of a shell I was stuck in for years."
While we were able to look back with some fondness on k1ng's career, he says he has put a lot of thought into what comes after playing but hasn't been able to put his finger on what comes next. He knows that in whatever he does, he'll have the utmost confidence in himself to be successful thanks to what he's learnt about himself and how to succeed.
With that in mind I asked "What has k1ng learned about Calvin Truong?". His response tells us about the balanced approach we can expect from Mammoth this year.
"Having worked with so many different players and experiencing a vast amount of different personalities, I can confidently say both of what people call 'positive' and 'negative' attitudes have the same amount of desired traits within them." Truong said.
"You're often told that being a positive person is just better, but in the space of competition there's almost a yin-and-yang-like balance you need to maintain between positivity/negativity. if you focus only on the good you lose sight of what needs to be changed, if you focus only on the bad you lose sight of what you need to keep doing."
Perhaps seeking this balance; or trying to find the final piece they needed to take the last step, k1ng decided it was time to make a change. Shacking up with former lane partner Destiny and 2018 Wolfian Triple along with Topoon and former Chief jungler Babip under the Mammoth banner for this season, k1ng now takes the next step in his already-storied Oceanic career.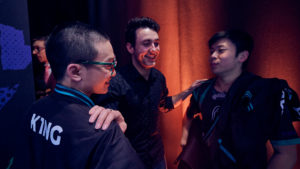 It doubtless represents a risk to leave the safe harbour of the Dire Wolves – nobody in the team has won honours away from the Wolfpack. But perhaps there's a plan in this risk – a plan to explore just how complete a player k1ng can become.
Maybe the ability for k1ng to become a senior voice is the final step he will need to get over the international hiccup. K1ng is as experienced as Destiny, or even more so depending on how you look at it, and for all Triple's talent he is still a step behind the bot lane in experience. He's spent much of his time on the Dire Wolves, allowing phenomenally talented top halves of the map to push their advantage and this would signify a great chance to emerge from that shadow and control games for his team.
Taking this final step in the career arc of carry player into veteran supportive player, and now perhaps into team leader, could be the final step that k1ng needs to finally tip Oceania over the World Championship hurdle. If he can crest that hurdle, he'll be able to throw a convincing hat into the ring to contest Raydere as the greatest AD carry we've ever produced.
---
K1ng continues his journey, now on Mammoth for the 2019 season. Catch him on the rift this Friday against Avant for the OPL's second week.
Follow k1ng on Twitter.