After a dominant double victory weekend for Avant Gaming, the organisation that returned to the Oceanic Pro League through the relegation tournament, they've stamped their authority on the early stage of the split.
Written off by most before the first champion had been locked in for 2019, the long-standing team – one of only four remaining from the OPL's very first season – have taken their fortunes into their own hands, guided in part by a desire to "prove everyone wrong" according to Ari "Shok" Greene-Young, as well as first-time coach Zack "Rusty" Pye.
After an upset victory over Order in the opening weekend of the league, the team moved on to overthrow title favourites Mammoth in the third round, aided in part by an out-of-left field Mordekaiser pick for Shok in the mid lane.
The former Tectonic solo laner was key in the 48 minute victory over one of the OPL's 'super-teams', collecting five kills and 12 assists as well as delivering a humongous 35.5k damage, 6.6k more than Mammoth's ADC Calvin "k1ng" Truong, the next highest count in the game.
I'm supposed to be producing @snowballesports content rn. Been a while since I've done one of these… #IAMOPL@AvantGaming @RustyLoL @ShokOCE @OPL pic.twitter.com/wzE68tmz4t

— Swifty (@Swift_y) January 25, 2019
Shok's flex pick choice was surrounded by dominant performances from the rest of the Avant Gaming squad however, including a 6/3/10 finish for Vincent "gunkrab" Lin on Varus as well as a 90 percent kill participation from Ryan "Aladoric" Gregory Richardson playing Alistair in the support role – a selection that has proven popular in the early weeks of the OPL.
Avant followed up their 19 kill to 14 victory over Mammoth with another win on Saturday evening, sweeping aside Legacy Esports with a 19-4 kill count and a 14.6k gold advantage as they closed out the match in 30 minutes and four seconds.
Three wins and a single defeat puts them level on top of the table tied with Chiefs & Bombers, and while first place may not be the exact position many believed Avant would be sitting two weeks in, Shok admits he "wasn't all that surprised".
"Honestly, I feel like we're performing to our level, and when I saw all the preseason power rankings putting us seventh or eighth I just completely disagreed," Avant's mid laner said.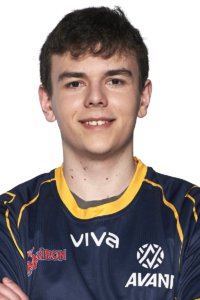 "When I look at our roster I think everyone is top three or four in our roles, and a lot of people have some pretty negative perceptions of players in our roster so that's hard. For example, I was relegated [with Tectonic] and a lot people hold that against me or think I'm a last place mid.
"Despite that, I'm pretty confident that I'm top three or four in the mid lane, and overall people were looking at our roster and saying it was bad, but I think from a player perspective we're a lot stronger than that."
It was that misbelief around the Avant roster that put a fire under Shok and the rest of the team as Rusty's newly assembled squad charged to an equal best start in the Oceanic tournament.
"There's a lot of wanting to show people we're better than they think we are [in the early weeks]," Greene-Young said. "We want to prove everyone is wrong."
Despite the confidence in his teammates and even himself, Shok understands tempering expectations within the org is crucial to winning over an extended split that will see teams play 21 matches on Summoners Rift over ten weeks.
"All that said, I don't want to get too hasty, I've been performing well recently but a lot of the other players who people consider better than me have the long-term results that back that up," he said.
"The team and I have to keep focusing on keeping this performance up across the entire split, we have so many games on the horizon so we'll keep focusing on those."
Rusty, who has taken the helm with Avant Gaming in his first ever stint as a head coach, is another key figure within the team that is making sure his expectations are tempered despite the 3-1 start to the year.
"I didn't know what to expect standings wise coming in to the early weeks, so many teams have new rosters, lots of rookies and many are rebuilding," Rusty explained.
All I knew was that teams like Bombers, Mammoth and Chiefs would be up near the top so to be sitting with them two weeks in is honestly a pleasant surprise. I was building a team to development so I'm stoked to see we could start so strong.
"I think anything is set in stone yet, it's a triple round robin so beating someone the first time doesn't even mean anything because that doesn't guarantee a 50 percent win rate, you have to beat them twice to make sure of that.
"That said, we're in a good position – better than I expected so early – but our roster and who we have at our disposal in this meta puts us in a really good spot going forward."
While the strong start to the split has changed a few expectations within the camp, Rusty admits their early goals were simply to rise above the "fifth or sixth place" that many people were saying was the team's ceiling.
Now that the team has come out of the gates strong in the split however, the goal has made a small change – qualification for Rift Rivals and even a tilt at the Oceanic crown are on the horizon for the new-look Avant roster.
"Most of us were looking at early tier lists that had us in those lower positions and we decided we wanted to show everyone that those expectations were incorrect," Pye said.
"Now that we've been able to do that, we want to stay in this running towards the end of the split and remain a top three team – a lot of players in our team now have the belief that we could win it if we continue to improve."
"Rift Rivals is definitely one of the targets, and now that it's a possibility I want to win the split. Part of our success looks like heading to an international tournament like Rift Rivals, but that's just a milestone along the way."
Rusty, Avant Head Coach
For Rusty, the transition from a dedicated shoutcaster in competitive league to also leading an organisation has been "an interesting challenge", as well as "pretty busy".
"I was used to going in on the weekends and having these long days shoutcasting and now I have these massive days Monday to Friday as well," Pye laughed. "Training with the teams, scrim-blocks and even the gym in our lunch break has meant I am so busy all the time."
"It's been so rewarding, and I've learned so much from it in a few short period of time, but it definitely doesn't stop for me now, it's been so intense."
Rusty also believes the dual shoutcasting/coach role is an "extreme version of what coaches normally go through", and revealed he's "not a big fan" of the hidden stress when sitting on the OPL casting desk.
"Coaches normally go through the draft phase and then they have to step away and trust their players to see everything through, and I have this extreme version of that because I have step away for the whole weekend," he said.
The Avant coach also shares a similar experience with Order's Jake "Spawn" Tiberi and Gravitas' Bryce "EGym" Paule, and said he's learned from Spawn – who has been in the dual role since the beginning of 2018 – that it "never gets any easier".
"If anything, I think it just gets worse as the split goes on, there's a lot more pressure at the end of the split and then there's playoffs and all these important matches," he said.
"If we're in the playoffs and it's a must-win game and I'm sitting on the couch waiting for the result and to see how it all comes out, I can't imagine how that's going to affect me."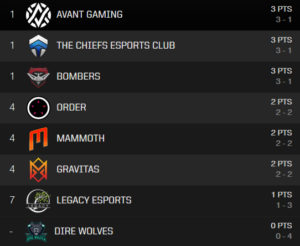 Elsewhere in the second week of the OPL, Order reversed their fortunes from the first week of the league to secure a 2-0 round, grabbing an upset win over the Chiefs on Friday night before they downed Gravitas to move into the mid-table pack with a 2-2 record.
The Bombers continued their undefeated start to the OPL with a win over Legacy, before the Chiefs bounced back from their Friday night loss to move back into a top-level tie in the standings, defeating another of the region's 'super-teams' and stopping the Bombers' winning streak in its tracks.
Mammoth also bounced back from their unexpected loss on Friday with a 25 minute domination over Legacy, leaving the losing team with a 0-2 weekend to their name.
Finally, difficulties continue for the Dire Wolves as they saw a tight Friday evening clash against Gravitas fall against them before a defeat from Avant Gaming dropped them to last place as the only team yet to secure a win in the competition.
---
The Oceanic Pro League returns next weekend for Avant Gaming when they come up against fellow league leaders Bombers on Friday night. The week will begin at 4pm AEDT when Mammoth face the winless Dire Wolves.
Catch all the action live on the new RiotGamesOCE Twitch channel, and find the full schedule at oce.lolesports.com.
Follow Shok, Rusty & Avant Gaming on Twitter.