When Legacy Esports and recruitment linchpin Tim "Carbon" Wendel revealed their roster was taking the road of young and developing talent, many Oceanic Pro League fans had their doubts – how good could these rookies and long-term projects turn out to be?
In the eyes of organisation mid laner Jesse "Chazz" Mahoney – well known from the Chazz It Up mantra that floods the RiotGamesOce Twitch channel when Legacy play – the team is already well on its way to becoming gauntlet contenders in 2019.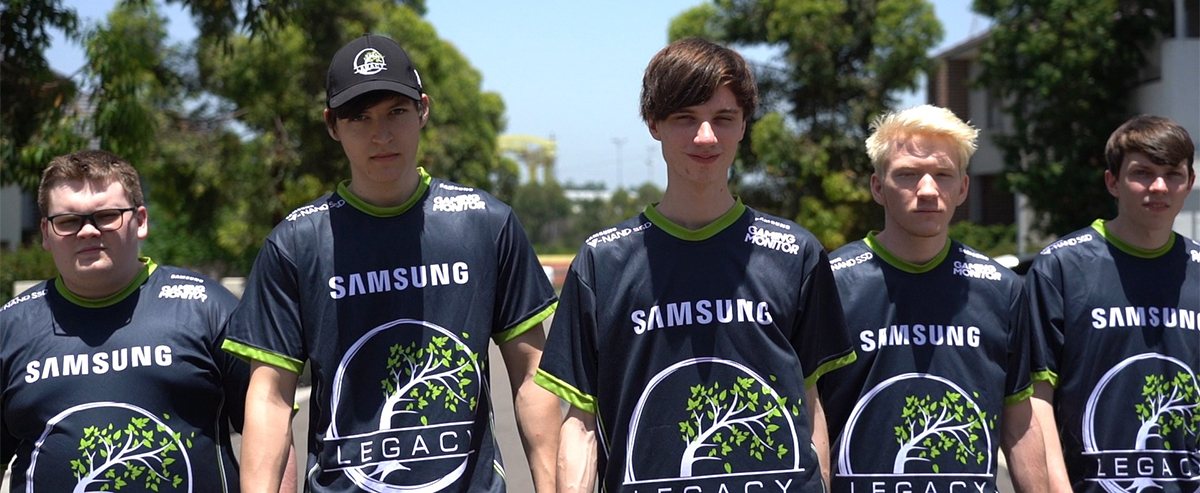 "I'm not going to say we're clearly better than the teams above us in the standings, but we can definitely get to them as we continue to learn," Chazz said after Legacy's second victory of the split. "I don't think there's a massive gap between us and them, and they're not improving as much as we are every week."
"It may not look noticeable on stage to fans watching the streams, but we're massively improving how we approach the game as a roster, in scrims and on stage, and there's going to be a point where that flips everything around on stage.
"For the majority of the split we've fumbled a lot, and had some poor early games that have cost us results, but we need to take the strong scrim performances that we've been racking up and translate those properly. By the time gauntlet comes around, we're for sure going to be contenders."
Chazz, who played Yasuo in the mid lane against Order in the 50 minute victory, certainly showed he's ready to take the mantle of 'rising star' as Legacy recovered from a rocky early game to finish with the 17-12 win.
Check out all the highlights from yesterday's thrilling comeback against ORDER to claim a much-needed victory in the @OPL! ??#weflyasone #IAMOPL pic.twitter.com/KnEQL0AoUB

— Legacy Esports (@LegacyOCE) February 17, 2019
Order had control of the matchup early however, even going 8000 gold clear 23 minutes into the game, and after Legacy's struggles earlier in the split many viewers had already ruled the young roster out of the contest.
Chazz and his Legacy teammates had other ideas however, clawing their way back into the game through key engages from role-swapped support William "Crayzee" Dobie on Rakan and enigmatic jungler Eldin "Guts" Skenderovi? on Zac, before securing the second Baron Nashor of the game to recover a 500 gold advantage – the only time the winning team would be ahead on gold stats through the 50 minute battle.
Beyond that, Legacy's teamfighting took full advantage of Order being on the back foot, catching out individuals as the eventual losers looked to grab back footholds in their red-side jungle, and led by the renewed spirit in the mid game the team based around a singular 'process' closed out their win.
When the roster and strategies are based around developing a strong playing group, and seeing them grow into a championship squad, confidence is key early on in their development, and that's the main positive head coach James "Denian" Goddard took away from their near-hour long slugfest.
"I'm really happy with the players and how they've performed, it's a process to figure out how to play things and how everything comes together for our players," Goddard said. "The game against Order was one of the first showings that these ideas that we're sharing and working on are really working and coming into effect."
"Tim [Carbon] set out this key process for the squad in 2019 and beyond, and it's built around a lot of faith that these players can collective become one of the better teams in the OPL, but that takes time.
"Our next goal now is getting another win, of course, because we didn't want to be this far down the ladder at this point in the split even if we were focusing on developing rookies – if we can make gauntlet, and we think that's a possibility, than that's what we're going to go for."
The idea of qualifying for the gauntlet off the back of another miracle run from Legacy into the playoffs reminiscent of their entry into the postseason in the tail end of 2018 is certainly something Denian sees as a chance as his budding roster continues to click.
"It's definitely a possibility, for sure," he said. "We've been having some good games recently and now we're up against some of the easier teams in the next week or so, so that gives us a good chance.
"Our main work at the moment is going into our early game, if we can fix the stumbling blocks that we've hit in the early game against teams like the Bombers and Mammoth – mistakes that led to the entire match being thrown away – then we can get to the mid game where we know we're on the same footing."
"There's always this special feeling when I jump into the Twitch chat after a game and see everyone spamming 'Chazz It Up' for me, it's really a bit surreal and I just love being involved in all of that."
– Chazz
While the celebrations – and the in-studio yelling that came with it – were all building on the excitement of the Legacy roster and their much talked about 'process', Chazz also felt a personal sentiment with the victory.
The young mid laner, who spent the first two years of his competitive life in Oceania playing with Challenger Series teams like Alpha Sydney, Sin Academy and Emprox, said it felt "surreal at times" to be involved in such a "great" organisation and the league itself.
"It's hard to explain how it feels coming into the OPL, when I first got offers to play on Legacy I was shaking and the whole month leading up to the move I was over the moon," Mahoney said.
"Sometimes I'll be laying in bed thinking 'holy shit I moved halfway across the country to play professional video games and thousands of people tune in to watch me play' but when I start thinking about that too much it builds up all this pressure that I can't afford to have.
"I'm just trying to focus on improving now, for myself and with the squad, because now being on an OPL team has just turned into my reality and constantly getting better and getting to that next goal is what drives me now. I'm just playing games of League of Legends and knowing that as I keep learning I'm just going to keep getting better."
Round Wrap
Also in the OPL's fifth week, Gravitas emerged as a playoff contender off the back of a key 2-0 weekend, with the new Oceanic organisation defeating the Dire Wolves and top three squad Avant Gaming. A resurgent Mammoth outfit also bagged two victories over the weekend, first knocking off the Chiefs in one of the major upsets of the round, before confirming the back-to-back victories with a revenge win over the Wolfpack.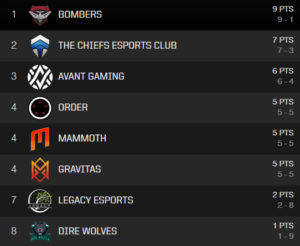 For Order, the weekend was a tough one, as the Melbourne organisation fell to two defeats and slipped into the mid-table mix with their 5-5 record. Avant Gaming's round wasn't all woe however, as they scored against Order on Friday before their Gravitas loss on the Saturday evening.
Finally, the Bombers moved into clear first place after the Chiefs fellow on Friday evening and the boys in red and black defeated Legacy, before claiming revenge against their title-rivals by downing the Chiefs themselves in a 32 minute, 22 kill to seven victory.
---
The OPL will be back next Friday afternoon, when the Bombers and the Dire Wolves clash to open the weekend at 4pm AEDT.  
Catch all the action live on the new RiotGamesOCE Twitch channel, and find the full schedule at oce.lolesports.com.
Follow Chazz, Denian and Legacy Esports on Twitter.