Before the first button had been clicked in the Oceanic Pro League in 2019, Mammoth were tipped by pundits and fans alike as one of the biggest contenders for the crown. After four weeks, the 'super-team' sat with a 3-5 record, adrift from a playoff position.
Now, the star-studded roster that boasts defending champions like Stephen "Triple" Li and Calvin "k1ng" Truong, as well as proven talents in Leo "Babip" Romer and Mitchel "Destiny" Shaw, has re-entered the conversation for potential victors come split-end, with five victories in a row catapulting them right back into the mix.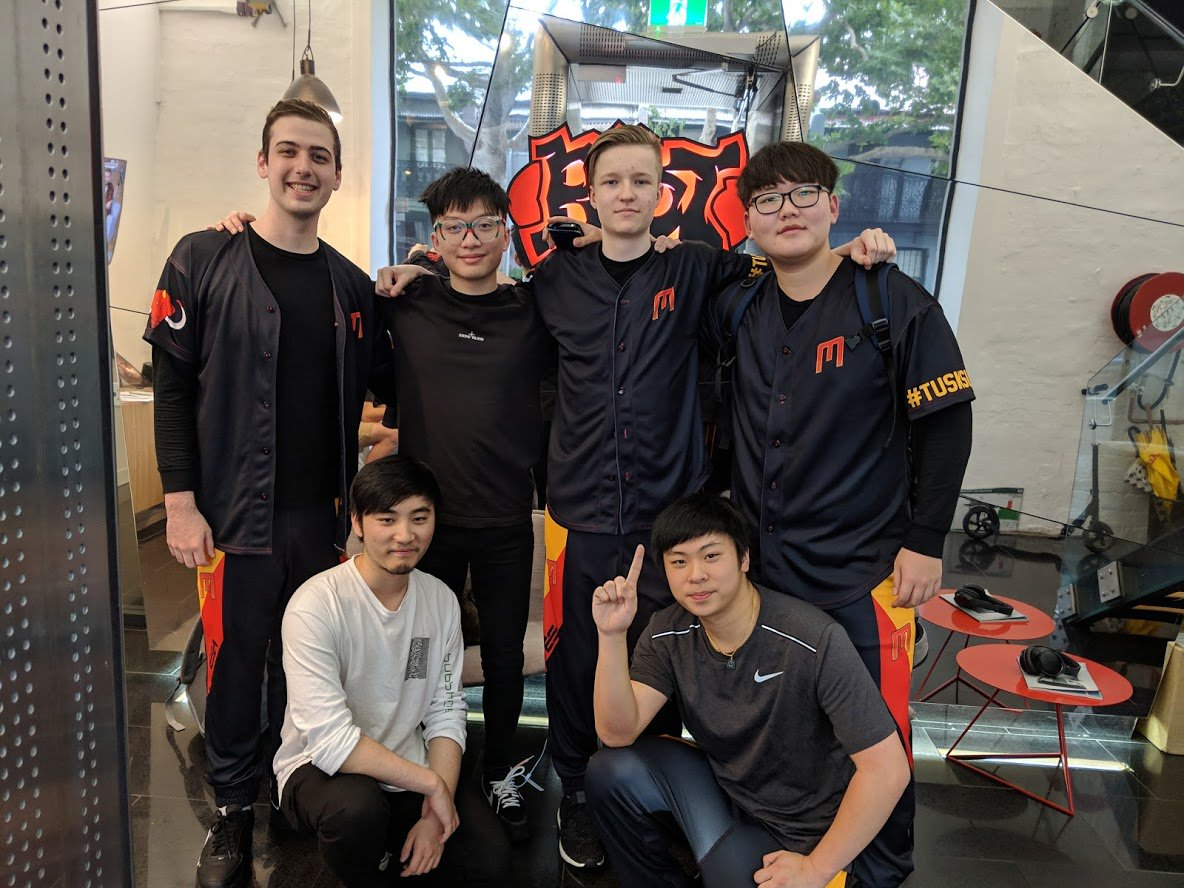 Although the five-game winning streak has seen Mammoth triumph over teams like second-placed Chiefs Esports Club, as well as fellow gauntlet rivals Order and Gravitas, head coach Richard "Phantiks" Su is tempering expectations surrounding the now-third placed team.
"Obviously it's good to win, but we're not looking at the win/loss tally just yet because we're more focused on our skill level than anything else right now in the season," Mammoth's coach said. "Even when we were losing we weren't feeling that down, so it's not like the win-streak has made us feel heaps better or anything like that."
"When we came into the season we wanted to get first place, and that's been our goal since the start. The team now just has to prove that we're at the level where we deserve that, and can get to that goal that we've set."
– Phantiks
The revitalised Mammoth roster has certainly begun to prove they're at the level expected before the opening round, delivering their second straight 2-0 weekend off the back of wins against their close table rivals. First the team outlasted Order to claim a major victory in the 37th minute, before a similarly lengthed game saw an Azir masterclass from Triple down Gravitas.
The Friday evening contest first saw Order struggle to provide impact on the Rift with a Korean-style support pick Galio, and veteran carries k1ng and Triple choked out the game on Kai'sa and Zoe respectively, chalking up a mountainous 47.6k damage to champions between them.
A major threat for Mammoth came in the form of a shining Simon "Swiffer" Papamarkos, who answered with 25k damage on his Le'Blanc pick to nearly claw the game back in Order's favour, but Mammoth's veteran talent was too much for the former Oceanic champion.
In particular, Mammoth's 37 minute win was propped up by the wide shoulders of Sion, piloted by rookie revelation Kim "Topoon" Ji-hoo, who was vital to turning teamfights the eventual looked certain to lose.
One of Topoon's key contributions came in the 24th minute, when a fight in the centre of mid lane threatened to go against Mammoth before a flank from the bot side river on Sion locked off Order's path to victory and swung the fight against the Melbourne squad.
Mammoth faced another tough challenge on Saturday, as an ever-improving Gravitas proved they could stay in the fight. The new OPL team kept the gold difference within 1k for most of the match before a one-for-one teamfight gave Babip access to Baron Nashor, and the team closed out the match less than five minutes later.
Although the two big wins move Mammoth into third place and stretch their streak to five straight games, Phantiks believes there's a lot more the team must do before they're ready to challenge for the title at the end of the split.
"Obviously it's good to keep winning, but we're just focused on actually getting our skill level to what we need it to be to have a successful gauntlet run," the Mammoth coach said.
"Even if we do make gauntlet, if the skill isn't there we're not going to have a very good run, and our goal since the start of the split is to get that first place and go to MSI, so we want to build towards that."
– Phantiks
It's a similar sentiment held by Mammoth's explosive mid laner Triple, who made two international appearances at the Mid-Season Invitational and the year-end World Championship Play-Ins in South Korea.
For Triple, who saw the Dire Wolves tumble out of Worlds contention with a 1-3 record in Group A against EDward Gaming and Infinity Esports, returning to the bright lights of the international stage is one of his key motivations in 2019.
"The stuff you learn from international tournaments is something that can only be reapplied to those same tournaments," Li said. "To apply these things you've learned and everything you've grown with, you have to be there at the tournaments."
"When you're [overseas] you have scrim partners from every region, compared to Australia which is geographically isolated, and so it's really just the biggest part of the calendar year and everything else is based around getting to that.
"Myself and Calvin [k1ng] have also definitely learned from our most obvious international mistakes, which were our champion pool issues, and that has been a major focus for us back in the domestic scene now."
Triple certainly flexed one of the deeper choices in his champion pool with the Emperor of the Sands, a pick Li has played 18 times throughout his professional League of Legends career – tied only with Viktor as his most utilised champion.
The choice was certainly successful, as Triple doled out waves of damage in their Saturday victory, and showed the confidence to mix things up on stage to grab the win.
"That Azir pick was definitely a decision that we made on the day, there hadn't been much practice there during the week," Li revealed. "I just saw the picks and knew that it was going to be a really strong lock-in, and that I absolutely knew the match-up better than my opponent."
The Emperor of the Sands guided Mammoth to their fifth victory, and turned the inform team of the OPL's eyes to their massive duo of games next weekend.
Triple and the rest of the roster on a major hot streak now prepare for potentially their most pivotal weekend in the league, when they take on the league-leading Bombers on Friday evening before facing fellow 7-5 organisation Avant Gaming the following day.
It's been a round penned in as crucial for the team since the very first minion wave spawned in the OPL in 2019, Li revealed, and he believes the result could see "big change" if the resurgent Mammoth can knock the Bombers out of the sky.
"We've never been written off like this in a long time, and it puts us in an interesting place now that we've accepted that's where we are right now," Triple said.
"We're definitely growing and we have that good run coming in, but we're underdogs."
– Triple
Underdogs in one of the biggest matches of the split may not suit some players, but for Triple it's a place where the two-time champion mid laner thrives, and he's got nothing but excitement for the OPL's clear match of the round.
"Going from winning everything domestically last year for me and Calvin, to starting out 2-5 and not even being in the discussion for contenders in this split, that planted a lot of doubt in our minds," he said.
"At the end of the day all we can do is give it our all, and if it puts us in an underdog status coming into this Bombers game then I personally look forward to that. I love to prove people wrong and beating the odds, and now here's the biggest chance to do that. I'm looking forward to it."
In the Mammoth backroom however, Phantiks pointed to more than just a desire to prove people wrong after their poor start to the season. Instead, the organisation's helmsman believes the playing roster had a "positive change" in their mental focus that has been a key building block to their success.
"The team didn't need help realising they weren't playing to the standard they needed to, they knew they were playing scared for no reason," he said. "The problem was that with all the hype coming into the split the players started focusing on playing to not lose, because they didn't want to have those upsets."
"We changed that mentality from not wanting to lose, to wanting to win every game, and especially after we had that Dire Wolves defeat we realised we couldn't underestimate anyone because the league this season is just so close. No other teams this split are that weak.
"The whole roster found this new level of respect, and we realised we weren't that far ahead of any other team, so we had to focus on getting to work and building on what we already had as foundations. We've done that now, and we're starting to see results for it."
Great discipline from the lads to secure baron and then the teamfight!#TUSKSUP | #IAMOPL pic.twitter.com/vOhPahBoKQ

— MAMMOTH (@MAMMOTH_OCE) February 23, 2019
Su pointed to the series of victories in recent weeks, that has seen Mammoth knock down top tier teams like the Chiefs as well as Order and Gravitas, and disagreed entirely with the public sentiment that the team had "turned some mystic corner in our comeback".
"Publicly it obviously looks like we've changed some things up, but internally we are still just building on what we know now, step by step," he said. "We haven't magically transformed into a better team overnight, we're just continuing to get better day by day.
"In terms of mentality we definitely had a bit of a switch and we saw the players unlock themselves after throwing off a few negative thoughts, but there wasn't just some big flicking of the switch. There hasn't been a skill change, just purely a positive mental swap."
Round Wrap
Elsewhere in the OPL last weekend, the Bombers stayed on their lofty flight path with another 2-0 weekend, knocking aside the Dire Wolves and Order to keep control of the top spot.
The Chiefs also bounced back with two victories of their own, defeating Gravitas and more crucially close table-rivals Avant Gaming to recover from their 0-2 weekend the round before.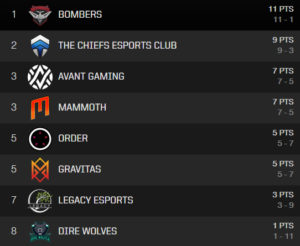 While Avant suffered a defeat at the hands of the recovering Chiefs, they were also able to grab a win, defeating Legacy on Friday evening before the Trees turned around on Saturday and downed the Dire Wolves to lock in their own 1-1 record for the round.
At the end of the round, the Dire Wolves, Order and Gravitas were all at the wrong end of a two loss weekend, dropping the latter two teams into to 5-7 records and tied fifth place, while the Wolfpack now remain locked in the cellar at 1-11, two wins adrift from Legacy.
---
The OPL will be back next Friday afternoon, when Mammoth look to continue their searing hot form against one of their main title rivals the Bombers at 4pm AEDT. Catch all the action live on the new RiotGamesOCE Twitch channel, and find the full schedule at oce.lolesports.com.
Follow Triple, Phantiks and Mammoth on Twitter.
STANDINGS: Bombers (11-1), Chiefs (9-3), Avant (7-5), Mammoth (7-5), Gravitas (5-7), Order (5-7), Legacy (3-9), Dire Wolves (1-11).