Two 2-0 weekends in a row in the Oceanic Pro League has kept the Chiefs Esports Club within touching distance of the top spot behind the Bombers.
It's a position the long-standing Oceanic organisation has found itself in multiple times since it last claimed a championship in 2016. For the Chiefs, who stood in the shadow of a dominant Dire Wolves outfit for the past four splits, it's not a position they want to get used to.
Despite talk in Oceanic circles that the Bombers may be one of the strongest rosters in recent times, the Chiefs have remained in touch with the strong haul. The boys in blue black have even managed to make sure the league leaders will end the season with at least one defeat to their name.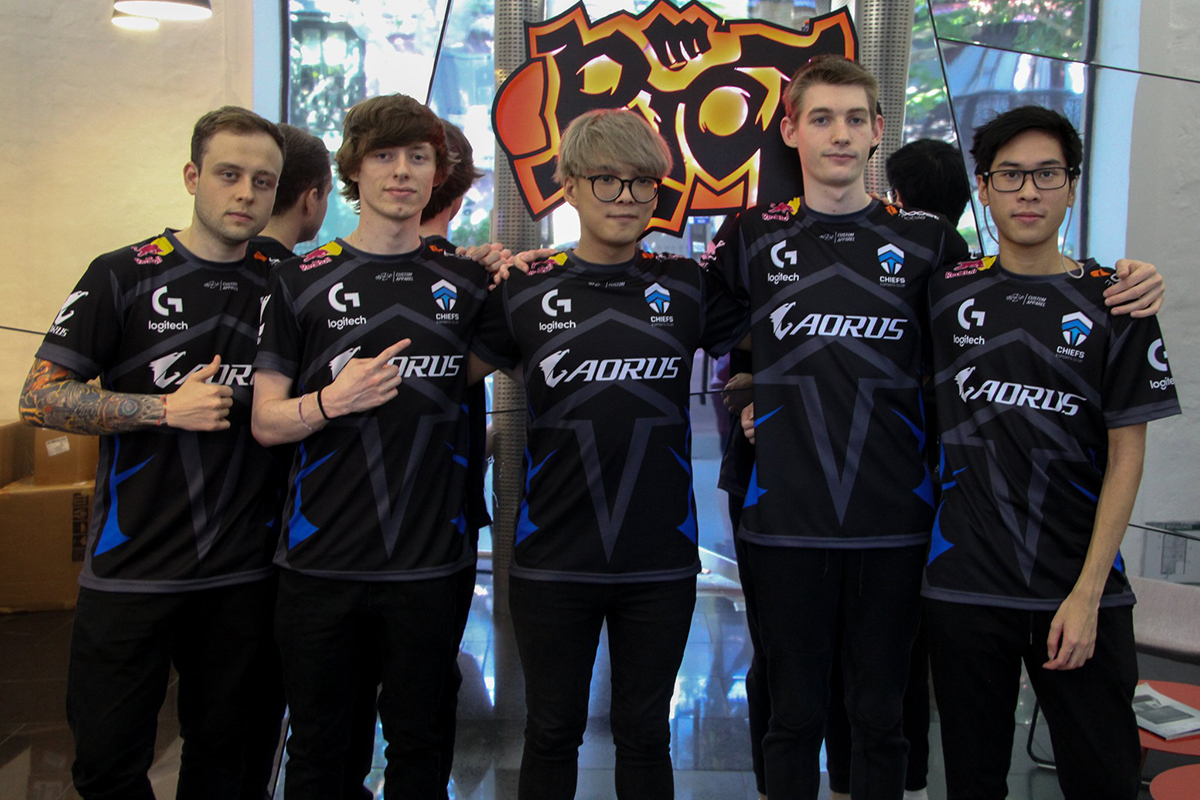 While many eyes have been on the Essendon-backed club soaring at the top of the OPL standings, the Chiefs have delivered their second 2-0 weekend in a row, downing Order and Legacy Esports in Round 7.
Both victories had a sweet taste to them for the Chiefs as well, as they claimed revenge against Order on Friday evening before sweeping aside their rivals in the El Classico.
With the Bombers in reach, another 2-0 weekend in the back pocket of the Chiefs is nothing but positives, according to top laner Brandon "Swip3rR" Holland.
Holland, who was able to roll out a personal favourite in Kled on Friday evening, said the team's continuing strength in Split 1 was "a great surprise" considering the org's new acquisitions.
"We came into the first split with an idea that we were going to be going for the title in Split 2," Swip3rR said.
"Because we had a few new faces coming we had that expectation, but we have meshed really well and that's created a great dynamic for the team so far. That, combined with having no selfish players in the roster, means it's been a great fit for everyone."
Swip3rR believes "anything can happen" between now and the end of the split, but believes the Chiefs' run so far has already been "really great".
"We've had a few rough games so far this split but overall we've had a really decent split," the titan in the top lane said. "Bombers are the team to beat but the split is very close for the top four or five teams so it will make the run in very exciting."
The Chiefs stretched their winning streak to three against Melbourne organisation Order on Friday evening after breaking open a game teetering on a knife's point. Until the 14th minute of the clash both teams had their hands on the wheel, before double kills for Swip3rR and Brandon "Claire" Nguyen swung a 4-2 teamfight in their favour.
From there the Chiefs snowballed the game, ballooning their lead out to 13.2k by the time they broke Order's nexus in the 27th minute. It was a statement match for the second-placed team, after Order delivered them their first loss of the season in the second round.
Saturday's victory over their long-standing rivals Legacy was a lot cleaner from the Chiefs, despite the team taking a similar time to close out the match.
Claire, playing Corki into Zed in the mid lane, remained deathless as he clocked up nine kills and 16.9k damage to enemy champions. He was only beaten in the game on damage by Quin "Raes" Korebrits, who punched out 20.2k with a 5/0/6 statline on Ezreal in the bot lane.
For Holland, who formed the veteran brains-trust alongside Korebrits and Chiefs organisation owner Frank "Sangy" Li when it came to forming the 2019 roster, the strong first split has proven the trio's feelings about their acquisitions right.
"We wanted to bring together a team that worked really well together, and I think we've done that so far and it's clicking earlier than we even expected,"
– Swip3rR
"I think we have a really good mix of rookies and veteran players this year so I think we could go all the way and win it. On a personal aspect it's been really good for me as well because I don't just have to focus on teaching new players things, so I can focus on myself a lot.
"We really just have Eyla [Bill Nguyen] that is coming in as a rookie and I think he has the most potential out of anyone in Oceania this year so that is a great pick-up as well."
Now that the roster has come together faster than the Chiefs recruitment team could have imagined, Holland believes they have a chance to "get back to [their] throne in Oceania" after two years away.
"We don't want to underestimate anyone, but our main goal now is Bombers and we want to make it a lot closer than it was last time," Holland said. "We're preparing a lot for them this week. I think it's going to be quite a good game, now that both teams know what they want to do and how their players work, so I think it's going to be extremely close."
"Our priority has changed now that our roster has developed and we have our eyes on these Bombers matchups because we're gunning for the first place finish in this split now.
"I believe that we can do that, but Bombers are a very skilled team. Not to write anyone else off, but I feel like it's going to be us against Bombers in the final now and I believe we can take them in a five game series – it's just about getting there in the regular season first."
Finally, the four-year veteran of the Chiefs reached out to the loyal fans of the team that once wore silver and blue, thanking them for "staying loyal" through the past four campaigns.
"Thanks for being patient over the years, how we finished in second a few times is not ideal for anyone," the Chiefs top laner said. "Considering how the split is shaping up we want to get back to our throne. It's a super exciting split and thanks for supporting us through all these ups and downs."
Round Wrap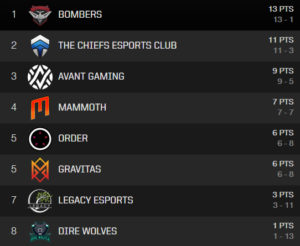 Also last weekend in the OPL, playoff contenders Bombers and Avant Gaming both locked in 2-0 weekends to retain their lofty standings on the Split 1 ladder. Coincidentally both teams downed Mammoth to break the team's winning streak, while Avant Gaming also defeated the Dire Wolves. The Bombers recorded their second win against Gravitas.
While Order fell to the Chiefs on Friday, they managed to snap their six game losing streak with a win over the Dire Wolves on Saturday evening. Gravitas also recorded a 1-1 weekend, defeating Legacy before falling to the Bombers the following day.
Finally, the Wolfpack and Legacy once again suffered 0-2 weekends to keep them locked in the bottom two places in the standings.
---
Catch all the action in Week 8 of the OPL this Friday/Saturday live on the new RiotGamesOCE Twitch channel, and find the full schedule at oce.lolesports.com.
Follow Swip3rR and Chiefs on Twitter.
STANDINGS: Bombers (13-1), Chiefs (11-3), Avant (9-5), Mammoth (7-7), Gravitas, Order (6-8), Legacy (3-11), Dire Wolves (1-13)