Although the Bombers locked in another 2-0 weekend, the league's focus on Recall & Restore round was just as important to the team said club captain Jake "Rogue" Sharwood.
With the competition putting the spotlight on mental health awareness and keeping a major focus on keeping motivated and balancing your health at the same time, it's a message that's incredibly close to Rogue's heart.
#RecallandRestore #IAMOPL pic.twitter.com/2VVzn24T4f

— BMR Rogue (@RogueOCE) March 16, 2019
According to the team leader, as the Bombers continue to hunt for that key first place finish in the first split of 2019, he aims to do his part by forming positive habits, and motivating them to use the Essendon AFL team's facilities like the gyms and mental health resources.
"Being at Essendon, we've got access to the gym facilities and the last few weeks I've been trying to get the team to come with me," Rogue said.
"Other than that, it's just about creating a good environment in the team in and outside of the game. Tommy [Ryoma] & Victor [FBI] are from Sydney and don't know many people around here, and Mimic & BalKhan are from a whole different country.
"It's creating a sense of community, a massive friend group, like a family."
With the knowledge no team has won the OPL from anywhere but first since the gauntlet system was introduced, Bombers coach Scott "Westonway" Farmer is intent on keeping the team focused and motivated going into Super Week. He makes sure to keep the team motivated by "focusing on their ultimate goal; going international".
After a loss two weeks ago against the second-placed Chiefs Esports Club, the squad is as motivated as ever said the team captain. Sharwood is confident in his team's ability to perform when it matters. After falling ill before their match against the Chiefs two weeks ago, he said he's feeling confident that "if we played a rematch even a couple of hours later on that day, we would have won. I'm confident that we are the better team, even despite the loss."
With the gauntlet on the horizon and the very real possibility of a Chiefs vs Bombers grand final, Sharwood is confident the rematch will fall in their favour. Even with a minor slip up, he's confident they would "take the series".
"This team is as motivated as ever, no one on this team has won the title, ever." he added.
With everyone on the team besides Hyun "BalKhan" Choi having experience preparing for Best of 3s or Best of 5s, they're ready to face anything.
"We're going into Super Week sticking to what's been doing well, we haven't really played a range of styles on stage," Westonway said. "Until teams can beat that consistently, we don't see any reason to shift our strategy on game day."
Tommy "Ryoma" Le had a brilliant showing on the weekend after two dominant performances, going 2/1/10 on Orianna against Order, and 7/0/0 as Ryze against the Dire Wolves. It wasn't just Ryoma that dominated the weekend, with the Bombers squad is looking as good as ever after scoring an impressive 36 kills and only 14 deaths over the weekend.
Round Wrap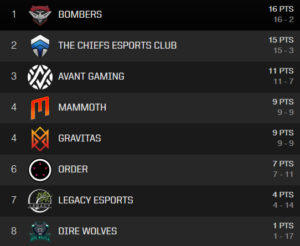 The previous weeks matches saw an exciting upset as Legacy Esports defeated Gravitas. Legacy and Gravitas both finished the weekend 1-1.
Both Chiefs, Bombers, and Avant Gaming finished the weekend 2-0, with the Chiefs taking down Legacy and Mammoth while the Bombers took on Order and Dire Wolves to secure their 2-0. Avant didn't smash alone, knocking down the Dire Wolves and Order.
Lastly, there were three teams that had a rough 0-2 weekend. Order, Mammoth, and Dire Wolves all fell in their matches.
---
Catch a super week of action in Week 10 of the OPL this Friday/Saturday live on the RiotGamesOCE Twitch channel, and find the full schedule at oce.lolesports.com.
Follow Rogue, Westonway and Bombers on Twitter.
STANDINGS: Bombers (16-2), Chiefs (15-3), Avant Gaming (11-7), Gravitas, Mammoth (9-9), Order (7-11), Legacy Esports (4-14), Dire Wolves (1-17).
Header image credit: Bombers