3:26pm, October 2. Seomyeon train station, exit eight.

That's where I met Julian "Raid" Skordos for the first time. I gave him directions to look for a guy in a blue shirt, but it would have been easier to say I was the only other white guy in Busan.
As a typhoon settled in, we decided on a small, discreet coffee shop along the bustling streets of the Korean coastal town. Right up an alleyway, into a garden oasis, no laptops allowed and no free wifi – a rarity in this day and age. If there wasn't a bunch of rain falling, we probably would have sat outside. It reminded him of home.
"Dragging me to a place like this just reminds me of Melbourne. I know 50 of these laneway coffee shops, so it's nice to get a little part of it while I'm away."
"Dragging me to a place like this just reminds me of Melbourne. I know 50 of these laneway coffee shops, so it's nice to get a little part of it while I'm away."
It's only been a matter of weeks since the OPL wrapped up for the season. The AD carry of three years had finished his seventh split with a demoralising seventh place. While his performances on the Rift were passable, issues with his wrist, mental health, and a rocky breakup left him unmotivated and tired of the game.
"I was just extremely burnt out," he said. "It didn't come primarily from League – it was a mix of things in my life. A lot of things were going on, and trying to balance League with those things really took a toll on me.
"Trying to balance a job like being a pro is really taxing on the mind and you have to be focusing on that 100% of the time – it's too hard when you have external things affecting you."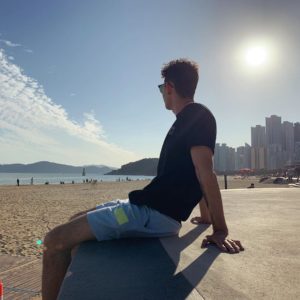 With his mental health starting to head downhill, he looked for a kickstart. It took him 5000 miles to find the right place – Busan. The isolated coastal town is a popular travel destination for Koreans during summer, and a nice change of pace from life in Sydney, Melbourne, and other places League had taken the veteran.
"I didn't want to do Seoul," he said. "I've been to Seoul for bootcamps before, and I wanted to explore somewhere new. I love the culture here, and I'm just really interested in Korea. The music and food has intrigued me for the last few years.
"It was something I've been thinking about for a while. I've been considering moving on from the OPL, even halfway through the last split, but it was only something I was saying without the intention to do."
Pulling the trigger on leaving was easy too, although it took a little while for everything to sink in.
"Spontaneously, I was shopping in Chatswood Shopping Centre, and I was like "screw this" and launched Webjet and booked tickets to Busan. I didn't plan my budget, I didn't plan my Airbnb, I just booked a one way flight."
"I went home and the "what the f***" moment hit me, but I was so happy I did it in the end."
The experience has been extremely positive for him to start with. It's only two weeks in, but he's looking to spend at least the next four months here. He's managed to escape the rat race of the OPL, rediscover old passions, and rekindle a meaning for life.
"I've been slowly finding myself over here in Busan," he said. "League of Legends was everything for me at one point in my life. Now that I've slowly moved away from it, I've started to develop myself as a person.
"I've fallen in love with fitness and the gym and I want to pursue being a personal trainer. I love cooking, and music – I want to learn an instrument too, or maybe even Chinese – so there's been a lot of things I'm doing now that I couldn't when League was occupying 90% of my mind."
Part of his change as a person was speaking out about his issues, both inside and outside of the game. He released a candid video outlining his experiences in Oceanic League of Legends, laying all of his emotions out for everyone to see. Making that was a tougher decision than moving.
"The video for me was a very liberating experience," he said. "I heavily considered not doing anything – that I should just delete Twitter and move on with my life. It was hard, and I tried to make it for five days, but every day I just found myself deleting the video and I couldn't go through with it. I just did it all in one take and post it, and that was it."
19 minutes of footage, that to him felt like an eternity, but to others meant so much. Very rarely do people across all walks of life speak as openly as Raid did, and the outpouring of support he got afterwards was bewildering.
"I was really surprised, it was so positive. I got like 30 DMs from people, wishing me all the best, saying they support me – all that kind of stuff. I got a ton of feedback from that, and it made me feel really supported in a time where I felt isolated."
However, that same support doesn't really exist for players currently trawling through Oceanic esports. It's still a wild west down under, and the support structures are lacking in specific areas. The scene is going through some growing pains, and it's hurting some of our region's most talented prospects.
"There isn't a set-in-stone support structure in Australian esports – it's just the people you are working around supporting you," he said. "Every team I've been on, there hasn't been a go-to person to speak to. There hasn't been a psychologist, or something in place to stop burnout. OCE is very underdeveloped, and you have to take care of yourself in the end.
"Look at big organisations – like Team Liquid – they have so many esports teams, they have a venue, they have all these structures in place to support their players that it's easy for everyone to feel comfortable."
"For OCE teams, it's five players and a coach - most teams don't even have managers - and the owner is running around looking to promote the league and get funding, so it's a bit of a mess."
"For OCE teams, it's five players and a coach - most teams don't even have managers - and the owner is running around looking to promote the league and get funding, so it's a bit of a mess."
He has also questioned the entire journey of becoming a pro player. The sacrifices players are increasingly making to make it to the top of their crafts can have a detriment to their futures beyond esports.
"Being a pro player isn't for everyone, and it's not a sustainable job. There's no certainty in the future, and if your goal is to just play in the OPL, then being a pro player isn't worth it," he said.
"When I became a pro player, I knew it wasn't worth it, but I did it for the passion and the love of competing. I always wanted to get that big contract overseas and compete on the world stage one day, but I expect every player in Oceania to share the same goal."
The gap between Oceania and other regions also hits many local pros hard. The salaries are small, the chances of flexing your muscles internationally are limited, and there's a massive cultural dissonance between the wider public and esports fanatics.
"Not finding the success I wanted to find hit me hard. Even when I finished third on Legacy and made it to Rift Rivals, it wasn't good enough – I wasn't going to Worlds or MSI. If you aren't making it to those events, you aren't getting looked at to go overseas."
"The money, the sponsorships, the viewership just isn't here in Oceania to make it a sustainable job. So many kids see the bright lights overseas, and League is such a huge game across the world, but they can't realise those dreams here."
Nevertheless, he still looks back on his career fondly. Growing himself from a high school fresher on a gap year to a professional player, Raid followed out his League dream, and it brought along some life long memories.
"The most memorable moment of my career so far would have been on Legacy – and it's not our Rift Rivals win. It was the split two gauntlet, and I just remember we were playing against Order and we were one game off beating them.
"Tim [Carbon] brought us all together in a big huddle and he gave the most motivational speech ever – I'm a massive fan of motivational speeches, I look them up all the time on Youtube – and I remember looking at Daniel [Decoy] and feeling the hype. We won that series."
Speaking of Decoy, the New Zealander has been inseparable from Raid over the last two years. The duo moved from Legacy to Gravitas in 2019, and while they've had their disagreements, the departing AD carry has nothing but praise for the rising star.
"It's been up and down in terms of our work relationship, but we've always been good friends, he said. "We've had different perspectives on the game, but I've really enjoyed growing with him and watching him grow as a person or player.
"When he first came on Legacy, I saw him as a little kid, but he's his own person now and his own player, so I'm keen to keep watching him and supporting him."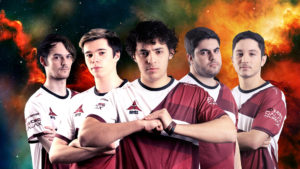 The family atmosphere is something he misses too. There's something unique about the esports gaming house experience, and it's difficult to put a finger on why it's so loved and desired. Having been in three, there were specific moments that stood out to him.
"In terms of friendship and family, Abyss was the best team environment. When I joined Abyss, they were a low-tier team that just got promoted into the OPL, so there weren't too many foundations laid for their success. It was more of a "we are going to work everything out together," every player and Nathan [Euphoraz] were going at it together and it was hilarious."
"Legacy was more professional. I didn't say a word and I just let Tim and Luchio [Soulstrikes] do their own thing."
His love for the game isn't dead either. He will be watching Worlds and following along with how Oceanic League grows over the next short while.
"Worlds this year is going to be the best one yet because it's so open. That group with SKT, Royal Never Give Up, and Fnatic is going to be so interesting. It's a bold prediction – but I think Fnatic and SKT will end up progressing and RNG will be knocked out, then in the semis it'll be Fnatic, G2 Esports, a Chinese team (FunPlus Phoenix or Invictus Gaming), and SKT."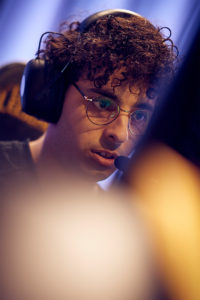 "The final will either be Europe vs SKT, or if SKT get knocked out, Fnatic vs G2 Esports. Either way, it's going to be great. I haven't had a feeling like this about Worlds since season three, when I watched it for the first time."
Making it to the bright lights of Worlds in Shanghai next year, or wherever else onwards, would be the only thing that draws him back to the game in a competitive setting. After all, in Australia, the only way forward in esports is with a healthy dose of passion.
"I played soccer semi-professionally and I was really into that, and then I found League and I got really involved in that. I have no idea what would be next in line for me next.
"If I do come back to League, it will be with the intention to be in the first place position – whether that be as a coach, player, support staff. I love the feeling of the team environment and family."
For now though, he is content with life as it is. He's managed to light new passions, meet new faces, and enjoy a break from the stress of being a pro player. The itch might come back, but Raid is content to continue finding himself and discovering a new life, five thousand miles away from home.
Follow Raid's journey in Busan on his Instagram. You can also follow him on Twitter.