The Bombers have announced today that Mark "Praedyth" Lewis will be joining the Bombers for the remainder of OPL Split 2 2018.
Praedyth has played for Tainted Minds, TM Gaming and Sin Gaming over the last 2 years in the OPL. Previously a substitute for MAMMOTH Esports for Split 2, his addition to the Bombers squad will add flexibility in the top lane on game days.
Nathan Matthews, Head of Esports at Essendon Football Club, has told Snowball that "Mark's addition to the team is intended to improve the strategic diversity that the team has available on match day." A veteran of the Oceania scene, Lewis will be able to "…share his knowledge and expertise, which includes flying to the studio each week with the possibility to play on stage."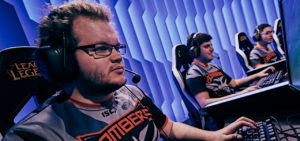 However, with Christian "Sleeping" Tiensuu already on the team, Praedyth's addition will only be in a substitute capacity. "Sleeping is, and will continue to be the starting top laner for the Bombers team. [He] has proven himself to be a vital player for the team."
Praedyth will be able to get some game time in the OCS before a return to the OPL. "Mark will be free to play in the Oceanic Challenger Series for the duration of his contract." Bombers Academy's current top laner Shawn "Sugoi" Foo's spot isn't in jeopardy though, with Matthews stating "[Praedyth] is free to play in any OCS team."
---
The Bombers currently sit in 5th place in the OPL with a 1-3 record. They play ORDER this Friday at 5pm, where we could possibly see Praedyth back on the rift alongside old team mate Rosey. 
Follow the Bombers on Twitter: @Bombers