Masterminds had just started to find their stride in Group B after a rocky start to the season, but their dreams of a top 2 finish were squashed by an in-form Kanga Esports.
Last season's grand finalists got off to a promising start, taking the first map in Lijiang Tower. While the Night Market point went in favour of Kanga after a clutch Davi self destruct in the overtime fight, Masterminds secured the next 2 points. Smart ult economy play around their capture percentage exposed Kanga on Control Centre, while Masterminds got a 74% lead on their first capture on Gardens, making it difficult for Kanga to come back.
However, Kanga came online on King's Row. Locus constantly outdueled Taki in the Widowmaker battles, only dying once. A desperate swap to GOATs came too little too late on Masterminds attack, as the team were held completely by Kanga. Kanga didn't muck around on their attack, running GOATs right from the get-go, with Locus tearing up the Masterminds backline on Brigitte.
Kanga's Davi gets 3 with a well-placed self destruct.
While Kanga has looked at times to just be the Merit show, Locus and the rest of the team really stepped up against Masterminds, Kanga Esports owner Hayden "Haydz" Shiels revealed.
"I feel like the whole team has been putting in the effort and really grinding this season. The confidence is at a all time high, and it shows in our games."
Haydz also pointed to Merit as a stand-out member of the team so far this season, and praised his awareness, positioning and deadly aim on Zenyatta.
"Merit started slow, but the longer he has been in the team the better he has gotten. It's amazing to see the progress his made in such a short time," he said.
Heading into the second half at one map a piece, Volskaya was a demonstration of how close the top of Group B is. A gutsy overtime battle saw Kanga get a quick completion on their first attack round with 4:21 on the clock, thanks to Roro charging his dragon blade in under a minute and wiping Masterminds on both points. A strong first defense by Kanga on Masterminds attack meant that the Season 1 grand finalists were always behind the 8 ball with a 2:50 timebank.
Kanga's time bank advantage proved to be too much for Masterminds to overcome. Masterminds' second attack was a lot cleaner, managing to capture Point A quickly after Nozz wiped through Kanga's backline on D.va. However, they were only able to get 45.9% on the 2nd point, and the extra time allowed Kanga to play around for a bit before snowballing onto the 2nd point and taking match point.
Then came Watchpoint: Gibraltar – a dead even contest between both teams. Despite the level nature of the clash however, it was Merit that stood tall, best described by Elfishguy when he said "he's found a way to give Zenyatta a tactical visor". Kanga captured the 1st point with ease, although Masterminds put up a formidable defense to stall them for a couple of minutes on the 2nd point. A 3 man self destruct from Davi looked to secure the final point for Kanga, but a turn around from USMC's Brigitte forced Kanga to cap in overtime.
The Masterminds attack was a bit slower than Kanga's, taking a bit more time to get through the first two stages. A strong finish by Taki and USMC on Widow and Hanzo saw Masterminds cap out in overtime. Masterminds put a stop to Kanga's second attack early, only giving them 68m in their 1 minute. However, Kanga used the advantage of knowing where the endpoint was, taking the fight to Masterminds just before the crest of the tunnel and winning off the back of another Roro dragon blade.

In the other Group B games on Monday, SereNity secured their first win of the season against Avant, while Dark Sided looked head and shoulders above PIXL in their convincing 4-0 sweep.
SereNity had been to 3 tiebreakers this season and lost all 3, but managed to close out Avant before having to go to Ilios in their 3-1 series victory. They had a slight hiccup on Eichenwalde, but a massive performance on their Temple of Anubis and Rialto defenses secured them their first win and 4th place heading into the final week.
Not many people expected much from PIXL in their match against Dark Sided. The first placed team in the group toyed with their pray, allowing PIXL to constantly capture the point  on Lijiang Tower before effortlessly taking it back. A full hold on Temple of Anubis and Rialto topped off a very dominant series for Dark Sided, heading into their top of the table clash with Kanga next week.
Group B looks to be a very tight finish, with Masterminds, SereNity and Avant all able to take the final 2 playoffs spots depending on results this weekend. According to Haydz, "Masterminds and SereNity deserve to make it," and a victory for both teams this week coming will cement their spot.
Haydz is confident though, no matter what happens next week, that "the odds are in [Kanga's] favour" for playoffs.
"Anything can happen, but we are confident that we can make it to LAN" he said.
Group A had a week of very convincing sweeps. Sydney Drop Bears made light work of Dignity, Legacy dispatched Tainted Minds while Blank Blue (now known as ORDER) binned the Bin Chickens.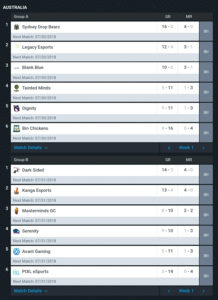 Sydney Drop Bears have looked unstoppable this season, and certainly made their thumping of Dignity as undignified as possible. They showed viewers long staggers, immaculate teamfighting and constant outdueling as they won in every domain. They aren't taking anyone lightly, and are making a statement to Dark Sided and Kanga heading into playoffs.
Legacy's match against Tainted Minds was the closest match in Group A this week, and it seemed at times Tainted could take a map off Legacy. However, Legacy just kept edging them out, whether it be with innovative Mei-Bastion defenses on Temple of Anubis or stock standard Dragonball comps. This 0-4 left Tainted Minds on the very edge of dropping into Trials, only beating Dignity on head-to-head.
Blank Blue went for full style points against Bin Chickens this week. Signed was showing off on Widow, going for constant 360s and trick shots (Note: he only hit one). It was a generally dominant performance from Blank Blue, who are finding some nice form heading into Playoffs.
---
Catch the final week of Overwatch Contenders Australia Season 2 from 12pm AEST this Monday on on Twitch.