The Bombers may have secured just their second three-point victory of the split when they downed Tectonic 2-0 on Saturday evening, but up until a team-fight 45 minutes in Scott "Windowsmonkey" Farmer admitted he "had no idea who was going to win".
Despite the knife's edge the second game in the Bombers' week seven 2-0 eventually came down to, the team delivered a strong opening offering in a 39:36 win off the back of Seb's exceptional 9/0/1 scoreline on Kindred.
A three minute gank from Bombers' jungler, combining with Looch (Karma) in the mid lane, saw the marksman's snowball begin, and a second kill on Tectonic's support Trance minutes later added to the gold haul.
Seb notched a triple kill as the Bombers closed out the match with a 12.8k gold lead, giving the now-fifth placed squad the perfect chance to secure a much-needed three points.
Watch: Seb on Kindred picks up 3 to close out the game against Tectonic

Although it took 51:57 in the second game, secure the points they did, as Tiger (Kai'sa) climbed to a 14/2/5 scoreline from the bot lane to deal out enough damage to send Tectonic to the bottom of the standings.
The key moment of the match came after Tectonic had successfully translated their Baron Nashor buff into two broken inhibitors in Bombers' base, but a flanking double teleport from Sleeping on Dr. Mundo and Looch on Swain forced a fight behind the Baron pit.
It was all the Bombers needed to find a foothold back into the game, as Tiger opened the team-fight with a kill on Shok (Orianna) before Looch cleaned up a fleeing Papryze (Gangplank) at the mouth of the pit.
A divisive Pillar of Ice from Seb on Trundle slowed the final three members of Tectonic, enough so to allow Tiger's flank into the top lane to succeed – the already-strong AD Carry polished off Value (Xayah) and Trance (Rakan) in seconds, and the Bombers didn't slip up again to claim the 2-0 win.

Game two may have seemed the longer, harder battle for the team, but Windowsmonkey – Bombers' coach – believes the first game will give them "more to work with" as they prepare for a potential gauntlet run in less than a month.
"I think the [first] match could have been a little bit cleaner, but picking up the 2-0 there puts us in a really good place," he said. "From fifth place we're in a good spot for a gauntlet run."
"We now have to focus on being able to break open the game, game one will be a big point of review for us as we continue to learn and grow as a team. Game two was a long game but we can point at the flaws and they're a lot easier to identify."
Windowsmonkey also believes the chance to finish within the top five is "in [their] own hands now", and thinks the Bombers will be more than prepared as playoffs approach.
"We've taken games off teams that are as good as if not better than us, and we have learned a lot of things from the start of the split," he said.
"The team will now just focus on turning those game wins into series wins, and that will get us far into the gauntlet if we can translate to that. The team is completely able to build advantages, but our major problem is not being able to cleanly close out.
"We don't want to get stuck around Baron anymore, but as we approach the end of the split we're just thinking 'can we turn advantages into wins?'. Once we can do that, I believe we can go far."
---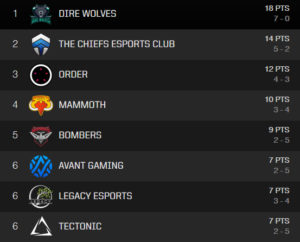 In the OPL's Friday evening games, the Dire Wolves secured a bloody 2-0 victory over Mammoth, recording 44 kills across both matches, while Legacy fell to order in another clean 2-0 sweep to remain tied-seventh on the ladder.
Finally, the Chiefs kept a two point buffer over Order in the standings with a 2-0 over Avant Gaming, with Raes showing off on his bot lane Yasuo pick to finish 11/3/10 in the second game.
Despite Avant holding a 6k gold lead at 26 minutes, Raes was able to take advantage of a Command:Shockwave from ry0ma that caught three of Avant's key members to secure himself a quadra-kill.
STANDINGS: Dire Wolves (18), Chiefs (14), Order (12), Mammoth (10), Bombers (9), Avant, Legacy, Tectonic (7)
Photos courtesy of OPL/Riot Games.