The Chiefs entered the eXTREMESLAND AUNZ Qualifier with our own Luke Harris wondering if they had what it took to take home the trophy, and walked away with all of the chocolates.
A pair of 2-0 victories on the Margaret Court Arena over Legacy and Tainted Minds saw the boys in blue deliver a commanding victory in front of their fans and I caught up with Tyler "Tucks" Reilly after their grand final win over TM.
I'm here with one of the victorious Chiefs players from the eXTREMESLAND MEO finals, Tucks. And well, how are you feeling?
Tucks: Feeling pretty good. Obviously coming off a win is nice. Especially with a last minute sub who we didn't get to practice with at all. Felt like we played really good. It's on LAN, we always feel good there, our communication's good, our calls were good. It's good to get the job done.
We'll start off with last weekend where let's face it, there were a few predictions that you'd make it to LAN but only just. How did you guys deal with that? Especially from…certain organisations?
*I chuckled, Tucks gave a wry smile.*
Tucks: Yeah so we felt like we got a bit shafted there. I felt like results showed that we were as good as or better than ORDER, beating them the last three Best-of-3's we played them in. And then for TM we'd beaten them the last time we played them in the IEM qualifiers. It was a close one, so that's fair enough you could predict them over us. But you know, we knew we were better than both these teams, we knew we could beat them and we just had to come out and show it, which we did. We've been putting in a lot of practice lately and it's been paying off, so yeah. We've been clicking and getting the results.
Just before we get to this week's games how do you think IyeN integrated with the team, especially being a last minute replacement?
Tucks: He was actually really good, surprisingly. Well, not surprisingly because he's a good player but he hasn't really played at a high level like we are right now…
…Because, and sorry to interrupt but his last high level event was Gfinity?
Tucks: I guess, but then that was a complete sub team. He came in really well and he knew a lot of 'nades which is really helpful for us. He did his role really well, he was very confident in making plays. He just fit perfectly so it was really good and we appreciate IyeN coming to sub for us.
Definitely. Confident play can pop-up in many ways, not necessarily on the scoreboard. We'll look at yesterday's game against Legacy. It was pretty dominant on Mirage to start off.
Tucks: Mirage we're really confident on. With Sam (flickz), it's good to have him there but we also felt really confident with just how we played the map. Especially on CT side, the core four of us felt really confident. So we knew we'd probably take that. And every round sort of went our way, they didn't really put up too much of a fight which is what we expected.
We'll now move on to today's game. We'll start off on Inferno where you guys got off to a blistering start getting the first five out of six rounds?
Tucks: I guess Inferno we were much less confident on. Sam plays a pretty crucial role on Inferno for us being the B-Site Anchor which is a hard place to hold and also being the banana player. That's also a really hard area – knowing what to do and how to integrate back with the team. So we didn't know how that would go but IyeN did really well getting picks eveywhere and our CT side was quite good as well, getting the first few rounds. We sort of slipped at the end, but we played TM on Inferno in the closed qualifiers and they just owned us on it so it was a good result for us.
And we'll move on to Mirage where it was a tighter affair but again you guys started nicely getting the first few rounds, and another pistol.
Tucks: I think that's actually a good point – a pretty strong thing for us this LAN was our pistol rounds. Online our pistol rounds were quite inconsistent, we're not the best pistol team. But on LAN we're much stronger and more confident and we got both pistols. It says a lot for TM that they were able to bring it all the way back losing both pistols. But yeah, that definitely helped us secure the win. It was really back-and-forth. They sort of abused IyeN being inexperienced on our team at the A site and our team not getting the trades there.
And just before we move on to the future. Round 28. That Molotov on A site. How did you feel about that? Especially because it tied it up at 14-all.
Tucks: Yeah, it was pretty disappointing. Especially because I killed him as well. I don't even know how he got it out. I think he just right clicked it off the balcony. It was really sad. I thought we had that. But, I mean, oh well, what can you do?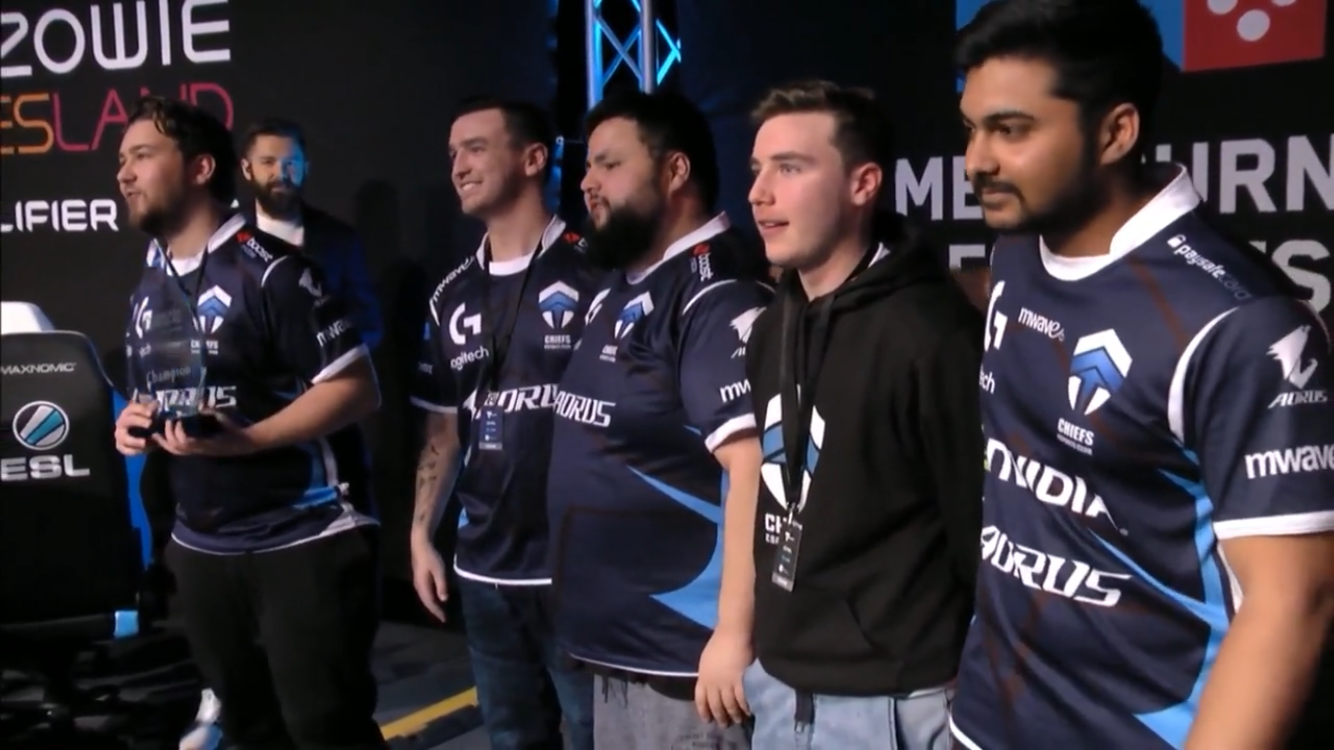 You guys were able to get eventually get the win, which was a great thing for you and this will be your first international event with The Chiefs since WEGL last year?
Tucks: This is exciting for us to go to Shanghai. It's definitely an event we think we can win. Sort of a stepping stone – our goal is to compete tier 1 internationally and be able to place high and win at those events. So this is a good stepping stone for us.
And finally, how will you be prepping for eXTREMESLAND Asian finals? Because there's gonna be a lot of good teams there, especially how they've been playing recently. For example your TyLoo's and your B.O.O.T-dream[S]cape's.
Tucks: I'm not sure if TyLoo are playing yet, but I'm pretty sure BOOT are and they're a strong team. Probably a team like Flash Gaming will play it as well. We'll have to look into them a fair bit because we haven't really played Asian teams with this roster apart from IEM Sydney a little bit. We'll just be sort of day-to-day still, if we get a bootcamp over there it'll be nice but we'll see how the time goes. But yeah, it'll just be day-to-day normal stuff that we do to try to improve our game and that's it.
Well, with that Tucks, thank you very much, congratulations on your win.
Tucks: Thanks mate, appreciate it!
---
The Chiefs were once a dominant force in AUNZ Counter-Strike. After a brief time tussling with the remainder of the top 4, they've now announced to the region that they're out to reclaim their crown with strong performances over ORDER and Tainted Minds.
We look forward to seeing them at the eXTREMESLAND finals, but if you want to catch Tucks and the boys sooner, they're scheduled to play SYF in the ESL ANZ Championship on Wednesday the 5th of September. Follow The Chiefs Esports Club on Twitter for all the details.