AVRL and Pixie are the English-speaking faces of Contenders Pacific. While they've been on the screens of thousands of Asian and Oceanic fans for the last year, the New Zealand duo has never casted live from the Pacific region until OWWC Bangkok.
In fact, they've both battled their ways to the top of the region. Pixie juggled bar tending and being a tournament admin on top of pursuing his dream of casting, while AVRL put his communications degree on hold to try and make it big.
They've overcome geographical distance, language barriers in a developing scene to cast Contenders Pacific, and they don't plan on stopping there.
I spoke to them before the Contenders Pacific final against Taiwanese team Talon Esports and Japanese team Cyclops Athlete Gaming (CAG) about Contenders Pacific, Korean teams and the Pacific region as a whole at OWWC.
First of all, thanks for taking time out before the match today to have a chat about Pacific Overwatch. I'm going to through the most difficult question at you first – who will win tonight?
Pixie: You can justify either team winning, and it's really tough to decide. This is Pacific's ORDER v Dark Sided – you won't be able to call it at the start, and you won't be able to call it until the final map has been played.
AVRL: For me, Talon are a lot stronger on paper. You also have to consider that CAG have had a lot on their plate with World Cup as well as Contenders (CAG recently lost their previous main tank player in SamuraiD and have had to put Ta1yo on main tank in a role swap). They're required to do more preparation for this event while Talon will be fresh.
Continuing on with the Japan point, in Season 1 of Contenders they weren't able to find much success with Yoshimoto Encount, while in 2017 they fell bitterly close to BlizzCon after losing to Australia. Do you think CAG's success in Season 2 will help build the Japanese scene?
Pixie: With Japanese esports there's a big cultural difference. PC gaming is small over there compared to mobile gaming, but success brings fans. You look at Australian esports and having teams perform well on the global stage in a number of games has helped grow the scene. For New Zealand, it took the All Whites to make the FIFA World Cup for everyone to get interested in soccer. A good breakout team like CAG will hopefully help the scene grow.
AVRL: To build on that, hopefully it'll invigorate local players to try harder. If they can see their country having success internationally – whether it be in Pacific or OWWC – they will be more motivated to play and reach that top level.
Now, you guys cast Overwatch Pacific from New Zealand. Contenders Pacific spans multiple countries and the largest geographical area of all Contenders regions. How much of an impact has the geographical distance had on your ability to cast?
Pixie: Well, of course we need translators for all the countries and nationalities, but it would be like that in a live setting too.
AVRL: We've been doing it for a while too so it helps. I can speak Chinese Mandarin, so that helps with the Taiwanese teams and production. The hours aren't as egregious as you would think – if it finishes at 11pm, 1am, that's fine.
Pixie: Casting Pacific though is still really enjoyable. Because it's such a diverse region geographically and culturally, you get different experiences from everyone you talk to. It also reminds of me of Australia about three years ago. These different smaller regions – Thailand, Taiwan, Japan, Hong Kong – get to compete on a big stage. I get the same satisfaction seeing these regions grow as I did when I started out in Australia and New Zealand.
How did you guys start out as a duo?
Pixie: Well, AVRL was running a Hearthstone tournament in New Zealand and I was just interested as a spectator. We ended up chatting about casting the finals of the event, so we loaded up the VOD and did just that. Before that, I was casting League of Legends but falling out of love with the game as the opportunities weren't there.
AVRL: I started out in Dota 2 in New Zealand, but the scene went a different direction than I was expecting and died out really quick. I swapped to Hearthstone but even then Pixie and I only did 3 or 4 events together. I invited him along to cast some Overwatch just after release because in a small scene you remember who you enjoyed working with and we got along really well.
Pixie: I ended up repaying the favour as well by introducing AVRL to his first professional event. From there, we just started doing everything together.
AVRL: It's funny because we have very different personalities too – it's a very interesting pairing. But at the same time, it was like we were made for each other and we work well together.
Pixie: We have the same hard work ethic, and while it was a little bit of right place at the right time, we still did our best to get noticed to move up the ladder.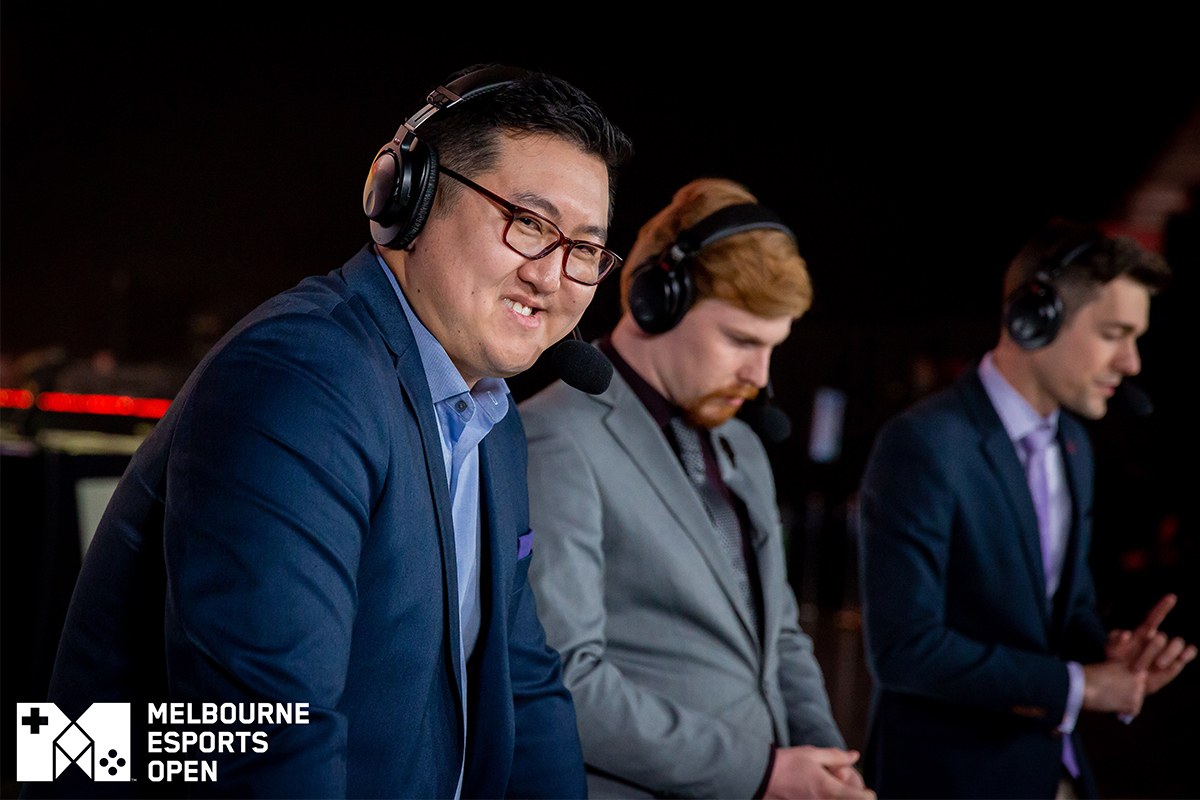 Because Pacific also encompasses Korea too, you have multiple Korean teams who possibly weren't good enough for Contenders Korea so they play in Pacific. What do you think of Korean teams playing in Pacific when they can play in Korea instead.
AVRL: Well we have very different views on this ourselves, so this should be interesting for you.
Pixie: Yeah…
AVRL: It's a very difficult issue to address. You have two types of Korean teams: the type who are based in Korea and play in Pacific – a region they are more likely to find success in – or teams with endemic roots in Pacific who pick up full Korean rosters. Detonator Korea, the team who won Season 1 of Contenders Pacific, were a Japanese organisation with a full Korean team.
However when half the teams are full Korean rosters and others have one or two here or there, you will need to eventually find a solution to limit the amount of Korean teams. It's not bad to have Korean teams but it reduces the opportunity for wider Pacific who don't have the chance to play in Korea. A hard block is not the solution, but down the line something will have to be done.
Pixie: Pacific covers all of Asia and Oceania. There's an argument for teams with discrete Contenders regions to play in their region only, but some teams have made their name outside of their region. Blank Esports played in OPC and Contenders Pacific and made their name outside of Australia. It'll be difficult to enact a solution for such a big region.
The region will only get better when better teams play. It's pretty undisputed that Koreans are the best, but if they come to Pacific and stomp the smaller regions, the smaller regions won't improve. I agree there's an over saturation of orgs, and when Pacific was on LAN it wasn't as bad.
However, from a business perspective, a local roster might not net a good return of investment. Korean teams are just the face of the issue which stems from a large variance in skill and infrastructure.
Well one place where Pacific players can shine outside of Contenders Pacific is in OWWC. Out of all the Pacific teams playing in any group stage, who has impressed you the most?
Pixie: Even though they lost today, Patiphan (Thailand, Xavier Esports) 100%.
AVRL: For me, it's gotta be the Blank players (Hus, Ckm and Trill) on Team Australia. It'll be a bit of redemption for them after a disappointing Season 2 in Contenders Pacific and this is the perfect opportunity to find some. It's also a similar story for Thailand – MEGA and Xavier had an equally rough season.
Pixie: Japan (CAG) also had a rough run in OWWC after a great season in Contenders Pacific. They've got a chance to prove themselves after the World Cup finishes today, and while their own OWWC campaign in Incheon failed, their Pacific campaign is still alive in Bangkok.
It's your first live Pacific LAN as well. Excited? Anyone you want to shout out to?
AVRL: I'm just excited to be in Bangkok. It's our first live finals for Pacific, and I wanna kill it.
Pixie: It's so satisfying to be here for the finals. We've got a special attachment to the region and we finally get the chance to meet the players behind that and I'm grateful for that. I'm just wishing to do a great cast for a great game.
Well good luck on stream tonight, I'm sure you'll smash it.
---
Indeed they did smash it too. Talon Esports, a Hong Kong org with a full Korean roster, eclipsed the full Japanese lineup of Cyclops Athlete Gaming in a 4-2 thriller. Contenders Pacific is a melting pot of talent that Oceania's own Blank Esports participates in, and it resembles a bright future for SEA esports as a whole.
You can follow AVRL and Pixie on Twitter here.
Photos courtesy of MEO/ESL Australia