In a Group B opener for the ages, the underclassmen of Freshman Class almost upset heavy favourites HEIST in a tight 5-map series which fell out of their grasp at the last second.
Opening up on Busan, Overwatch's newest map set in Korea, HEIST looked on fire off the back of Locus' McCree and Zarya. The ex-Kanga DPS stood up in his first match for the newest kids on the block with stellar tracking and accuracy over all heroes he played as HEIST kicked off the series with a swift 2-0 on Downtown and Sanctuary.
"I think I played decently, but nowhere near what I'm capable of as well," said Locus.
"I spent a majority of the off-season focusing on mechanics and more team-oriented elements like communication."
Locus, DPS for HEIST
However, on their map pick of Numbani, Freshman Class shook up all the predictions. After struggling to capture the first point due to an unusually aggressive defence from HEIST, they quickly rolled through the rest of the map on their first attack, snowballing for a decent time bank.
"We were having heaps of success with aggressive holds on all maps during scrims but we were also doing a much better job of cutting losses and disengaging," Locus said.
HEIST proceeded to post a blistering time out of the blocks of Numbani, but were stalled slightly thanks to a stoic Freshman Class defence in the third stage. With the game heading into the second round, Freshman Class caught onto HEIST's antics and punished them.
A HEIST misplay on the second part of Freshman's overtime push – which saw Bus go down with 99% charged on Primal Rage and HEIST lose a fight with a two-ultimate advantage – allowed Freshman Class more than enough room to put up a solid 5-point 68.59m attack on Numbani.
HEIST were not able to find the same form on their second attack, and while they captured the payload with 30 seconds, they collapsed just after heading into the third stage of their second attack.
With Dalsu caught out with 10% left to charge on Transcendence and Locus missing the Zarya bubble, Freshman dove onto HEIST's squishy support, forcing HEIST out of position and ultimately securing the victory after a long stall.
"They are a lot better as a team than people give them credit for," Locus admitted. "They played for each other really well and did a good job adapting to what we were throwing at them."
Adapt they did. With HEIST rolling over Freshman Class' Sombra-Doomfist defence on the first point of Hanamura on the back of Locus' four Zarya kills, they swapped to a more conventional GOATS comp to stall out HEIST for a couple of minutes.
With the entire match on the line, Guzto clutched out a massive Self Destruct for HEIST to secure the map against Freshman Class and force a tie-breaker thanks to Bus in the number 1 play of our Top 5.
With crucial plays like Kaimore cancelling out JungleJazz's Sound Barrier, they stalled out HEIST to a respectable 3:59 before setting their own fast time of 5:37 thanks to a good dive on the first point from Badd and Virginya and a quick snowball onto the second.
On the second round of attacks, HEIST found themselves behind the ultimate 8-ball after capping out the first point, never finding the momentum to get a tick onto the second.
With the timebank advantage, Freshman Class were able to take their time, stack their ultimates and overrun HEIST with 2:11 left on the clock to take match point heading into the final map.
Needing to clutch out Route 66 to force out Nepal, HEIST were under the pump. However, according to Locus, team morale never dropped. "As soon as the map started, we were hyped," he said.
With the main tanks swapping from the Winston to Reinhardt for the most crucial map of the series, it came down to a battle of the shatters. HEIST won the first fight on the cart to get the momentum rolling, and it didn't stop.
"When Brigitte (DewBoy) bashed in front of their Reinhardt (Virginya) and we got the pick, we rolled that first fight and that really set the tone for the map."
With HEIST making it through to the third point with about two minutes to spare, they were given a lifeline with a missed stagger on Guzto after a perfect shatter from Virginya to almost seal the defense. Off the back off this, HEIST managed to cap the point out in overtime after a slow war of attrition we are used to seeing from GOATS.
On the other hand, Freshman Class were almost stopped at the first hurdle by HEIST, but managed to break the hold off the back of a decent Self Destruct from Badd. Hurtling into the third point with momentum, they were put to an abrupt stop thanks to Guzto's critical Self Destruct finding four kills and a demech.
From there, Freshman Class' train had derailed, and we were headed into our first 5-map series of the season. On Ilios, the skill gap on Busan had closed, with HEIST dropping Shrine. However, they managed to bounce back, taking out Village and Sanctum to win the two-hour slugfest 3-2.
"Even though we lost on Shrine, we felt like we were playing better than we had been on Numbani and Hanamura," said Locus. "Momentum swung back in our favour [after Route 66] and we held onto it for the rest of the series."

In the other Group B matches of Week 1, ORDER made light work of Breakaway in a swift 4-0 – with a bit of light flexing on Horizon Lunar Colony with an interesting first point defence of Orisa-D.Va-Torbjorn-Widowmaker-Junkrat-Ana.
Kanga Esports versus Melbourne Mavericks also gave the highly competitive Group B another enticing match, with Mavericks eventually topping last season's LAN attendees 3-0. Davi, on his first Contenders official as a main tank, pulled out a very solid Reinhardt but they were unable to find a map win, salvaging a draw on Horizon Lunar Colony.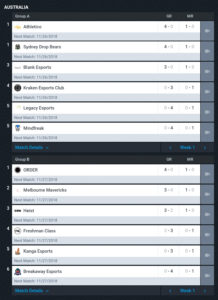 Group A saw Sydney Drop Bears wipe out Contenders rookies Mindfreak in the most intense trial by fire one could ask for 4-0. Goobs was a standout for the new kids on the block, but couldn't match the highly experienced Drop Bears who always seemed one step ahead.
The new guard of Legacy were stopped by the old guard of Athletico 4-0. It wasn't all bad news for the saplings though, with Mini pulling out some crucial Self Destructs on D.Va. However, individual skill gaps across the board were too big for the revitalised roster, who will be looking to bounce back against Kraken this week.
Speaking of Kraken, they fell down to Blank Esports 3-0 in a highly competitive series most expected to be a washout. Blank at times looked disjointed on their dives, with Knellery being over-aggressive, but Roro and Tails as a DPS duo were rock solid throughout the series, combining on most maps to eke out an advantage of Kraken.
---
Contenders Australia continues on Monday at 11am AEDT with the first official battle between the region's two most storied teams: Sydney Drop Bears and Blank Esports. Watch live on the Overwatch Contenders Twitch channel.