Nick Lynch, convener of esports at Queensland University of Technology (QUT), is proud of his title.
Partly because it is cool, but also because he knows how much work it took for the title to exist, that is, for esports to become officially recognized and supported by the university.
Earlier this month, QUT became the first university in Australia to announce that they are offering scholarships to selected students who are proficient in esports. With the phenomenal global growth of interest in esports, a well-established American collegiate esports system to model from, and the increasingly blurred line with traditional sports, official support for esports athletes is a natural (albeit admittedly amusing) progression for QUT, which paints itself as a "university for the real world."
However, the decision for QUT to invest in esports was not made overnight. Nick Lynch was keen to share the story.
The birth of esports at QUT
In the latter months of 2016, Michael Trotter and Dylan Poulus decided that it was time for an esports club at QUT. Recognising that every community, especially an esports community, needed a dedicated space to meet, the pair spent the summer break negotiating for the use of a room on campus.
"Thanks to Michael and Dylan, by February 2017, we had the first QUT gaming room," recalls Lynch. "It was an old server room with fourteen PCs. They were basically old university machines that were going to be thrown out if they weren't used for a different purpose."
The room was removed from the centre of campus, and if anyone had a reason to blame the FPS or ping for poor gameplay, it was these guys. However, the allure of an esports community hub was enough to overcome both of those concerns. By the second week of the semester, there were over two hundred members of the newly formed QUT esports club fighting over the fourteen PCs.
"It was really busy. Often you had to wait around until someone had to go off to class." Lynch laughs, but it paints a clear picture of the immediate popularity of the esports club.
Snowballing
Over the next year, the managers of the esports club worked hard to grow the esports community at QUT. They started running community events and 1v1 tournaments from the gaming room, as well as renting out rooms around campus to run social events. Eventually, they struck gold (or what probably felt like Challenger) when the university asked the club to put on an esports showcase.
"We put on a League of Legends showcase match and an Overwatch showcase match during a non-esports conference that QUT was holding," recalls Lynch. It turned a lot of heads. University staff members who were not in touch with the world of esports suddenly began to take notice. "After the showcase, we kept the pressure on. The university began to see how many students were engaged with esports and there was a real attitude shift."
The number of students engaged by the club, their showcase, and lobbying for better facilities proved to be successful. In July 2018, QUT unveiled their esports arena – a purpose-built facility with twenty-seven high-end gaming computers and chairs. It is home to QUT esports and is open to members of the community and professional teams – at a cost.
"There isn't really a comparable esports space in Brisbane at the moment," says Lynch. "It's unique." He points to a three pronged approach to how the space will be used – for the community, for competition, and for research.
Community
The QUT esports program currently has over 300 paid members – a 50% increase over the past two years. They cater for players of all esports and have a keen focus on inclusivity.
"If you love Rocket League, there will be Rocket League people who are willing to play with you. The same applies to all eight esports that we support," explains Lynch. "That's probably one of the reasons we are moving along so fast. We really care about student engagement."
On Monday through Thursday, the QUT esports arena is booked out by players from different esports communities within the main club. However, the space has also been used by professional esports teams (e.g. the Breakaway Esports and Tainted Minds' CS:GO teams) as a venue for bootcamping.
Competition
At the end of 2017, esports at QUT was moved into the sports portfolio. It was a victory for Lynch and the team, who had spent months sending the university their progress reports and statistics – anything to prove that the QUT esports program was more than your ordinary social club.
"We proved to [the university] that we fit all the criteria of a traditional sport," explains Lynch. "The university supports sports in so many different ways – one that everyone may know is Unigames. We convinced them that we are just as worthy of their support as any other sport."
The competition arm of the QUT esports club is the QUT Tigers. The Tigers (an umbrella term for a number of different QUT teams across all sports) compete in the Australian Esports League University Cup, the University Esports League, and the League of Legends Oceanic Challenger Series (OCS).
In fact, they were the only university team in the 2018 OCS. Lynch credits this accomplishment to the stable leadership of the QUT esports club and the support pathways offered by the university. "When Riot decided to extend the OCS from ten teams to fourteen teams, they wanted to include a university team," explains Lynch.
"Other universities have more students involved in esports than we do, for example RMIT and Monash. However, we are part of the sports program at QUT, so we don't change hands every year through AGMs. It also means we have support pathways for esports athletes when they come to play for QUT. It was all factored into Riot's decision to include us in the OCS."
One of the ways that players are being supported at QUT is through the provision of scholarships. Starting next year, the five students selected to compete for the QUT Tigers in the OCS will receive $10,000 each. QUT is the first university in Australia to offer a scholarship of this nature.
"It all came about because the vice-chancellor of the university happened to walk into the esports room," chuckles Lynch. "She saw how many people were on-campus because of esports, and how they were working in groups, making quick, critical decisions, and other skills that were valued by the university. She was impressed and wanted to support our team however possible."
Prospective QUT students who are interested in competing for the QUT Tigers in the OCS had until November 16th to express their interest. The coach and manager will select the four best applications for each League of Legends role, and ask those players to trial on January 5th and 6th next year. After that trial, the best players in each role will be offered a place on the OCS team, and receive the scholarship upon acceptance.
You can find out more information about the scholarship here.
Academics
Being a university team puts the QUT Tigers in a unique position – they can receive funding from the university and contribute to research on the science of esports.
"The QUT training room is basically a data mine for any researcher who wants to investigate how communities form, what the benefits of esports might be, how different people or teams perform differently under stress," explains Lynch. "We don't know how to compare traditional athletes to esports athletes. Hopefully, we will have PhD students studying esports and we can help answer these questions."
Take-home advice for esports enthusiasts from other universities
If you're interested in introducing your university to the world of esports or increasing their involvement in your esports club, Lynch has a word of advice.
"Instead of firing off emails, try to secure face to face meetings with people at the university who can give you what you need. Make sure they see the hard work that students at your university are putting in to become professional esports players, and how it is comparable to the hard work that traditional sporting athletes put into their craft.
"Point out how many students are engaged by esports, and that the rewards can be just as great as traditional sports – for example the money, the skills players develop, and the potential for international competition. I'm sure that every university around Australia would have one player in any esport who can act as a case study for the administration to examine."
---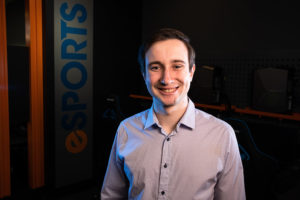 Nick Lynch would like to thank Michael Trotter, Dylan Poulus, and the staff members at QUT Esports for all their hard work. He would also like to thank David Fagan, the director of corporate transitions at QUT, for helping to put esports on the map at QUT. And of course, Lynch would like to thank the QUT esports community.
I would like to thank Nick Lynch for taking the time to chat about esports at QUT.
Follow Nick and QUT Esports on Twitter.