Dave Harris was one of the first sports executives in Australia to make the plunge into esports. With his influence, the Dire Wolves went from contenders to champions in the space of an off-season and have now held the last four OPL crowns.
Harris and his sports venture capitalist company, Guinevere Capital, also invested into English based esports organisation exceL, one of the new teams joining the franchised League of Legends European Championship (formerly the EULCS).

With four current EULCS franchises denied entry – including storied teams like Unicorns of Love and ROCCAT – the British teams' entry is a monumental moment for the organisation, considering the buy-in required and the volume of applicants.
Harris joined the team at exceL officially in June, formalising a relationship built months before as "strategic partners" with Guinevere Capital offering advice with their experience in the OPL and assisting in the application process for the LEC.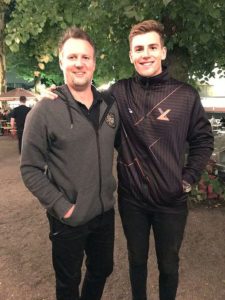 When asked about joining exceL and if he was confident of entering the franchised European league structure, he described it as "having a horse in the race" type of feeling. Harris said they had a good application and thought they were always a chance, but with so many external factors there is always an element of unknown.

Oceanic League fans shouldn't be too worried though, with Harris admitting that Guinevere Capital and Riot have been very transparent throughout the whole process and there are processes in place to resolve conflicts of interest. Harris owns a majority stake in Oceania's best team, who has represented the region at the last two World Championships.

He also mentioned there were still big projects outside of the Dire Wolves that he is also involved in such as the Sydney Drop Bears Overwatch team, who are the two-time champions of Contenders Australia, and the transition to the newly renovated Esports High Performance Centre at the Sydney Cricket Ground.

---
The League of Legends European Championship will start in 2019 with exceL going up against Europe's best, including Worlds Grand Finalist Fnatic. Follow Dave Harris & exceL on Twitter.

You can also follow the moves of Harris' Dire Wolves through our newly built roster tracker ready for #OPLTrades season.