In this week's Overwatch Contenders Australia match of the week, the top of the table clash between Melbourne Mavericks and ORDER was set up to be one of the most intense games of Overwatch this season.
After losing to HEIST earlier into the season, ORDER has kicked into the next gear, looking to top the Sydney Drop Bears as the dominant force heading into LAN. Since that fateful game in Week 2, they have not dropped a map and looked determined to prove their place at the helm.
In fact, the loss might have been a blessing in disguise according to ORDER veteran Unter. "Losing to HEIST was literally the best thing that could have ever happened to this team. It removed all complacency and really kicked the whole team into overdrive in terms of motivation to grind for improvement."
The Mavericks themselves are no pushovers however. With their second playoffs appearance secured, a win against ORDER would have almost written them in for their first LAN. Having been undefeated before the game, the first cracks in the armour showed after dropping a map to the fast finishing Breakaway in Week 4.
ORDER were looking to take full advantage of this and reward their hard work since Week 2 to claim first place in the group, and came out fighting right away on Ilios. While Mavericks took the first fight on Ruins, ORDER swapped it over at 88% and never let the lead go, taking the first round 100-88.
Mavericks clawed one back on Well – a notoriously bad map for ORDER, Unter told Snowball – after a Fluro double boop on Lucio gave the cross-town rivals the momentum. The Mavericks simply positioned themselves better around the point, levelling the map with a score of 100-52.
It was looking like the Mavericks were going to take the map on Lighthouse after a back and forth game fell in their favour at 99-80, but ORDER were able to touch the point in time, allowing Quatz and Yuki to combine for a massive shatter to destroy the dreams of Mavericks taking an early lead in the series.
Clip: Quatz took a 5v6 and turned it into a 5v0 with a well timed Earth Shatter to turn the point in ORDER's favour as they took out Ilios.
After that though, any hope of Mavericks getting back in the game were snuffed out by ORDER, who looked possessed throughout the rest of the series. Choosing to attack on Hollywood, ORDER took a prolonged fight on the first point which set them up for the rest of the map. Using that ultimate advantage, the cart almost never stopped as they took a 2:45 timebank.
On defense, Jordation charged his Graviton Surge early and used it to devastating effect, locking up the entirety of the Mavericks just as things were swinging their way. They couldn't reset and were behind the 8-ball the rest of the round – not helped by Adam denying Nox's own Graviton Surges twice – as they were full held and down 0-2 at the break.
"I think this series showed what can happen when things go wrong for another team," said Unter. "I suspect the Mavs were overconfident leading into the game, and as a result their performance really started to drop off, probably due to tilt.
"I'm sure the Mavs can bounce back and be a lot more menacing than they appeared in our match – they are still an extremely strong team as shown from the start of the series."
Unter, Support for ORDER
Hanamura wasn't any better for the table-toppers, who were one game away from letting their first place slip. They were caught out on their disjointed defense and punished by the meticulous ORDER, who were able to snowball onto the second point and finish the map with 5:03 in the bank.
Bringing the double main tank setup to their attack didn't seem to get it going for them either, with Oily's Winston not giving the same power as a D.Va would, giving Jordation free reign on the Zarya to shred the tanky lineup. Able to get a tick at least, the Mavericks were still unable to cap out first as ORDER claimed the series and top spot with one map remaining.
"This series showed what our team can look like when everything is going right and we are more or less playing at our peak," Unter said. "I feel like that was one of the best series I've ever played from a leadership standpoint – from ult tracking to fight planning – and everything seemed to play that way."
This coordination continued on Route 66, and while viewers missed half of the map due to a technical issue, Unter assured us that ORDER handily "thrashed them." Merit was on fire with his aim, something Unter says has been a real benefit for the team in Season 3.
"Merit has insane mechanics that I simply couldn't compete with [when I was flex support,] so he pops off in that role far more than I ever could have." The captain for ORDER was previously their flex support in Season 1 and 2, before making the transition to main support in Season 3.
"There were some growing pains at the start as I was (and probably still am) a completely inept Lucio player," he joked, "but from a communication standpoint I've always been quite strong and that is very well suited to the new role."
Nox brought out his signature Widowmaker to try and chase down the 1:38 timebank set by ORDER, but was shut down by Jordation who looked on fire the entire day. The Mavericks were at a loss, and barely made it to Big Earl's as ORDER collected the clean sweep.
The result meant that Mavericks fell down to third seed for playoffs, facing off against Athletico from Group A in the Quarters, while ORDER are up against the rookies Mindfreak in their first playoffs.
"We are hoping that our Mindfreak series is a dominant victory, but considering our loss to HEIST early on in the season we are no longer in the business of underestimating any of our opponents," he said.
ORDER isn't looking to stop there though. "We want to show up at LAN and prove that the Sydney Drop Bears aren't the unstoppable force that Elfish and Sandman keep prattling on about.
"You want to see an unstoppable force? Look no further than ORDER Overwatch come LAN."

In the other Group B matches, Kanga Esports got their first win on the board for the season over Freshman Class, while HEIST were able to get over Breakaway 3-0 to secure second seed in the group off map wins.
With Virginya back in the lineup for Exirst for Freshman Class, it was up to AGO to play Zarya for the bottom placed team. While he put up a good effort – especially on Horizon Lunar Colony – it wasn't enough to get the series win as they fell 1-3. Both teams will be playing in relegations in two weeks time.
HEIST have seemingly Bradbury'd their way to second seed off the back off this week's results, with the cards falling just right for the new team on the block. After a very dominant Ilios, Breakaway were able to claw the draw on Numbani to give the series some life. After the break though, it was HEIST all the way as they claimed the 3-0 and a date with Blank for playoffs.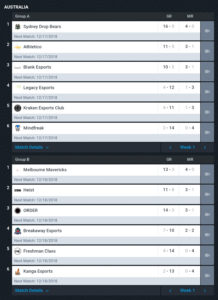 Group A saw the scramble for fourth seed come to an exhilarating end. While Kraken were knocked out of contention after Sydney Drop Bears swept them in the first game of the week, the fight was on in the match between Legacy Esports and Mindfreak. Athletico and Blank rounded out the week's game in a fight for second place and a spot in Season 1 2019.
With Zetzal in for Kraken, it made next to no difference as they were overwhelmed by the Drop Bears. He did have his moments, most notably his Widowmaker during their Route 66 Quad DPS setup, but they were unable to take a map as the Drop Bears secured their second consecutive perfect season.
While Legacy were improving week on week, they were stopped in their tracks by the rookies Mindfreak, who claimed their first series victory and enough maps to qualify for playoffs in fourth in their 3-1 win. Fractured set the tempo with a triple boop on Lighthouse, and while Legacy took Hollywood to tie things up heading into halftime, Mindfreak ran away with the series after the break.
Athletico also showed that the natural talent on their roster is outstanding, edging the win over Blank Esports 2-1. While Roro's Pharah made plenty of highlight reel plays, it wasn't enough to win the series as the wheels fell off the Blank bus on their Route 66 defense, allowing Athletico to take the win and second seed in Group A.
---
Overwatch Contenders Australia returns in two weeks time with playoffs starting on January 7. You can catch all the action on the Overwatch Contenders Twitch.
You can follow Unter and ORDER here.