After 4 seasons of back to back titles, the Dire Wolves have decided to make sweeping changes to their roster, with Rookie of the split BioPanther the only familiar face. Teaming up with UDYSOF, who showed great promise replacing Shernfire at Worlds, the Dire Wolves are full of new blood – a far cry from the high profile names of years gone by.
Getback's highest accolade is winning "The Next Gamer" series in 2017, while Anderu showed a few promising games under Tectonic. Corporal gets a promotion from OCS after a split with Emprox and a good showing at League of Origin for Queensland.
The Dire Wolves may have lost core pieces to their long-running success but there is a cultural belief at the Den that they can grow and develop top tier talent. When you win four titles in a row and remain undefeated for over a year domestically, internally you probably have a good idea on how to stay on top of the game.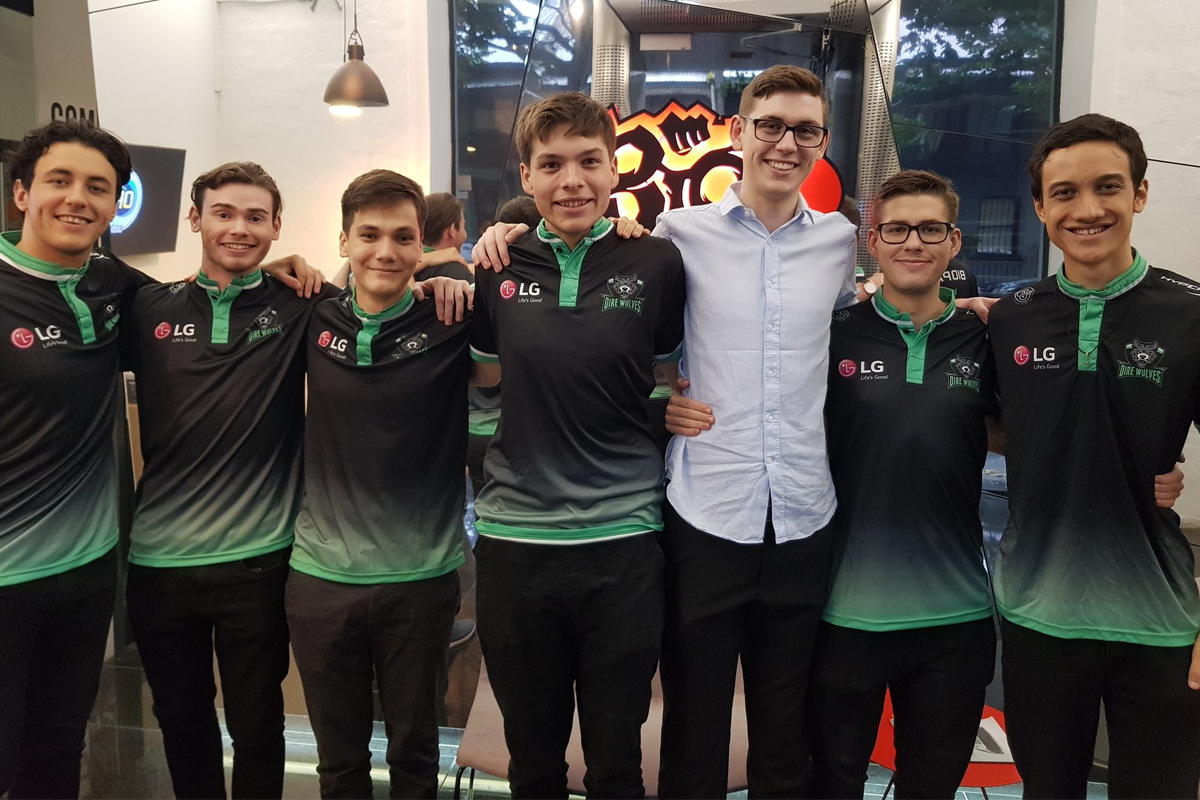 The Roster
Top lane: Brandon "BioPanther" Alexander
Jungle: Toby "UDYSOF" Horne
Mid lane: Jarod "Getback" Tucker
AD Carry: Andrew "Anderu" Baihn
Support: Ian "Corporal" Pearse
Substitute: Curtis "Curtis" Morgan
Coach: Charles "Charlie" Wraith
Who will provide major impact
Going into Split 1, a lot will be asked of Biopanther and UDYSOF. They find themselves the most experienced players in the squad, both with experience at Worlds, that the team will need to lean on.
Dark-horse in the squad
The dark horse of this squad is Getback. In Oceania we're spoiled for mid lane talent, and with the influential position it holds, Getback will be pivotal to ensure his team are able to start off on the right paw.
The draw
The Wolves have a very rough first game coming up against their grand final opponents in the Chiefs. From then on, however, they have Legacy, Gravitas and Avant. They would be expecting to be at least have a record of 2-2 by the end of Week 2 otherwise they'll have a big uphill climb for the rest of the split.
2018 was yet another successful growth year for us at the #Wolfpack ?

2019 will see us build the foundation for long term success ? pic.twitter.com/MknrpWpZ2L

— LG Dire Wolves (@DireWolves) January 4, 2019
The Wolves will have a strong split if…
…the coaching and back-end staff can deliver on their high-performance principles that they have so boldly backed. On paper, this squad looks weak and to blow up a championship roster, it will always look questionable.
However, the likes of Triple and Cupcake weren't the superstars they are today before joining the Dire Wolves. I would argue they did come with more experience and pedigree at the time, but you have to put faith in the system.
Pass mark for Split 1
Every team wants to win. Coming from four-on-the-trot split trophies winning is almost an expectation. However, with significant personnel change, it's a big roll of the dice. If you apply the ideology of you have to "be in it to win it," I suppose 5th place is all the Wolves will need this split to make a run at playoffs. Nevertheless, it'll be uncharted territory for the organisation.
Question marks
I have big question marks on the bot lane. Historically with k1ng at the helm of AD, the Dire Wolves have been spoiled with a stable bottom lane. Now, with Anderu, who has showed some promise, he hasn't set the world on fire. Along with support Corporal, who has no OPL experience, from the outside looking in it doesn't look great.
Snowball Esports predicted finish
I was the only analyst last year that predicted Dire Wolves to win the OPL without Chippys in 2018, however this year I'm not so bold and brave. I have them at 6th above Avant and Legacy but that is only due to the organisation's long-standing history with high performance.
---
The OPL returns for Split 1 of 2019 on Friday 18 January. Watch live on the new RiotGamesOCE Twitch channel, find more information and the full fixture schedule at oce.lolesports.com.
Follow Dire Wolves on Twitter.