Dragons are out, Drop Bears are the new "LANimal" in town.
The Drop Bears made Overwatch history by winning all three Contenders seasons in 2018. Only one other team in the world has done it – Fusion University in North America won all three titles without dropping a series across the year, but lost 26 maps. The Drop Bears? Just nine.
Across all of 2018 the Drop Bears have been the most dominant team in Australia, picking up the best players season-after-season to form one continued line of super teams. First it was a mix of proven and upcoming talent, then it was the Australian World Cup team.
WE MADE IT! GG, @ORDER_army

2019 #OverwatchContenders Season 3 Champions ?

Can't thank our fans enough for the overwhelming support ?#Undefeated #FearTheBear pic.twitter.com/ztklEQ5uBA

— Sydney Drop Bears (@Dropbearsgg) January 20, 2019
Opinion heading into the LAN was divided, with many expecting a Drop Bears win but hoping for an Order upset. Order came into LAN with momentum and confidence after their solid run through the latter half of the season, not dropping a map after losing to Heist early on.
The Drop Bears were the ones to claim first blood at LAN however, defeating a late-coming Heist 3-0. With both teams working out the LAN nerves during Ilios, the Drop Bears got fired up after a close call on Lighthouse, and overwhelmed Heist through the rest of the series.
The Drop Bears weren't afraid to change up the tried and tested meta of Season 3 – GOATS – either. Running Ckm on Doomfist and Mei for part of the series and swapping Shoyo onto Brigitte, Heist were never able to show their prowess in the GOATS vs GOATS matchup, as they crumbled under the pressure of their first LAN as a team.
Order showed veterans Athletico in their semi-final straight after. While Athletico came out swinging on Lijiang Tower, taking Night Market away from Order to get the team chirping, they were swiftly silenced at the hands of Jordation's Zarya, which starred throughout the series.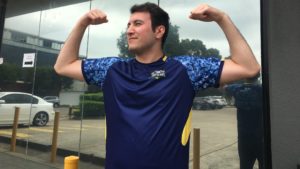 While his Graviton Surge's were hit-and-miss, his ability to charge them quickly, as well as maintaining high energy, meant he was constantly shredding the remnants of Athletico.
By the time Hanamura rolled around, Athletico had all but rolled over to accept defeat, only getting one kill onto Quatz on the entire map and stumbling out of their first Contenders playoffs appearance 3-0.
With the stage set for a grand final of biblical proportions, viewers were treated to the best Australia has to offer. While Order looked set to take out Ilios, the Drop Bears brought it back from the brink not once, but twice on Ruins and Well, with Ckm's Doomfist keeping Merit and Unter occupied and leaving the Order frontline vulnerable.
Order struck back and handed the Drop Bears their first map loss of the season on Hollywood, with Jordation getting insanely quick Graviton Surges –  20 to 30 per cent faster than Hus – to give Order much needed momentum. While Shoyo did his best to deny the advantage, matrixing three Gravitons on Hollywood defense alone, the lack of D.Va in their attack meant Order were given free reign and took the map after a convincing full hold.
That was the only map the Drop Bears would drop though – Hanamura started out well for the boys in black, but a solid second point defense from Drop Bears took the wind out of Order's sails, and they never fully recovered their momentum.
The Drop Bears innovation didn't stop with Doomfist and Mei however. Throughout the day, they played Sombra/Pharah comps, Wrecking Ball Dive with Widow and Tracer and Quad DPS with Ashe and Wrecking Ball on different maps. While some comps were answered, most strats went uncontested as the Drop Bears flexed their prowess.
By the time Busan came around, it was all Drop Bears and they were vocal about it. The chatter from Order had quietened down to just a whisper as the Drop Bears got louder and louder in the studio the closer they came to another title.
As they took the final fight on Downtown on Busan, elation washed over the Drop Bears – some players even clinging to their tables in relief – as they had completed a feat only one other team had ever done in competitive Overwatch history – a championship three-peat.
Clip: Watch as the Drop Bears slowly whittle down Order on their way to their third Contenders title in as many seasons on Busan Downtown.
Their 4-1 victory over Order bookends a year of domination where the Drop Bears had a 91 per cent win rate in domestic competition and multiple Australian World Cup selections. Returning in Season 1 2019, we will have to wait and see if such a remarkable run can happen once again.
---
Season 1 2019 of Overwatch Contenders Australia will start in February after Open Division and Contenders Trials. Dates and information will be released in the coming weeks.
Follow the Sydney Drop Bears on Twitter.