The Bombers have opened their account in the Oceanic Pro League with a clear statement of intent, after major victories over Mammoth and Order – the latter of which had a "personal flavour" to it – leaves them atop the standings just one week into the competition.
The Essendon Football Club-backed organisation has been heralded by many as one of Oceania's new 'super-teams' heading into the first split of 2019, and while their second outing may have been a close affair their 35:54 minute victory over Mammoth tells a tale of their talent.
While Bombers and another of the league's potential title favourites in Mammoth may have played out a close 19-11 clash across Summoner's Rift, the victorious team played out most of their first win in the pilot's seat of the contest, even ballooning their advantage out to a major 7.6k gold lead just before the thirty minute mark.
The league-leading team's second match of the weekend was a lot closer on the board, as Bombers ended the 34:45 minute win with a 743 gold deficit, finally shattering Order's nexus off the back of three vital kills from Victor "FBI" Huang in the final teamfight of the game.
Huang, who ended the clash with nine kills, six assists and not a single death to his name, claimed a double kill off an engage from Jake "Rogue" Sharwood on Alistair and Hyun-jin "BalKhan" Choi on Camille before chasing down Simon "Swiffer" Papamarkos to round out the final three eliminations.
Bombers vs. Order Week 1 clash. VOD Courtesy of OPL. Champ select @ 9:32.

Order had been pushing in for Bombers' middle inhibitor after Samuel "Spookz" Broadley had crowned his birthday with a pixel perfect smite-steal on Baron Nashor, but the Bombers were happy to play spoiler on Spookz's big day as they wiped the Melbourne organisation's offensive off the Rift before barrelling down the mid lane to close out the game.
Although the team ended 2-0, it could have been a mixed 1-1 weekend, and organisation captain Rogue knows that. If anything, he embraces it.
"We have this big thing around us and the roster coming into this season that we're this 'super-team', so when we didn't have a clean game against Order a lot of the boys weren't too happy," Sharwood said.
"I disagreed with them, and said the weekend went about as well as we could have hoped – we had that close game with Order and got a wake-up call that we still have a lot to work on, but we didn't get the bad result that could have easily gone with that.
"If we had swept two games in a row we wouldn't have so much motivation to keep working after this wake-up call, and it reminds us that we can't just be complacent even with that tag of a super team. The tight match was a blessing to us all."
While the victory over fellow Melbourne organisation Order was a positive for the team, for Rogue and his fellow bot laner FBI the clash had a much more personal flavour to it.
"Order are a slightly weaker team in 2019, they definitely have a weaker bot lane this split and it was really fun to exploit that," Sharwood said. "No, but it's very good to have that grudge match with the players and the org."
"It was a surprise to most people when Order decided we were going to part ways with them, and I think it was a little bit personal to show up that new bot lane – I think it definitely came through on stage who shone brighter there.
"Me and Victor hold a massive grudge, we're very close with our former teammates," Rogue added with a laugh.
For Sharwood, who has yet to play in a league final in Oceania, the victories go beyond any personal battles as well, and goes a long way to putting the Bombers in good stead as they aim for domestic glory.
"Everyone on the team hasn't won the OPL before, so we all want to win this year. A lot of us have come really close to winning it but we want to go that one step further," the Bombers captain said of their season ambitions.
"Last year on Order we had major expectations to win and when we didn't do that it was devastating, but this year it feels like there's a lot less pressure. At least that's how I feel about it, we want to put in good showings right now but we're still coming together.
"We have so much room to grow – from things like BalKhan still learning English to the fact we've only been working together for just under two weeks now. To be getting good results already is a real confidence booster for us."
Todays match was a nice reminder to us not to get complacent, it's a blessing to get this wake up call without a loss.
WP @ORDER_army love you guys @OPL #IAMOPL @bombers

— BMR Rogue (@RogueOCE) January 19, 2019
Despite things like Sharwood's roommate BalKhan still learning the language – the South Korean top laner has already learned key callouts and is taking English lessons every week – the Bombers captain is confident their 2019 is going to go "really well", especially with the continued backing of Essendon.
"I've never had an org take care of its players so well before," he said. "Moving from Sin Gaming to Order it was a big step-up in how the systems were, and now it's a massive move up again – it's really beneficial to have that for the whole team."
"I really want to give extra props to Essendon, they've really out done themselves with everything and they continue to surprise me with the things they provide us with so they've really gone above and beyond for that and it's going to be important as we look to go well in the split."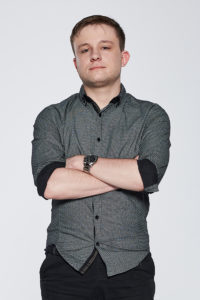 It's not just Sharwood that's loving the Bombers' results in the opening two games – head coach Scott "Westonway" Farmer, formerly known as Windowsmonkey, said he was "super pleased" after the first weekend.
"We managed to beat Mammoth and they're most likely going to be the other contender for the title so picking up that win is very valuable," Farmer said. "The Order game could have been a lot cleaner but we got the win and all that matters is who kills the other team's nexus."
"The team that we've picked up has strongest players from all across teams that didn't win the OPL, and we're very confident with the strength of this roster. We showed that we're on the right track so far with the wins, but it's a long road to the end of the split and we still have 19 matches to go."
Westonway also pointed to the fact that FBI and Jusung "Mimic" Min were two of the best performers to start the split, showing an ability to "play both sides of the map".
"Being able to play both sides of the map – which we've shown we can do – is incredibly useful because not a lot of teams in the OPL are capable of it," he said. "That said, our whole roster is able to take control of a game and get us the win."
"Even in our support role with Rogue we can have someone stamp their impact on the game and any given weekend it could be anyone carrying us to wins. We have that positive in our roster and it's really great for us."
The Bombers weren't the only team to open their 2019 account with back-to-back victories, as the Chiefs stormed home against old foes the Dire Wolves on Friday evening before closing out the first weekend with a triumph over Avant Gaming.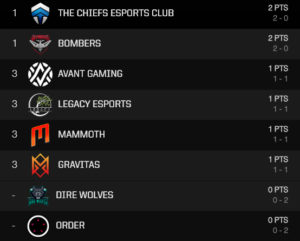 Also in the first weekend of the OPL, Gravitas opened their account with an 11 kill to 4 win over Legacy Esports, before Mammoth unleashed Calvin "k1ng" Truong on Kai'sa against the league's newest organisation – the championship winning AD Carry climbed to a 9/0/5 statline in the 29:24 minute win to leave Mammoth with a 1-1 record early on.
Legacy were another team that saw their Friday evening result reversed on Saturday, as their top laner Daniel "Papryze" Francis dominated on Vladimir – the former Tectonic solo laner claimed eleven kills and a single assist in his deathless carry performance against the now-winless Dire Wolves, while Order tasted defeat at the hands of Avant Gaming to join the defending champions at the bottom of the standings.
---
The Oceanic Pro League returns on Friday afternoon, when Gravitas faces off against defending champions the Dire Wolves in the competition's second week.
Catch all the action live from 4pm on the new RiotGamesOCE Twitch channel, and find the full schedule at oce.lolesports.com.