In a major move in the Australian esports industry, Melbourne-based organisation Order has confirmed a partnership with computer hardware giant Alienware.
As part of the new agreement, Alienware has promised Order a suite of new Alienware Aurora personal computers, as well as m15 gaming laptops.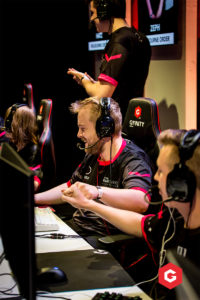 The Melbourne esports club's League of Legends and CS:GO rosters will also receive a mix of AW2518HF and AW3418DW monitors, Alienware Wireless Gaming Headsets, Alienware Pro Gaming Keyboards and Alienware Elite Gaming mice.
It's a partnership that Order chief executive Chris Derrick has welcomed with open arms, especially considering the enterprise's meteoric rise since its foundation in late 2017.
"Order is thrilled to have Alienware join us a major partner in 2019 to support our teams," Derrick said. "This year we established ourselves as being highly competitive in the Australian esports scene, winning the club championship of Gfinity Series 1 and 2, won our first international tournament and established ourselves as a destination club for esports players."
"High performance and professionalism is at the core of the Order team, and we're excited to have Alienware powering our League of Legends and CS:GO teams with their powerful gaming machines."
As well as the hardware that the Order stars will be kitted out with across their 2019 seasons, fans of the Melbourne organisation will also see new content spawned from the partnership.
Alienware and Order have also announced they plan to create "exclusive content to help [fans] take their gaming to the next level", including 'how-to' guides, player and game statistics and behind-the-scenes access which will all be available to esports fans through both the esports club's and hardware giant's social media accounts.
The support of developing players, avid esports fans and the general gaming community is something that is close to Alienware and its parent company Dell's hearts, general manager for consumer and small business Ben Jackson said after the announcement.
"Australia's esports scene is well established and has incredible potential"
Ben Jackson, Dell ANZ/Alienware
"We're incredibly proud to continue Alienware's long history of supporting esports and we are excited to be partnering with Order not only because they are an outstanding team with impressive runs on the board already in their first year – they also have a vision for the team and their business that complements our own," Jackson said, speaking for Dell ANZ and Alienware.
"We are whole-heartedly committed to the Australian esports industry and gaming community pushing forward both in national and international competition. We are fostering and nurturing new talent and cultivating an environment for all gamers – professional and amateur – where they can strive to improve, learn new skills and be equipped with what they need to level up.
"We look forward to working with ORDER as the Australian esports industry and local gaming community grows."
Alienware, operating as a subsidiary of Dell, has previously been involved in Australian sponsorship, when they signed on as presenting partners with the Gfinity Elite Series for 2018. At the time, the investment was heralded as one of the largest commercial partnerships in Oceanic esports history.
"I don't get amped up playing them specifically anymore" @JaykeLoL, @SwifferOCE and @SpookzOCE are set for an important week two of the @OPL when they play against former team-mates on @ChiefsESC and @GravitasOCE tomorrow and Saturday! Let's go lads ? #ORDERUP?? pic.twitter.com/UILlzbfIbp

— ORDER (@ORDER_army) January 24, 2019
Order, operating as Melbourne Order due to the localisation of the Gfinity teams, won the Counter Strike competitions in Series 1 and 2, beating out the Sydney Chiefs 3-0 and 3-1 respectively to secure $80,000 in prize money across both competitions.
The Melbourne organisation's League of Legends roster recently bounced back from a poor start to their Oceanic Pro League campaign, recording a 2-0 weekend with victories over the Chiefs Esports Club and Gravitas. The team's jungler Samuel "Spookz" Broadley was named in Snowball Esports' Team of the Week for his performances.
---
You can support Order at @ORDER_army on Twitter. Follow Alienware on Twitter, Facebook, YouTube and Alienware.TV.