After forging his legacy as one of the greatest Rocket League players to have ever competed in the Oceanic region, Matthew "Drippay" Den-Kaat is now making the cross-region move to Evil Geniuses in North America.
The transfer is a momentous one for Oceania, as Drippay's switch across the Pacific is the first time an Australian talent has been signed by an international organisation in the Rocket League Championship Series, and the "major move" is already front-and-centre when the 18-year-old thinks about his future.
"Making this major move for the Oceanic region has definitely played on my mind, it's not only a big step forward for me, but also the OCE region as a whole," Drippay said. "Hopefully this inspires young talent in the region to keep working towards what they want to achieve.
"I will try to do the Oceanic region proud."
"With this being the first cross-region roster move I think it will definitely open the gates for more [similar] moves, especially if Oceania continues to perform on the international stage."
Although Den-Kaat's talent was obviously on show for all to see as he played with organisations like Legacy Esports and Alpha Sydney early in his career, the Australian striker found himself unsigned alongside Jake "Jake" Edwards and long-term teammate Daniel "Torsos" Parsons and competing under the title 'Billy Fan Club' before the Chiefs Esports Club acquired the trio in August of 2017.
From there Drippay and his squad won back-to-back Throwdown Esports: RLOC grand finals, first sweeping aside Pale Horse Esports Club 4-0, and then clinching their second trophy with the same scoreline against Tainted Minds six months later.
Then in June of 2018, the Chiefs went on their first deep run in the RLCS as the fifth iteration of the season-ending tournament was hosted at Copper Box Arena in London.
Drippay, alongside Torsos and Jake, defeated Evil Geniuses 3-2 in a five-game epic to progress in the upper bracket, before a 1-3 defeat at the hands of the eventual champions Team Dignitas dropped them into the lower bracket.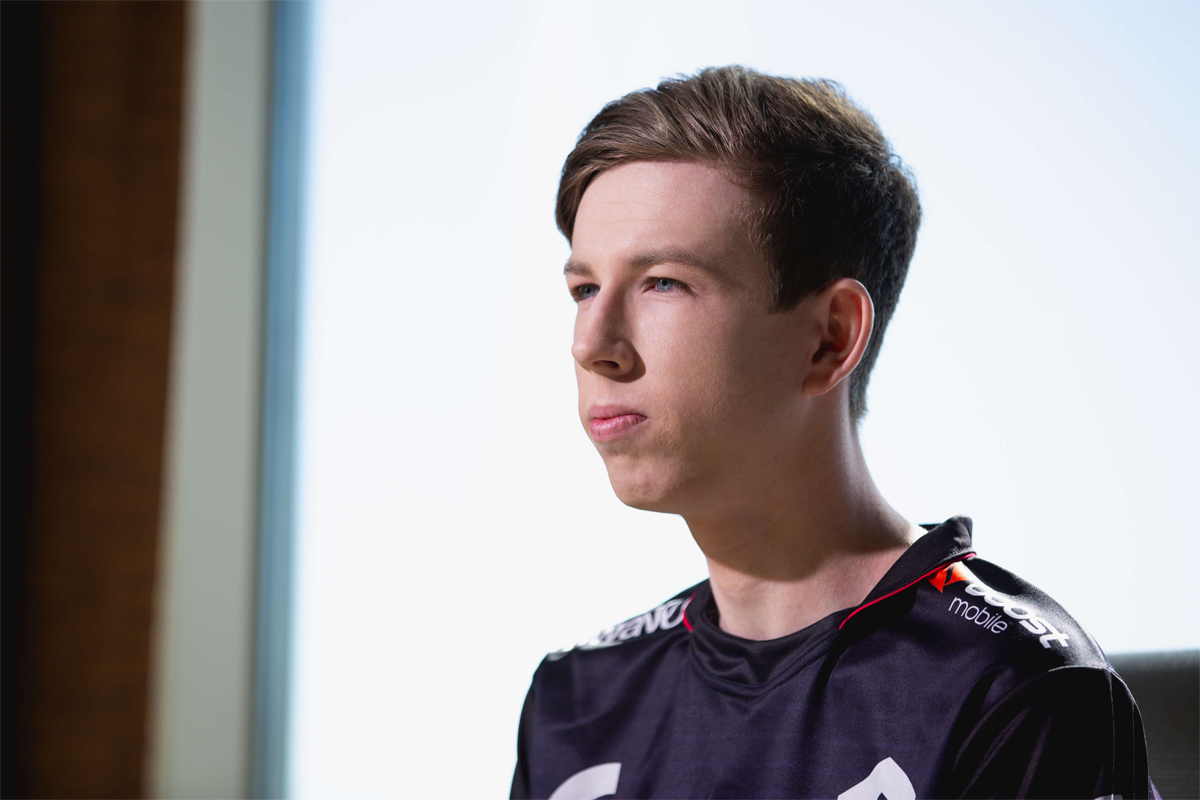 Although their campaign ended with a three-game defeat against Cloud 9 in the Losers' Round 3, a 3-0 over Team Envy saw Drippay score three of the Chiefs' five goals and create the final two, putting the young Australian team on the international map.
Their 5th/6th place finish in Season 5, coincidentally the same placement as Evil Geniuses, then spurred them to go one step further the following season, as they entered the year-end tournament as Oceanic runners-up behind Tainted Minds.
Armed with a new recruit – Cameron "Kamii" Ingram – after Jake had announced his retirement nearly a year to the day since signing with the Chiefs, the boys in blue and white once again reminded the world why Oceania is to be feared in international events.
Two 3-2 victories over PSG Esports and NRG Esports put the Chiefs up against the star-studded unsigned roster of We Dem Girlz, with Drippay collecting the Day 1 MVP trophy for his efforts.
Although the Chiefs slipped to a 0-3 defeat against We Dem Girlz, their run in the losers' bracket kept the momentum going, and the Australians sent Evil Geniuses out the tournament with a 3-1 win, only falling in a two goals to one over-time clash on Mannfield.
Cloud 9 once again proved too much for the Oceanic representatives to deal with however, and a 1-3 loss to the North American roster left the Chiefs with a fourth place finish – the best placement Oceania had ever seen.
This series of strong showings, and some individual brilliance from Drippay, saw heads turning from the North American league, the young striker revealed.
"I didn't need to think about my decision that much because getting a chance to compete in North America and playing with Evil Geniuses is a massive opportunity that I can't really turn down."
"After RLCS I was getting a fair bit of interest from the international teams," he said. "A spot on Evil Geniuses opened up after one of their players left to join G2, so EG reached out to me straight away, showing interest in me joining their team."
As well as the fact that Drippay is now joining an organisation first founded in 1999 and with two decades of history behind it, the Australian star also joins a roster dripping with talent – Gabriel "CorruptedG" Vallozzi and Jason "Klassux" Klass will be Den-Kaat's teammates in 2019.
"I'm really looking forward to playing with CorruptedG and Klassux," Drippay said. "I get along with them really well and they are great to play with. Our manager and coach Fireworks [Stephen Swims-Fuleihan] is also super helpful and it's an honour to play for such an amazing organisation."
"[Because of this] I am holding very high expectations of myself now that I'm playing in NA," he added. "I will now get to play against the best teams on a regular basis and this will help me reach my potential as a player. I am still holding the same expectation of being the best team in the region"
"We might have overtime…"

Nope.png. @DrippayRL drops the dagger at 0:00 as we take game 1 against Florida Poly. pic.twitter.com/JDaGcaiO6w

— Evil Geniuses (@EvilGeniuses) January 12, 2019
Although Drippay is definitely excited to be joining up with some of the best talent the North American league has to offer, he admitted it's "definitely sad" to be splitting from long-standing teammate and friend Torsos.
"It's been insane what we have achieved together, and we have made some unforgettable memories along the way," Den-Kaat said. "It's definitely sad to be leaving Torsos. I hope he continues to find success, and I'm sure he'll keep smashing it in Oceania."
If Drippay is keen to see Torsos and the rest of the Chiefs roster continue smashing it in Oceania, the organisation's owner Frank "Sangy" Li is even more invested.
Sangy, who created the esports club in August of 2014 and entered the Rocket League scene three years later with what would become one of the region's finest ever teams, said he was "very proud" of Drippay's North American transfer, even if it was "incredibly sad to see him go".
"[Matthew] has worked incredibly hard over the past two years and represented us with all the Chiefs' values," Sangy said, before imparting a cheeky message to the 18-year-old and his new organisation. "I wish him all the best in North America, but I can't wait to beat him and Evil Geniuses at RLCS again."
Li also revealed the quality of the Chiefs' line-up had seen offers from international clubs come in before, but due to their lack of offered relocation the Oceanic team owner had waited for one that could see his star players flourish to their full potential.
"I think that Drip, being the player that he is and with his meteoric rise, would have caught the eyes of international clubs a while ago," he said.
"I think myself, and the rest of the squad, always knew there was a possibility that he and anyone on the team would be a target for importing given the consecutive top level finishes at the World Championships, which is no mean feat for any team."
Frank "Sangy" Li, Chiefs Founder
Sangy also echoed Drippay's sentiments that many other players with the Oceanic region could make the league swap that Den-Kaat has made in 2019.
"I believe there are several players from the region that have the talent to compete overseas, chief among them being our lads Torsos and Kamii, as well as the Tainted Minds squad who have had several close encounters but could never quite seal that first win," he said.
"That being said, Drip was a special case and has put up the most MVP performances on the world stage, so I think it's not a surprise he was picked up and that would have been an easy decision [for Evil Geniuses]. From my knowledge G2 Esports, who picked up Chicago from Evil Geniuses, were considering Drippay as an alternative option too."
Despite the obvious allure of creating world-class talent that can join the highest ranks in Rocket League, Sangy also admitted he would like to see the Oceanic region become a league players may not want to leave immediately, even if it will take a long time.
"I've always been a proponent of retaining local talent, and wanting Oceanic competition to be the best it can be, but I also don't kid myself that playing in a major region is a huge opportunity for development, exposure and to earn a shit-ton more money," the Chiefs owner said.
"The goal is obviously to work hard until [perceptions of Oceania] change, but that will take several years, and we will never fully get to a point where we can match them. We can only hope to build the Oceanic esports profile to a point where the decision to transfer to another region is not as easy."
Farwell @DrippayRL! Thank you for an amazing 2 years in our #RocketLeague squad!

We wish you the best of luck on a huge next step in your journey at @EvilGeniuses! Go smash the NA region! ? pic.twitter.com/Kbf51AKM2W

— The Chiefs Esports Club (@ChiefsESC) January 12, 2019
The Chiefs Esports Club recently announced their replacement for Drippay in the form of former Order young gun Aidan "ZeN" Hui, a youngster that downed the Chiefs' roster in the 2018 Elite Series Season 1 semi-finals.
The Chiefs, now equipped with the roster of ZeN, Kamii and veteran commander Torsos, will compete in the seventh season of the Rocket League Championship Series, when it returns later in 2019.
Drippay recently kicked off his career with Evil Geniuses with a third place finish at the DreamHack Pro Circuit Leipzig 2019 Closed Qualifiers, missing out on a seeded place at the event behind Bread and Ghost Gaming in the North American bracket.
The organisation will still compete in the German-based event through open sign-ups. The first matches at the major will be played from Friday, February 15, and you can tune in to watch Drippay's games at twitch.tv/dreamhackrocketleague.
---
The North American Rocket League Championship Series' Spring season is slated to begin on Saturday, March 30.
You can follow Drippay, Sangy, Chiefs & Evil Geniuses on Twitter.