It's a line spread across t-shirts, banners and said ad nauseum in Australian summers: Sun's Out, Guns Out.
What's better than living out that motto with a bit of battling on Coastline in this weekend's Rainbow Six Summer Series finals?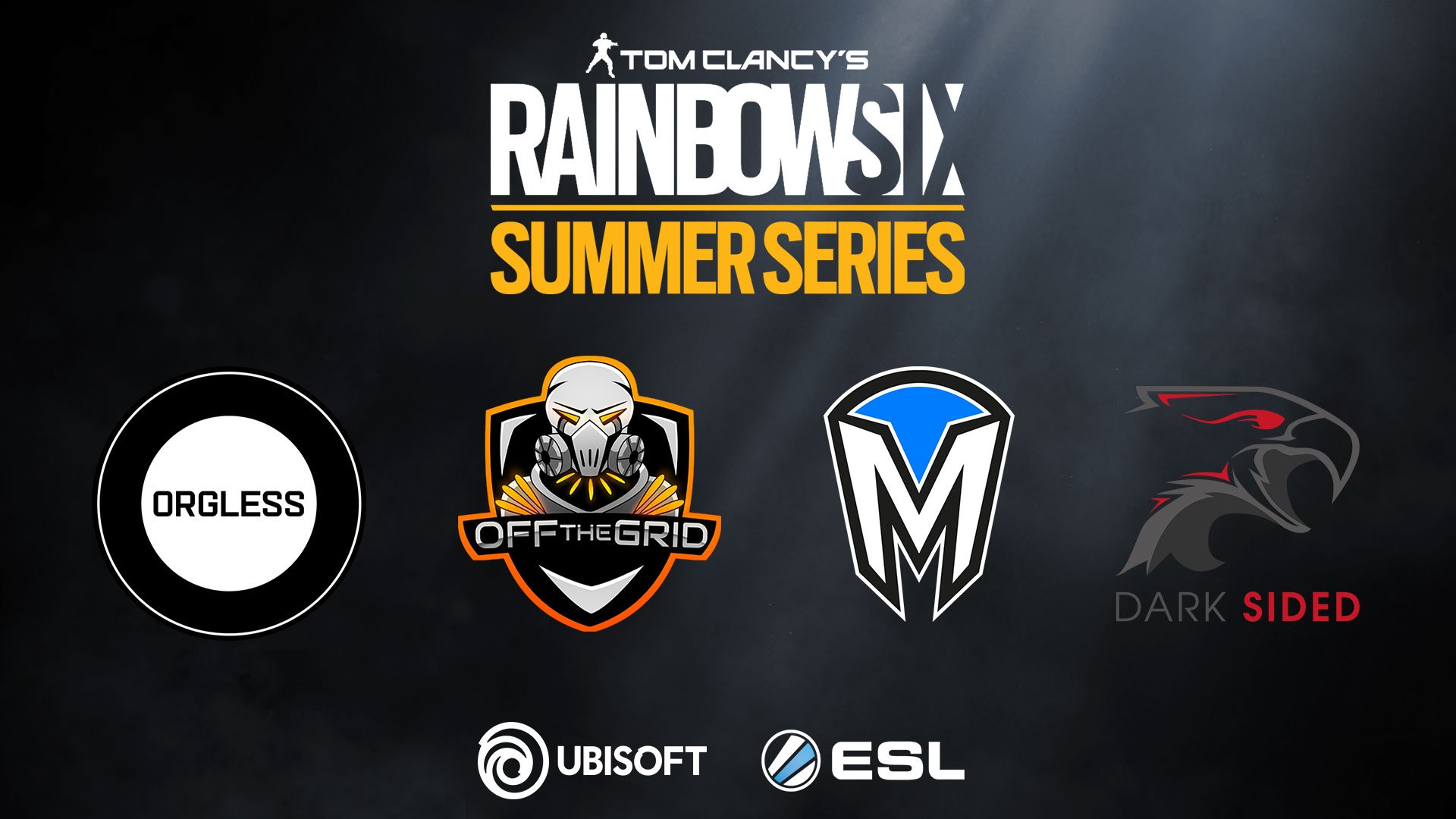 With the Summer Series coming into a scorching finish, one Challenger League team will be looking to make their mark against some of the best Pro League teams in Australia, while other teams will be looking to turn their Pro League misfortunes around in the break.
I spoke to each team about their preparation for the Summer Series finals and their aspirations for the rest of 2019.
Orgless
Orgless have had a dominant run through the Summer Series. Without Fnatic to spoil their tea party, the bridesmaids of Rainbow Six in Australia have only dropped seven rounds over four maps in the Summer Series and come into the final weekend with a fresh face in the squad.
A 4k for @Derpehhhhhhhhhh with the double C4! ? #R6PL

? https://t.co/2AYUGY7uHK pic.twitter.com/e5vTYbL9pt

— ESL Rainbow Six (@ESLRainbowSix) January 30, 2019
With Sylix stepping back from his position on the main roster to coach, Diesel – previously of Gentlemen in Underwear – has stepped up to the plate.
The promising hard breach specialist has blown up – and blown himself up on occasion – recently with great performances, and moving on to Orgless will be a great chance for him to develop as a player. "Diesel is fitting in nicely with the team, and he is a great addition," said Sylix.
As for Sylix, the transition hasn't been as intense as he thought. "Even as a player in the core roster, I would be doing a lot of work that a coach would do too. Nothing has really changed for me except that I don't have to play as much and this allows me to focus a bit more on my personal life."
After a strong start in Pro League this season – only dropping one map to Avant – the team came into Summer Series with a bunch of confidence and it showed in their quick demolitions of Tier 2 teams Control Esports and TBD. With Off The Grid – another CL team – on the horizon, Orgless are still unwavering in their preparation for the game.
"We treat every competitive match relatively similarly in terms of preparation. If there are VODs we can access, then we will look into them"
– Sylix
It also gives Orgless to hone their skills with Diesel for the remainder of the Pro League season, which restarts in March, where they are currently on top. "We do expect Fnatic to catch up to us [in Pro League] once they have played the same amount of matches, but the goal for us is to make at least top 2 to get to the APAC Finals."
The roster has fallen short of making a major multiple times, most recently losing to Mantis.FPS from Korea 2-1 in their semi final after a close match on Border before a resounding and devastating sweep on Clubhouse.
"[This loss] has lingered with us ever since, and we are hungry for redemption. Making it to a major would be a big deal for us, and putting another team in the international spotlight would be amazing for our region."
For now though, taking out the Summer Series is top of the list for the unsigned team, and honing their skills for the time they get the chance to show the depth of the ANZ region internationally.
Off The Grid
One of the greatest things about the Summer Series is that it brings together the Pro League teams in Australia and pits them against some of the rising stars of the scene, climbing through CyberGamer and Go4R6.
Off The Grid came together in July 2018, with their original roster featuring Wayneman, ItBeStyle, Ryann, Sphinx and Dahlgrin. In their roster's short history, they've made a big impact in Tier 2 Rainbow Six in Australia.
They qualified for Challenger League in Season 8 under Ninja ESC after a second place finish and two third place finishes in three of the four Open Qualifiers, always falling short at the hands of the now-Mindfreak squad.
They managed themselves a third place finish in CL as Team Skyfire, dropping two maps to Crimson Gaming and one to Mindfreak, before failing to qualify for Season 9 after two close maps against Crimson in the semi's.
Not to be deterred, the squad changed things up after ItBeStyle's departure to Dark Sided. Koji from Vanquish joined the roster after a four month break alongside Thumbnail, who replaced Dahlgrin. They picked up Dealy just before Go4R6 Cup #57, rounding out a strong six-player squad ready to take on another challenge.
They were forced into sudden death from the get-go however, needing a glory run through the lower bracket of the Summer Series Qualifier after a heartbreaking 8-7 loss to Trillz's Mustache in the first round. They were never fazed though, toppling five teams on their way to a top 6 finish, enough to qualify for the Summer Series.
Wayneman and Ryann set up the perfect crossfire in a 2v3 to secure the final round on Coastline against LFO.
On their road to the top 4, they claimed Pro League team Gentlemen in Underwear in the first round after a back and forth three-map series saw it come down to the final round on Consulate. Ryann came out clutch with a brilliant 4k, helping open up the site, dislodge the well placed Diesel and defend the defuser to secure the team's biggest win to date.
They then went on to beat LFO 2-0 in the quarter finals, going to 8-7 on both Oregon and Coastline, to qualify for the Six Oceanic Cup later in March. Ryann once again shone for OTG, taking 29 kills over the two maps, including an impressive 19 kill performance on Coastline.
Now with their biggest challenge yet against Orgless, the new kids on the block will want to show the pedigree they've built for themselves in recent weeks and try and take the surprise win over one of the region's most storied rosters this weekend and qualify for the final. This is a team you'll need to keep an eye out for come Season 10 of Pro League.
Dark Sided
If Orgless are the Bridesmaids of ANZ Rainbow Six, Dark Sided are next to the throne behind them. A team that has spent so much time behind Mindfreak/Fnatic and Athletico/Orgless will be looking to establish their foothold truly at the peak of ANZ R6 with a win at the Summer Series.
Stop it @ShakweelO ?

?https://t.co/udsRlPhYfV@Rainbow6ANZ | @ESLRainbowSix | #FromTheShadows pic.twitter.com/fpBUILe8Ls

— Dark Sided (@DarkSided) February 3, 2019
The Dark Sided squad has had to deal with a major roster shuffle over the summer. Their coach, Raven, lef the team, while Cutie, Virtue and old captain Fletch all were dropped or left. With Virtue leaving for Fnatic, Cutie rejoined the team two months later alongside Shak from Taboo and ItBeStyle from Off The Grid.
With JackDaddy and Speca only having around a year of experience at the top under their belt, the team was forced to rebuild from the base, and looks to be one of the strongest renditions in their history. For captain Speca, it was an eye-opening experience being thrusted into the intense role.
"Stepping into the captain role of the team at first was a big shock. I had to organise scrims, motivate everyone, and it shocked me how much effort went into that.
"In saying that, having me be the core of the team really allows me to shape my players and help them improve through critique of their plays and respecting each other," he added.
The work the team has put in is showing off in their performances in game too. They swept Marauder Esports 7-0 7-0 in their first match of the Summer Series, before taking down fellow Pro League team Lowkey 7-1 7-5 in their quarter final to qualify for the finals.
"I'm very happy with our teams performance keeping us at a top 3 position so far, but we are going to be trying our hardest to get that first position."
– Speca
Up against Mindfreak in their semi final, Dark Sided believe there is a good chance they could take it to them and take down whoever they would meet in the final to claim the title.
"I would say [there is] most definitely [a chance we win], but in saying that the entire APAC region is so unpredictable," he said.
With Orgless, Fnatic and Lowkey still to play in the Pro League too, the Dark Sided roster is going to undertake its hardest test yet over the next month or so.
"Fnatic will most definitely be a struggle of a game but we're going to show how much we've improved over the time that they've been away at the Six Invitational. Our synergy is good, we have players that are developing and hopefully we can perform to a high standard and make the upcoming LAN."
Winning the Summer Series might give the Dark Sided squad the confidence in their ability to overthrow some of the region's veterans and the best teams around, and turn this squad into a beast come later this year.
Mindfreak
Mindfreak have had a tumultuous start to the year. A rough start to Pro League leaves the once prestigious organisation without a win there, but they have clawed their way to a semi finals appearance at the Summer Series after two very close series' against Skyfire and Extricity.
A strong start for @Mindfreak as they find themselves with a 2-man advantage with a minute left in the round! ? #R6PL pic.twitter.com/WR5YHEzY21

— ESL Rainbow Six (@ESLRainbowSix) January 25, 2019
These issues have been compounded by the various personnel changes in the team too. Coach Uyen was brought on last month, while Kngz and Crescent left the team two days before their clash against Extricity last weekend, forcing them to work in Jcz and Spruce from Lowkey with very limited time.
However, with the ship sailing steadily now, things are on the up for one of Australia's old guard. "The boys have really put their heads down and pulled it together to come out with the win against Extricity last week," said Uyen. "It's a testament to how much potential this roster has."
Given how little time they've had so far to get the new roster working, the team is only going to get stronger in the tail end of Season 9. "It's only been three weeks since I joined as coach, so I've been spending the time getting to know the boys and how they play. They all have the potential to frag out when they need to."
"This roster change has given us more flexibility with our playstyle and we're confident that this is the change that we needed coming into the game against Dark Sided this week."
– Uyen
Up against Dark Sided in their semi final, Uyen is hopeful that the team will show up when they need to the most. "I've noticed all the players have a habit of showing up when you least expect it, but I think everyone really needs to watch Jcz. He's got great mechanics which I believe will shine under the in-game leadership of Shade."
Proving their worth at the Summer Series will set them up for a strong finish against Avant, Lowkey and Gentlemen in Underwear – who all sit at fifth, sixth and seventh above them respectively in the Pro League ladder.
"Qualifying for the Six Oceanic Cup last week has been a good morale boost after the rough start in Pro League, but a good result in Summer Series would be a really great confidence boost to prove anyone who doubted us wrong," she said.
With the chance to turn their season around over the coming month, Mindfreak will be looking to reinstate themselves as a legitimate contender in ANZ Rainbow Six and not the cellar-dwellers of recent times.
---
The Rainbow Six Summer Series Finals start today at 3pm AEDT, with Orgless taking on Off The Grid before Dark Sided clash with Mindfreak. The grand final will be on Sunday at 6pm AEDT live on the Rainbow Six ANZ Twitch.