After opening their first split in the Oceanic Pro League with two wins and a single defeat, Gravitas' fortunes took a turn for the worse, falling to four straight defeats including a 0-2   weekend in the third round.
Any organisation's backroom staff could have been forgiven for believing their way of approaching the game, or the team that they had assembled, perhaps wasn't going to cut it in the big leagues, but general manager Brandon "Juves" Defina revealed he had "complete faith" in his players and strategy despite the four-game struggle.
Happy Bryce, happy life ?

The thumbs up of approval after today's game. ? pic.twitter.com/vMtzVuC47d

— Gravitas (@GravitasOCE) February 9, 2019
"We knew what we were doing was right over the past few weeks because we could see massive improvements during the week, but it was taking that and putting it on stage that wasn't clicking," Defina said of the team's behind-the-scenes developments.
"We stuck to what we had been doing and we had a lot of freedom because no one was expecting us to win after our recent results. The team had that underdog mentality and that's often when it's most fun to play, and to win.
"The team is very young, and for young developing teams there is nothing better than confidence to get on a run – we couldn't have beaten a better team to get that spark into the roster for the coming weeks."
Although Gravitas fell in their fourth straight defeat on Friday evening with a half-hour loss to Avant Gaming that saw Vincent "Gunkrab" Lin down the Sports Geek-backed squad with a quadra-kill, the roster bounced back with one of the biggest scalps of the split so far.
"Order were basically coming into this game as a 5-0 team, yeah they had that first 0-2 weekend but I think that meant a lot of people were underestimating how good they really are," Juves said of their recently-defeated opponents. "No one is really sleeping on Order but they deserve a lot of credit. Five games in a row is big."
"To beat Order means we get that confidence that is crucial to the team, we get all the confidence in the world from what we achieved on Saturday."
Julian "Raid" Skordos was the man to kick off the 20-9 victory for Gravitas, claiming first blood on his bot lane Cassiopeia pick, before a second gank from Jordan "Praelus" Fernandes at the bottom of the map that brought Jackson "Pabu" Pavone along for the ride saw Order's ADC and support cleaned off the Rift.
Despite the early kills Gravitas and Order remained locked at near-equal gold until just under the 20 minute mark, before Harry "Haeri" Kang pulled out a double kill on LeBlanc to set-up an undisputed Baron Nashor secure for the new OPL organisation.
From there Gravitas switched the playbook, going from nearly 2k gold down against the Melbourne org to finally end 7.2k gold ahead in the 34 minute victory.
For Juves, the win speaks volumes about his "fantastic developing squad", and the fact the roster and entire backroom staff are "on the right path" with their understanding on the league, and the game itself.
"The win over Order is a very good indication of where we're at as a squad," Gravitas' general manager said. "You can have all the scrims you want, and have all the results off stage that you can find, but ultimately you only know how much you've improved when it comes down to match day.
"The fact we beat a team on such a massive tear is huge, especially considering apart from a few hiccups here and there it was pretty convincing in the end, really goes to show that the systems and processes we have in place are working.
"It was a really big moment for the story of our whole team, it was really good and just really big for all of us involved in Gravitas."
– Juves
The victory also resonated with the entire playing group of the organisation, and Raid – who ended the clash 6/2/9 on his bot lane mage pick – had nothing but praise for the bounce-back mentality the team was able to bring into the Order fixture.
"Our team as a whole has a lot of positive people on it so when we're losing it's not a negative environment at all, we just keep trying to get better," Raid said. "We came together the latest out of all the OPL teams so we're still figuring things out and so I feel like we had a bit less practice and we're quite behind."
"We will start thriving in the coming weeks now, and it sucks that it had to be like that but we are happy to face that challenge and go from there."
Friday's defeat, the fourth in the line of losses for Gravitas, also saw Raid tweet out that he was "emotionally affected" in the game against Avant Gaming, but Skordos revealed that there was "no real problem".
"That situation has never happened before in my career and likely will never happen again, it was simply just a one off thing for me," he said. "After it all on Friday we took that with a reset, and we put all the emotions into the win the next day, which paid off."
"Luckily we all get along really well, even that night we sat down and got to talk about it and figure it all out. Out of all the teams I have been on this is definitely the most open-minded and friendly, and we all get along really well."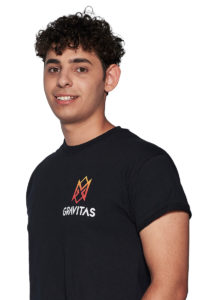 Gravitas' bot laner also revealed the whole team had been feeling like a win was just over the horizon, and that much of the four-game streak had come down to small things rather than any major problems within the roster.
"We knew our wins were eventually going to come because we were practicing so hard and we were all improving at a really rapid rate," Skordos said. "I'm expecting us to have much better results over the coming weeks now."
"This result gives us all a lot of confidence to keep going, when we're playing our best we're better than a lot of teams, and hopefully we can replicate that on stage in the coming weeks."
Hope and expectation for the coming weeks is definitely a clear theme for the Gravitas outfit as they begin their preparations for Week 5 of the OPL, and general manager Juves
"I believe the Order win was a really good stepping stone for us, when you defeat one of the bigger teams in the league then that's your level now," Defina said.
"If that's your minimum level, and you string a number of wins together, then you start to push your limits and break through them. I think it's exciting for all of us at Gravitas to ask what our limit is now that we've defeated one of the best.
"I believe Gravitas can be one of the best teams in the league, and it all comes down to putting in that extra work and not getting complacent. Yes we got the win against a very good team, but let's build off that and show everyone what we can be. It's a very exciting time for everyone here."
---
Also last weekend in the OPL, the Chiefs Esports Club and the Bombers both locked in 2-0 weekends to remain neck-and-neck atop the standings. Both leading squads have suffered only a single defeat in their runs so far.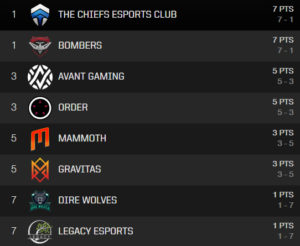 Conversely, Legacy Esports and the Dire Wolves both had their woes continue as they were on the wrong end of their results, with 0-2 rounds leaving them both locked in the cellar a month into the OPL campaign.
Finally, Order defeated the struggling Mammoth on Friday evening before falling to Gravitas the next day, and Mammoth broke their own three-game losing streak with a 12 kill to one, 27 minute win over Legacy. Avant Gaming were the final team to confirm a 1-1 weekend, keeping pace just two wins off the top spots in the competition.
The Oceanic Pro League returns next weekend for Gravitas when they look to go back-to-back against the Dire Wolves on Friday evening. That clash between the newcomers and the defending champions will kick off the weekend's games at 4pm AEDT.
Catch all the action live on the new RiotGamesOCE Twitch channel, and find the full schedule at oce.lolesports.com.