DreamHack Leipzig 2019 kicks off the Pro Circuit for the calendar year, and the German-based LAN tournament will see premier Oceanic organisation Tainted Minds flying the Australian flag high when they begin their campaign this Friday.
For the esports club that has represented the region Down Under in the past two Rocket League Championship Series Finals, the journey to Leipzig marks a new chapter, with more LAN tournaments, more international challenges and certainly more opportunity for massive success on a grand scale.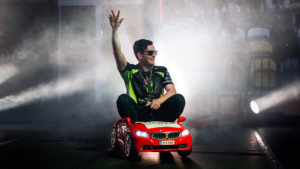 It's an opportunity Cameron "CJCJ" Johns knows is a big move for the organisation and the region, especially considering the team can cut their teeth on even more experience against some of the best teams in the world if they succeed in a deep run into the competition.
For CJCJ, DreamHack Leipzig marks his third appearance on the world stage, after his two previous outings with Tainted Minds as well as his Season 4 attempt with Pale Horse Esports at the season-end event that saw his team come up against powerhouses like PSG Esports and Mock-It Esports.
Interestingly, it's the first time Johns will appear at an offline international event that the Chiefs Esports Club aren't competing in, giving the long-standing Oceanic veteran and the whole Tainted Minds roster – Nathan "Shadey" Logan and Jonathan "Express" Slade – the chance to fully fly the Australian flag in all its glory.
"It feels great to fly the flag for our region."
– CJCJ
It's an interesting feeling, CJCJ revealed, and one that comes with just a little bit more expectation and pressure around the team. It's certainly something the Tainted Minds star is embracing.
"Individually I enjoy the added pressure that [being the sole Australian representatives] brings," Johns said. "We'd love to have the Chiefs alongside us, but it feels great to fly the flag for our region."
"This is our first tournament of any format for the year, so we are looking forward to dipping our feet back in the water and re-establishing ourselves into these pressure situations. We don't have any expectations, but we'll definitely have a goal of making it out of our group."
Tainted Minds' draw sees them open their Leipzig adventure against North American organisation Splyce, who recently earned their promotion to the Championship Series after a 6-1 record in the second division Rival Series and a 4-0 victory over Rogue in the promotion playoffs.
If the TM roster can overcome the lineup of Jamie "Karma" Bickford, Trevor "DudeWithTheNose" Hannah and Jake "JWismont" Wismont, they move to potentially face of the tournament's four invited organisations, NRG Esports.
The premier NA esports club boasts standout Rocket League professionals like Garrett "GarrettG" Gordon, Jayson "Fireburner" Nunez and Justin "jstn" Morales, all of whom have proven time and again their world class talent.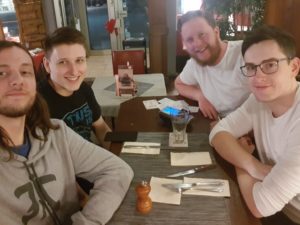 It's top-tier clashes against teams like Splyce, and especially defending North American champions NRG Esports, that drives CJCJ as he and his roster continue to chase international success in Rocket League.
"We love to play against the best teams, so a potential match against NRG is very exciting for us," Johns said.
"Playing Splyce first is going to be a great initiation into the tournament for us, as we have been able to scrim them in the past and have more of an idea of their playstyle than most other teams in the tournament."
The 20-year-old also feels like Leipzig presents an opportunity to show more of what the team is capable of, especially after the roster fell into the Loser's Bracket after a 3-2 slugfest with Evil Geniuses went against them, before they were punted from the international stage in a 3-0 defeat to eventual champions Cloud 9.
"We didn't play anywhere near the level we are capable of against Cloud 9, and since that match we have been able to establish a more solid foundation and structure in our game," he said. "It's going to be a key factor in big tournaments like this."
"When we are playing well it's very hard to stop us from scoring. We are certainly looking at getting our foot in the door of any other major tournaments which may lie ahead.
"We can't wait to kick off what is going to be a huge year for us, and we're looking forward to testing ourselves at DreamHack Leipzig in what is one of the strongest tournaments we've ever seen."
?? ??? ??

The TM @RocketLeague team will be swapping G'day for Guten Tag as we head off to Germany later this month to compete @DreamHack Leipzig.

?@CJCJ_RL @ExpressRL_ @shadeyRL pic.twitter.com/nbgJuDZPAX

— Tainted Minds (@TaintedOrg) February 8, 2019
The German-based Rocket League major will have one other Oceanic representative in its midst – former Chiefs Esports Club star Matthew "Drippay" Den-Kaat will take to the stage alongside Gabriel "CorruptedG" Vallozzi and Jason "Klassux" Klass for Evil Geniuses.
Drippay made the international roster switch to the North American giants earlier this year, and now prepares for his first major tournament with the historic team. His campaign against Norwegian team Nordavind, before a potential battle against Team SoloMid for qualification to Day 2 of the event.
---
Tainted Mind's first match will kicked off on Friday evening, at 9:15 AEDT. If they are successful against Splyce, their clash with NRG Esports will be played later the same evening.
The first stop on the DreamHack circuit will stream all feature matches at twitch.tv/dreamhackrocketleague.