With the round of 8 of the Intel Extreme Masters Katowice major underway, the primarily-oceanic squad Detroit Renegades and Finnish outfit ENCE Esports will represent not just their own regions, but the pride of the Minor qualifiers from around the world.
The two squads took different paths to arrive here, but what's remarkable – and especially so for the ENCE outfit – is that they intersected at two different junctures. To have two teams play all the way through to the top 8 while having to hang losses on the other's record is an impressive feat.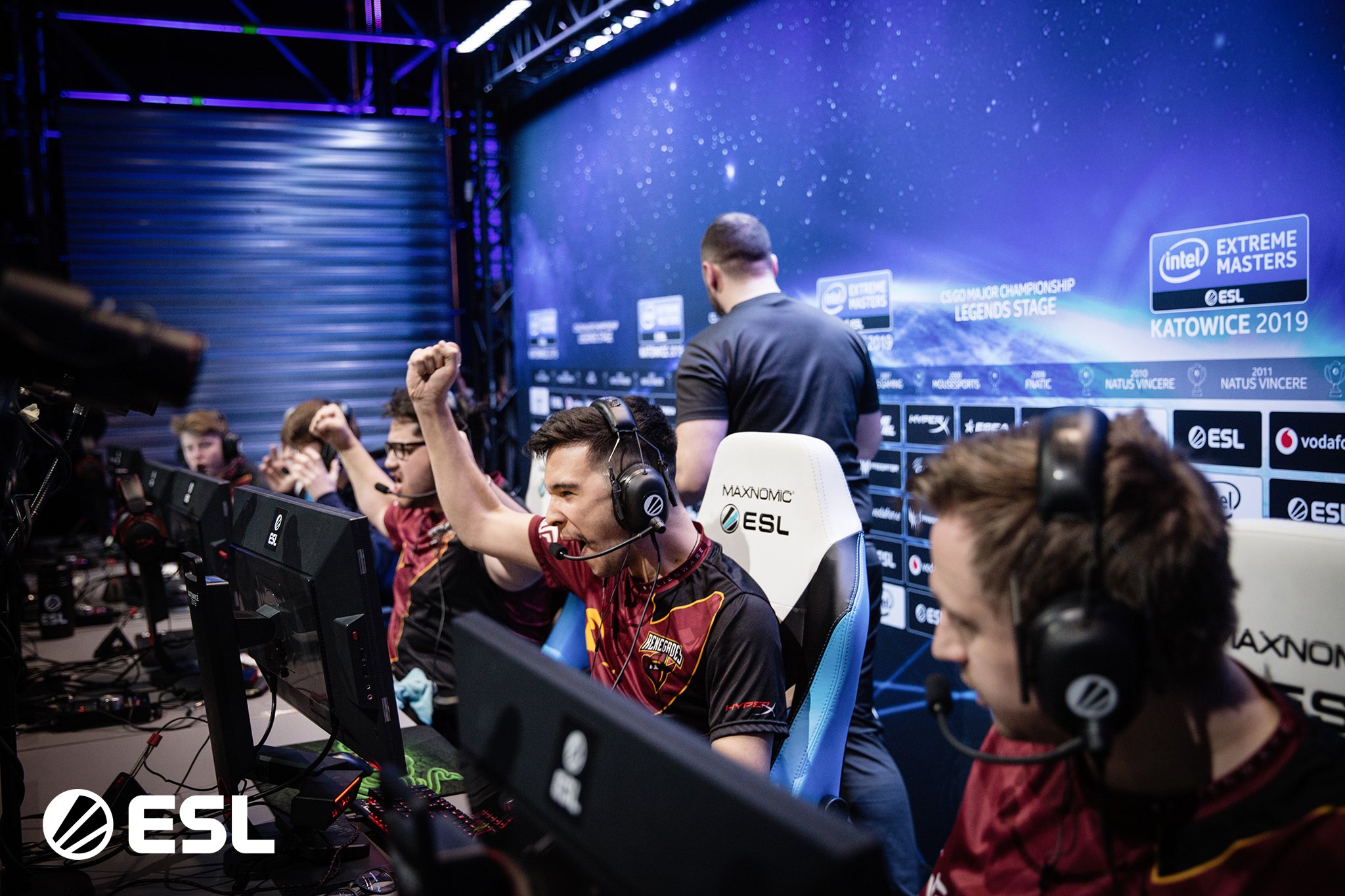 Renegades' path lay through the Asia minor. After topping their group, 2-1 victories over ViCi Gaming and then Grayhound Gaming would put them through to the New Challengers stage in straight sets. To make this an even mightier feat, Grayhound accompanied them through as the second qualifier from the minor and ViCi joined them after taking one of two third place play-in qualifier slots. Going through the minor against teams that would be at the major would, in hindsight, be the clarion call that this Renegades lineup was coming in hot.
The team known affectionately as "The Boys" entered the New Challengers stage with a commanding 16-8 victory over Avangar on Train. They followed this up with a much tighter 16-13 win over Ninjas in Pyjamas on Mirage, before taking on ENCE in the Best of 3 to progress to the New Legends stage.
It was at this moment that Renegades revealed their trap card. Much to ENCE's, and indeed most viewers' surprise, Renegades unfurled a Nuke they'd been preparing in secret, and blew ENCE away 16-7 off the back of 11 CT rounds on the heavily CT-sided map. They then secured the match 2-0 on Mirage off the back of 17 AWP frags from Sean "Gratisfaction" Kaiwai to clinch the 3-0 New Challengers stage.
It wouldn't be the last these two teams would see of each other however. Their paths would cross immediately upon commencing the New Legends stage where Renegades again came up trumps with a 16-13 on Inferno. Renegades went right back to Inferno against the multi-national European powerhouse FaZe Clan where they clinched another squeaker of a game 16-14 to book themselves a date with Astralis. The prize – the winner would be the first team through to the New Champions stage.
It started horrendously for The Boys as they limped to a 12-3 opening half before coming alive, hanging up ten rounds on the bounce to utterly stun Astralis and steal an overtime victory. The victory put them one map away from the round of 8.
After posting a 9-6 opening half on Nuke, Astralis began to really fire and the feeling sank in that the clock had struck 12 on Renegades' Cinderella map-and-a-half against Astralis. This was confirmed when Astralis only lost 2 more round after the half-time switch. They closed out Nuke with 10 straight wins, before locking in 12 straight on Inferno. In the end, Astralis won the second two games 16-9 and 16-2 respectively.
Renegade's second chance to enter the New Champions stage sent them on a path through French squad Vitality, where each team would take the other's map choice: 16-5 to Renegades on Dust2, 16-11 to Vitality on Cache. The match ended with Renegades' fourth trip in four matches to Inferno, where Renegades clutched out the series with a 16-12 win thanks in part to a huge late round from Gratisfaction.
CLIP: Gratisfaction finishes a huge round for Renegades with this 1v1 clutch to complete a 3k
Renegades will now face former major MIBR tonight in a match that has been billed as highly winnable for The Boys.
ENCE's own spectacular run began, naturally, with the EU minor where much like Renegades they topped their group before taking a 2-1 win over Valiance & Co and knocking off North in straight sets to advance to the New Challengers stage.
The Finnish team started confidently, with a 16-10 win over Team Spirit on Nuke which lead into a 16-6 dismantling of G2 Esports on Overpass.
After their meeting with Renegades they faced Winstrike Team in the 2-1 bracket where we saw both teams steal away the other's map pick (ENCE winning Dust2, Winstrike taking Mirage) until ENCE secured Train 16-13 to win the series 2-1.
With the Renegades rematch not going their way, ENCE had to face returning Legends HellRaisers on Dust2 to avoid an 0-2 hole. They fell 16-12 to the outfit sporting major champion Abay "Hobbit" Khasenov and left themselves with a three-straight-must-win-Bo3-sized mountain to climb.
The climb began against another returning Legend in BIG, and the Fins soon found themselves in a hole after getting demolished on BIG's map pick of Dust2 16-5 and going into half time of their own map Train down 8-7. They rallied hard to narrowly edge the map 16-14. The decider was Overpass, and while it wasn't quite as easy as their earlier G2 result, the eventual 16-10 win was never really in doubt after an 11-4 opening half.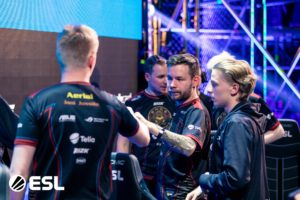 ENCE returned to an opponent they had already beaten in the previous stage for their second do-or-die Best of 3 when they faced G2. The French outfit's map pick of Dust2 went with the CT rounds as the map reached overtime before ENCE pulled out the 19-17 win. They sealed the 2-0 on Mirage, where it was much of a repeat of their series clinching win over BIG – a commanding 10-5 first half meant the map was never really in too much doubt.
The final match of the New Legends stage, where the winner would become a New Legend and the loser had to go home was against Avangar – a fellow Minor qualifier and first seed out of the CIS region. Avangar picked Mirage into them, perhaps looking to unlock superstar AWPer Ali "Jame" Djami. It was still somewhat surprising as ENCE had been picking Mirage more than once during the tournament. After a tight map, ENCE converted their half-time lead into a 16-12 victory heading into their own map pick of Train. You could sense that perhaps Avangar had reached as far as their run could take them though, as ENCE overpowered them 16-7 to reach a quarterfinal matchup with Team Liquid after playing a tournament-high 16 maps.
Sami "xseveN" Laasanen paced ENCE throughout series play. Impressively he's the only player from the squad with a positive K/D difference across the four Best-of-3's they've played since the New Legends stage commenced. xseveN told us that their run through the minor and this marathon through five Bo3's had put them in good stead with each successive match:
"Playing more games definitely helped us to get prepared and to get a good form. I think we played our map pool through a couple of times so we got to fix a lot of stuff," the ENCE rifler said of their massive game count during the competition.
This good form came out in sparkling fashion against Team Liquid. ENCE returned once more to Mirage and started with the pistol and anti-eco before the teams traded rounds in bunches – 4 for Liquid, 4 for Ence, 3 for Liquid, 2 for Ence to clinch an 8-7 half. Liquid took the first two but ENCE began to pull away as their bunches – 2, 2 and the final four could only be matched with singles from Liquid as ENCE won their trusty map 16-11.
Liquid's map pick of Inferno is one of ENCE's weaker maps and Liquid looked to implement the punish pick strongly with a blistering 10-5 opening half. Despite bringing it back to 10-8 to open the second half, Liquid staked themselves to seven map points when the guns came out with five straight wins.
Which is when the Finnish pride burned as fierce as the CS:GO community has ever seen it. ENCE refused to cede Liquid's map over to them, refused to accept "living to fight for another day" as they took back each and every one of those map points. Once it was overtime, it was already too late for Liquid. The momentum had swung and with only a single round given up after 30 ENCE sealed the upset 19-16, fittingly with their talisman Aleksi "allu" Jalli picking the 4K.
CLIP: ENCE's veteran Allu takes matters into his own hands, removing Liquid from Inferno and the Major with a 4k
Speaking to us before their historic win, xseveN told Snowball Esports it "meant a lot that we can finally show good level Counter-Strike with a fully Finnish lineup" and both the level of play and the pride of the nation were on full display as they took out one of the best teams in the world. A couple of years removed from his run on FaZe, allu has returned home to deliver Finland a team it can be deeply proud of.
For Renegades, who are yet to play their quarterfinal, their run is no less significant. The team had begun to lose its shine a bit prior to the additions of Jay "liazz" Tregillgas and Gratisfaction. Being pushed by the likes of Grayhound when they returned to compete at home had begun to raise some questions about whether or not we had seen the best of Justin "jks" Savage and Aaron "AZR" Ward. But this run can be the beginning of something special. It's not just the results, though they are important. It's the composed and controlled play they've exemplified that promises a second wind for this core if they can continue to develop their form into ongoing class. Oceania has fallen in love with the Renegades again, right in time for their "home tournament" of IEM Sydney. The Boys are back, and they'll be looking for trouble.
With performances showing grit and strength in equal measure, these two Minor Challengers-come-Legends have captured more than a few hearts…and shredded more than a few pick-ems along the way. No matter where their respective runs end, IEM Katowice 2019 will mark a tournament these organisations and their fans are not likely to ever forget.
---
Renegades will be playing their hearts out just hours from now, going up against MIBR in the quarter-finals on twitch.tv/esl_csgo. ENCE will face Na' Vi in the semi-finals on Sunday.