Sydney Roar vs Melbourne ORDER
Sydney Roar's Damosk dashed straight out of the gates with an early victory on Melbourne ORDER's ROF. A very close match and a strong showcase of what Damosk plans to bring to the Gfinity series.
Travis Styles tied the score up by knocking down Roar's captain Waz but not before he got the chance to show off some disgustingly potent Kolin mix ups.
However, this is where ORDER started their dominating streak as Bug defeated Cadzow with his trademark suffocating Ibuki pressure. Bug would later comment on Cadzow's tendency to to press buttons in dire situations. This would allow bug much greater damage through counter hits.
ROF shook up his approach in the rematch with Damosk, winning ORDER their third consecutive match. ROF looked much more comfortable this time round, even going out of his way to "teabag" mid match, taunting Damosk to take action.
Waz would then try to mount the comeback with a very convincing round one against Travis Styles. Travis Styles however swung momentum back in his favour and closed out the series with the final score ending in 4-1 in favour of Melbourne Order.
Even though Sydney Roar didn't manage to get the W this time, the matches with last seasons' champs were unexpectedly close. I look forward to seeing the damage they can do in future weeks.
Sydney Chiefs vs Perth Ground Zero
ZG opened for Sydney Chiefs against Perth Ground Zero's newcomer FREESER. FREESER demonstrated Alex's explosive potential with fantastic damage conversions from nearly every stray hit he scored in neutral. ZG, however, managed to throw FREESER off balance with his fast rushdown style and scored a convincing win in the final round.
Bksama claimed the first round convincingly with juicy hit confirms in the midscreen but Syo fought back with his own dominating series to take round two. The last round however came down to the wire as Syo threw bksama into the corner and proceeded to force a myriad of mix ups causing bksama to eventually fall.
Rupps was on point in this match, capitalising in a lot of scramble situations against the supercomputer Somniac. Rupps unconventional use of Mika's V-Trigger disrupted Somniacs tenacious M.Bison control, allowing him to escape difficult situations and take the set 2-0.
Somniac defeated Syo in a convincing 2-0, successfully defending against Ibuki's mix up heavy style. Somniac set the pace of the match and Syo was unable to get any momentum started.
ZG threw a wrench in the works by opting for his secondary Rashid against Rupp's Mika. A true battle for the corner, each round was literally decided on which player could get and maintain corner pressure. ZG clutched the victory well timed overhead shimmy to take the set.
Ground Zero's last hope FREEZER went toe-to-toe with bksama in the last set. The rounds were neck-and-neck until bksama managed to build V-trigger, in which case FREESER end up faltering in the left corner against bksamas unrelenting Aegis pressure. Bksama's success gave the Sydney Chiefs a 4-2 victory against Perth Ground Zero.
Chief's must be very satisfied with that win as it was Ground Zero that had eliminated them just shy of Grand Finals last season. Now that revenge is out of the way early, Chief's will surely be aiming straight for to the top.
I am interested to see the roster changes they will make with ZG and bksama being absent for week two. Both will be participating in the Red Bull Kumite over in Paris, France.
Melbourne Avant vs Brisbane Deceptors
Robbiesla lead the Brisbane Deceptors with two new challengers caesura and pahnda against Melbourne Avant's returning trio RumoursOfGhosts, Spaceghost and AwildLLAMA.
Pahnda fired up with no holds barred against AwildLLAMA in a very quick 2-0 set. Pahnda played a very fluid style against AwildLLAMA's G, scoring countless openings with his varied ground and air approach.
The victory would be short lived however as RumoursOfGhost picked apart Robbiesla in his own 2-0 victory. RumoursOfGhosts recovered from a close stun in round one and managed to steal back the victory with a stun sequence of his own, showing Robbiesla how its done. RumoursOfGhosts then went on to dominate Robbiesla in neutral by maintaining the sweet spot for stand Heavy Punch, sealing the deal by forcing some fatal errors out of Robbiesla.
The third set would follow the trend of fast 2-0's with Spaceghost dismantling Caesura. Spaceghost's rock solid Guile didn't allow Caesura any opportunity to start the dreaded Ibuki mixups.
RumoursOfGhost vs Pahnda was the closest match of this set and has my personal favourite moment of the night. RumoursOfGhosts peppered Pahnda with a series of Stand Heavy punches in neutral, almost at a readable rhythm. Just when Pahnda thought he had the read on that pattern, he threw a desperate V-Trigger Uppercut. Only to have it wildly whiff and cost him the match.
The final match of the night would go out on a "GG" as AWildLLAMA's G took on Caesura's G in the mirror. This match was a straight up brawl with countless command grabs, lunge punches and Wheel kicks from both sides. AWildLLAMA defeated Caesura with a throw shimmy securing Melbourne Avant the victory 4-1 over Brisbane Deceptors.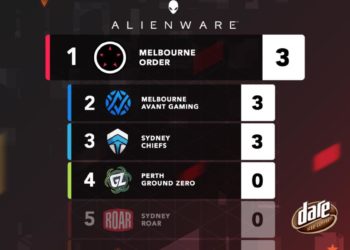 ---
More action will be coming tomorrow when the Gfinity Elite Series Australia returns with Street Fighter V and Rocket League. Tune in on Twitch, YouTube, Twitter, and Facebook to watch every game live. Head to gfinityesports.com.au for details on schedule and tickets.