This site was named after what a lot of people consider to be one of the ideal ways to win in League of Legends – eke out a small advantage and snowball your lead to victory. Never did I envisage our journey as a content platform following a similar path.
Esports is a strange place. It's an industry that has such a large global exposure but is simultaneously in its infancy. I know that term is thrown around quite a lot especially in a region like ours, but the reality is the region is still developing platforms outside of viewing esports.
How close are we to getting player agents, how close are we to a players union, when will we see commercial broadcast rights? These are crucial services that take a serious amount of investment and time to establish, but we'll get there.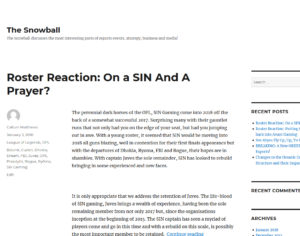 Snowball was born out of frustration due to a lack of content relating to the offseason changes in the OPL heading into the 2018 season. Just two mates, an off the cuff blog on a bare bones WordPress site, and many opinions. After all, both of us had close ties to the Oceania League of Legends scene.
In the span of less than 12 months, that small blog between two mates now covers three esports and one major tournament – three of them with regular content cycles. Snowball now has 20+ team members regularly developing content for us, a sleek website and 2019 is set to be even bigger.
However, 2019 can only get bigger for us by the effort put in by all of our hard working contributors in 2018. Inero's Pick 6 was the first post to make the front page of Reddit, generating over 10,000 hits.
We took the leap into Overwatch – thanks to our now Overwatch Content Lead Andrew Amos' constant pestering – leading us to cover two international events.
We had one of the largest media representations at the inaugural Melbourne Esports Open, with six contributors covering three different games over the two day festival. We also appeared at Rift Rivals, the University Esports League finals, League of Origin and Supanova Brisbane.
But there's always a strive to better and make the snowball smoother, faster, and bigger.
In 2019 we're going to diversify our content platforms, you'll be seeing us a lot more on Twitch and YouTube. While we love written content and it will always be at Snowball's core, there's a high chance a lot of our readers also watch the likes of Thoorin and Travis Gafford, and we want to fill that void in the oceanic region, so we will look at expanding into video content.
We spent the latter part of this year adding the Gfinity Elite Series to our regular coverage schedule, and from that we are looking forward to branching out into more CS:GO and other game coverage.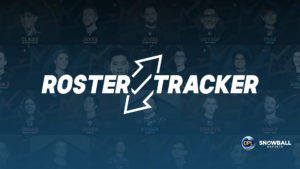 It's also time for us to start working better together. Everyone in the region has been incredibly supportive of our work but we want to push the boundaries of esports content together. We've started this in our collaboration with Riot Games, getting the OPL Roster Tracker off the ground and even having it and other OPL content featured in the League of Legends game client.
However, if you are a publisher, team, tournament organiser – anyone involved in esports in Oceania – let's collaborate. If there is content you need help building, let's open the conversation. We depend so much on your rights and players, allow us the chance to give more back.
Of course, there is the elephant in the room – the strain in any organisation's running – financials. Snowball currently has no other revenue than our loyal and valued patrons on Patreon. Building this out will be a major focus in 2019.
We're hoping by working closer with key stakeholders and producing more quality content across multiple platforms that we will be in a position to further grow and support our community through this next year.
Last of all, but most importantly, I have to thank all of you – the readers – for interacting with our content. It's what drives us to do better day by day.
We are extremely open at Snowball Esports, and if you would like to become more involved please let us know – we have no shortage of opportunities. This can range from content creators, to marketers, established business people looking to mentor our project or even tournament organisers needing experience.
On behalf of the staff and our team of contributors, thank you for joining us for the ride thus far, we hope you'll stay with us as we look forward to another year of producing great content for the Oceanic region.
---
Follow us on Twitter and other socials for the latest updates and content releases. If you'd like to support us further, consider checking out our Patreon for more ways to get involved, exclusive perks and more!