After three weeks of action, the final four teams for Contenders Australia Season 3 have been locked in, with four completely new orgs replacing Bin Chickens, Dignity, PIXL Esports and Avant Gaming.
Blank Esports, SandBaggers, Freshman Class and Kraken Esports Club all join the ranks as new teams to Contenders Australia for Season 3 and after a convincing Trials performance all four are looking to make their impact on the scene.
Out of these teams, only one – SandBaggers – qualified through Open Division. Kraken bought Dignity's spot, Blank took Bin Chickens' while Freshman Class left their old org (PIXL Esports) just before Trials started. However, across all four teams, they have the talent and the class to possibly topple some top four Contenders teams come November and December.
Speaking to Steven "Zeano" Kurata, manager and substitute for SandBaggers, the team are looking forward to coming in as underdogs.
"It feels fantastic [to make Contenders], especially considering we came all the way from Open Division. We want to prove to everyone that we're a team that can compete with the rest of the Contenders teams."
The team qualified with a 6-1 record in Trials, only losing to Blank Esports who took first spot in Trials. Freshman Class and Kraken Esports Club both finished with 5-2 records, with Freshman Class (20-10) edging out Kraken (18-10) on map differential.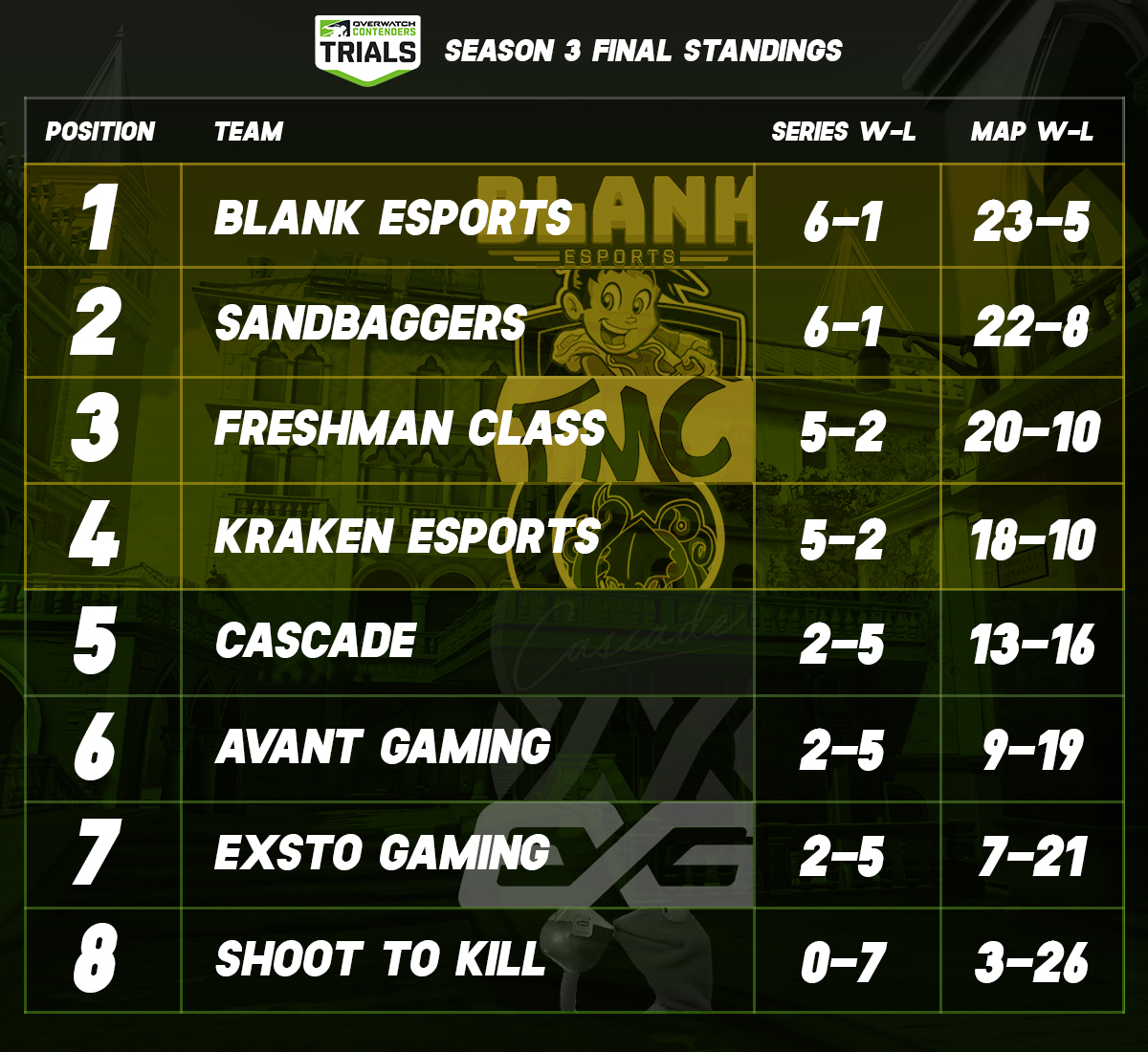 Going from Open Division and a lighter schedule to the intensity of Contenders can take a toll on team dynamic though – many previous Open Division teams are testament to that. However, Zeano says that SandBaggers are putting in place a schedule that will allow them to rise above expectations.
"To compete at a higher level, we're implementing a more intense schedule than we had previously in order to improve. We've set ourselves the goal of making Top 8 of Contenders and to reach that goal we need to be committing to the grind just as much as any other top team."
With SandBaggers having no other competitive experience other than ladder and Open Division, they come in as this season's unknowns.
"Our playstyle is one that is methodical, aggressive and aims to capitalise on any mistakes the enemy makes to gain advantages."
While they finished off shakily with a 5 map series against 5th placed Cascade, SandBaggers put in performances exceeding expectations against ex-Contenders team Freshman Class and Kraken, with 3-2 and 4-0 wins respectively.
With the promotion of four new orgs from Trials as well as four orgs leaving Contenders Australia for Season 3, the competition will look starkly different compared to previous seasons.
Heist have taken the spot of Dark Sided, Breakaway Esports acquired Tainted Minds' team, Season 1 grand finalists Masterminds GC have disbanded while SereNity rebranded into the Melbourne Mavericks.
With the competition shaping up to be fierce, Zeano and the SandBaggers are ready to take it in their stride. "The competitiveness this season has increased significantly and we are looking forward to playing against all of the Contenders teams."
---
Contenders Australia starts on Monday November 19 over on the Overwatch Contenders Twitch channel.
Snowball's Overtime Podcast Season 3 premiere is Thursday November 15 with hosts Whipply, Racquet and Ducky alongside a special guest.
Follow SandBaggers on Twitter.